Syria war: Why does the battle for Idlib matter?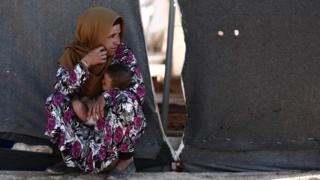 The war in Syria could be about to enter its final stage, as government forces gear up for an all-out assault on the rebel-held province of Idlib.
What's so important about Idlib?
The province is the last major stronghold of the rebel and jihadist groups which have been trying to overthrow Mr Assad for the past seven years.
The UN says Idlib is home to some 2.9 million people, including 1 million children. Almost half of the civilians in Idlib come from other previously rebel-held parts of Syria from which they either fled, or were evacuated.
The province also borders Turkey, to the north, and straddles major highways running south from Aleppo to Hama and the capital, Damascus, and west to the Mediterranean coastal city of Latakia.
If Idlib is taken by the government, it would leave the rebels with a few pockets of territory scattered across the country and effectively signal their final defeat.
Who controls Idlib?
The province is not controlled by a single group, but rather by a number of rival factions commanding up to an estimated 70,000 fighters.
The dominant force is Hayat Tahrir al-Sham (HTS), a jihadist alliance linked to al-Qaeda.
HTS controls key locations across Idlib, including the provincial capital and the Bab al-Hawa border crossing with Turkey. HTS is designated as a terrorist organisation by the UN, which estimates it and an al-Qaeda have 10,000 fighters in Idlib, including many foreigners.
The Turkish-backed National Liberation Front (NLF) is the second most powerful alliance. It was formed this year by rebel factions wanting to counter HTS. They include the big hard-line Islamist groups of Ahrar al-Sham and the Nour al-Din al-Zinki Brigades, as well as others fighting under the banner of the Free Syrian Army.
Why is the Syrian government preparing to attack now?
The conflict has swung heavily in President Assad's favour. Air strikes by Syria's ally Russia, and support from thousands of fighters backed by Syria's other main ally, Iran, have helped the Syrian military rout rebels elsewhere.
On 30 August, Foreign Minister Walid Muallem declared the government's priority was now to "liberate" Idlib. He said it wanted to avoid civilian casualties and regain territory through "reconciliation agreements", but that it was determined to defeat HTS "no matter the sacrifices".
Russia also declared that Syria's government had every right to "liquidate the terrorist threat on its territory".
Turkey, which has troops in Idlib monitoring a previous agreement aimed at lessening fighting in Idlib, has been negotiating with Russia in an effort to avoid an all-out assault.
Turkey, which is already home to more than three million Syrian refugees, fears a major offensive could create a new wave of people heading towards its border.
What will happen to the people living in Idlib?
A full-scale military operation could have devastating consequences in the province. Hundreds of thousands of people there are already experiencing dire conditions in overcrowded sites where basic services have been stretched to breaking point.
A senior UN humanitarian official has warned that an attack on Idlib "will overwhelm capacities and has the potential to create a humanitarian emergency at a scale not yet seen through this crisis".
The UN says as many as 800,000 people could be displaced and that the already high number of people in need of aid could increase dramatically.
It is not clear where those displaced could go because Turkey has shut its border.
Adjoining areas controlled by Turkish-backed rebels around Afrin and Jarablus are already overwhelmed by displaced people. And many opposition supporters fear imprisonment if they cross into government territory.
Can an attack on Idlib be prevented?
The UN's special envoy to Syria, Staffan de Mistura, called on Russia, Iran and Turkey not to rush into battle.
He has proposed two options - further talks on a political solution, or the creation of a humanitarian corridor to allow civilians to evacuate to a safer area, most likely one under government control.
On Monday, Russia and Turkey agreed to create a demilitarised buffer zone in the province to separate government forces from rebel fighters.
Russian President Vladimir Putin said that under the deal all heavy weaponry - including tanks, rocket launch systems and mortar launchers operated by rebel groups - would need to leave the buffer zone by 10 October, as well as jihadist groups like those of al-Nusra Front.
But it was not immediately clear if the zone included Idlib city, which would require some rebels to withdraw from it.
Turkey's president Recep Tayyip Erdogan said it would "prevent a humanitarian tragedy" which could occur if military action took place.