Syria Idlib: Trump warns of 'grave humanitarian mistake'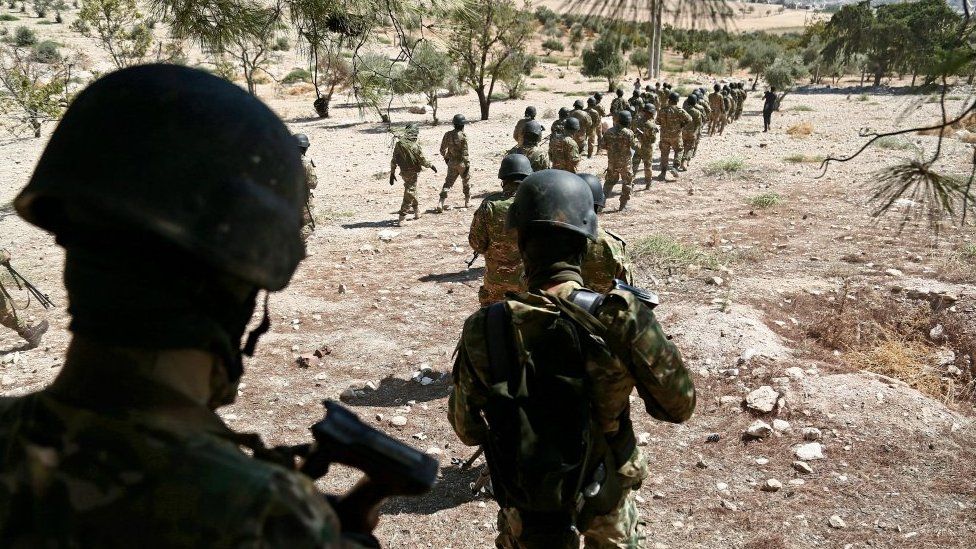 US President Donald Trump has warned the Syrian government and its Russian and Iranian allies against "recklessly" attacking rebel-held Idlib province.
In a tweet he warned of "a grave humanitarian mistake" in which hundreds of thousands of people could be killed.
Syrian government forces are said to be preparing a huge offensive on the last major rebel stronghold in the country.
The UN says such a campaign could have disastrous consequences for the almost three million civilians living there.
The US state department also warned on Monday that Washington would respond to any chemical attacks by the Syrian government or its allies.
The BBC is not responsible for the content of external sites.
Skip twitter post by Donald J. Trump
Allow Twitter content?
This article contains content provided by Twitter. We ask for your permission before anything is loaded, as they may be using cookies and other technologies. You may want to read Twitter's cookie policy, external and privacy policy, external before accepting. To view this content choose 'accept and continue'.
The BBC is not responsible for the content of external sites.
End of twitter post by Donald J. Trump
US ambassador to the UN Nikki Haley tweeted: "All eyes on the actions of Assad, Russia, and Iran in Idlib. #NoChemicalWeapons"
The government has repeatedly denied ever using chemical weapons.
What could happen in Idlib?
With rebel forces defeated in most of Syria, the offensive in the north-western province could prove to be the last major battle of the seven-year civil war.
There are believed to be up to 30,000 rebel and jihadist fighters in Idlib.
An estimated 10,000 are under the command of Hayat Tahrir al-Sham (HTS), a jihadist alliance linked to al-Qaeda that was once known as al-Nusra Front and is designated as a terrorist group by the UN.
Syrian Foreign Minister Walid Muallem has declared that the government's priority is to "liberate" Idlib.
He has said it wants to avoid civilian casualties and regain territory through "reconciliation agreements", but that it was determined to defeat HTS "no matter the sacrifices".
His Russian counterpart, Sergei Lavrov, has said Syria's government has every right to "liquidate the terrorist threat on its territory", accusing jihadists of using civilians as human shields.
Mr Lavrov has also claimed that fighters in Idlib are preparing to stage chemical weapons attacks in order to blame the Syrian government.
Turkey, which has troops in Idlib monitoring a previous agreement aimed at lessening fighting in Idlib, has also warned against an assault.
The jihadists must be defeated but not at the expense of thousands of civilian lives, Mr de Mistura told reporters.
He called for further talks on a political solution, or for humanitarian corridors to be set up to allow civilians to be evacuated temporarily to a safer area, most likely one under government control.
UN officials say as many as 800,000 people could be displaced by an all-out assault and that the already high number of people in need of aid could increase dramatically.
"A worst-case scenario in Idlib will overwhelm capacities and has the potential to create a humanitarian emergency at a scale not yet seen through this crisis," John Ging of the Office for the Co-ordination of Humanitarian Affairs warned.
The UN is desperate to avoid the deaths of civilians seen in battles for other parts of Syria, such as Aleppo, Raqqa and the Eastern Ghouta.
How costly has the civil war been?
After more than seven years of fighting, more than 400,000 people have been killed or are missing, and more than half the population have fled their homes.
Idlib has been a haven for rebels and their families evacuated from others areas won back by the government, but there is no obvious place for them to move to within Syria if they abandon the province now.
Turkey, which is already home to more than three million Syrian refugees, fears a major offensive could create a new wave heading towards its border.
Iran is to host a summit on Friday at which the leaders of Iran, Russia and Turkey will discuss the situation in Idlib.