Syria war: 'Russian' planes bomb targets in Idlib province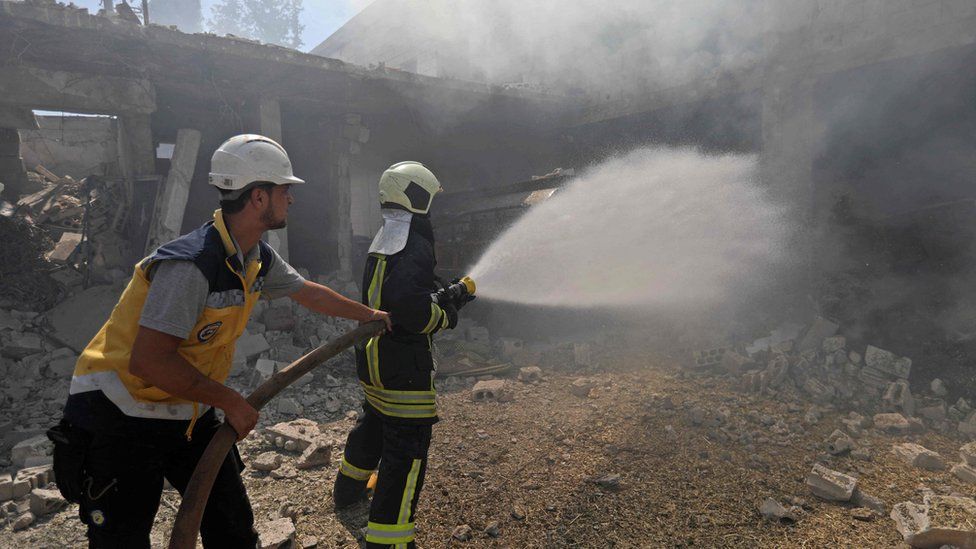 Russian planes have reportedly bombed rebel-held targets in the Syrian province of Idlib, as government troops mass before an expected offensive.
If confirmed, they would be the first such air strikes there in three weeks.
Earlier, US President Donald Trump warned Syria's Bashar al-Assad against launching a "reckless attack" on Idlib.
But Kremlin spokesman Dmitry Peskov rejected the warning and said the Syrian army was "getting ready" to clear a "cradle of terrorism" there.
Mr Peskov said the al Qaeda-linked jihadists dominating in the north-western province of Idlib were threatening Russian military bases in Syria and blocking a political solution to the civil war.
The UN has warned of a humanitarian catastrophe if an all-out assault takes place.
The UN envoy to Syria, Staffan de Mistura, called on Russia and Turkey to act urgently to avert "a bloodbath" in Idlib.
He said telephone talks between Russian President Vladimir Putin and his Turkish counterpart Recep Tayyip Erdogan "would make a big difference".
Mr de Mistura also welcomed Mr Trump's comments on the issue, saying it was sending "the right message".
What did the air strikes target?
The Syrian Observatory for Human Rights, a UK-based monitoring group, reported that Russian jets had carried out about 30 strikes on about 16 rebel-held areas in western Idlib, the mountains of Latakia province, and the Sahl al-Ghab plain.
The BBC is not responsible for the content of external sites.
The pro-opposition Step News Agency reported Russian strikes on the villages of Inab, al-Janudiya, Tal Aawar, Sririf, Jadraya and al-Bariya.
A news outlet affiliated to the al-Qaeda-linked jihadist alliance Hayat Tahrir al-Sham (HTS) posted photographs showing plumes of smoke rising from several villages.
The Syria Civil Defence, whose rescue workers are commonly known as the White Helmets, reported that three civilians had been killed in the strikes on Jisr al-Shughour.
The Syrian Observatory said the Russian air strikes were the first for 22 days and had come hours after three pro-government fighters were killed by rebel rocket fire in the Jabal Turkmen area of Latakia.
What are pro-government forces doing?
Syrian army soldiers and allied militiamen have been gearing up for what has been described as a phased offensive on Idlib, the rebels' last remaining stronghold.
The BBC is not responsible for the content of external sites.
HTS, which is designated by the UN as a terrorist organisation and has an estimated 10,000 fighters in Idlib, and rival rebel factions backed by neighbouring Turkey have said they will fight back.
On Monday night, Mr Trump warned Russia and Iran, which has sent military advisers and thousands of militiamen to Syria, that they "would be making a grave humanitarian mistake to take part in this potential human tragedy".
On Tuesday, Mr Peskov questioned the US president's approach to solving the problem of HTS and other jihadists operating in Idlib.
"To just make some warnings, not taking into account a very dangerous negative potential of the whole situation in Syria, is probably an incomplete, not all-encompassing approach," he was quoted as saying by Interfax news agency.
The Kremlin spokesman said the situation in Idlib would top the agenda at a summit of the presidents of Russia, Iran and Turkey in Iran on Friday.
Why is the international community so worried?
Mr de Mistura has warned of a "perfect storm" if the government goes ahead with a full-scale offensive.
The jihadists must be defeated but not at the expense of thousands of civilian lives, the UN envoy said last week.
He called for further talks on a political solution, or for humanitarian corridors to be set up to allow civilians to be evacuated temporarily to a safer area, most likely one under government control.
The UN says Idlib is home to some 2.9 million people, including a million children. More than half of the civilians have already been displaced at least once from elsewhere in Syria and have nowhere left to go.
UN officials say as many as 800,000 people could be displaced and that the already high number of people in need of aid could increase dramatically.
"A worst-case scenario in Idlib will overwhelm capacities and has the potential to create a humanitarian emergency at a scale not yet seen through this crisis," John Ging of the Office for the Co-ordination of Humanitarian Affairs warned.