Egyptian 'harasser' stripped by crowd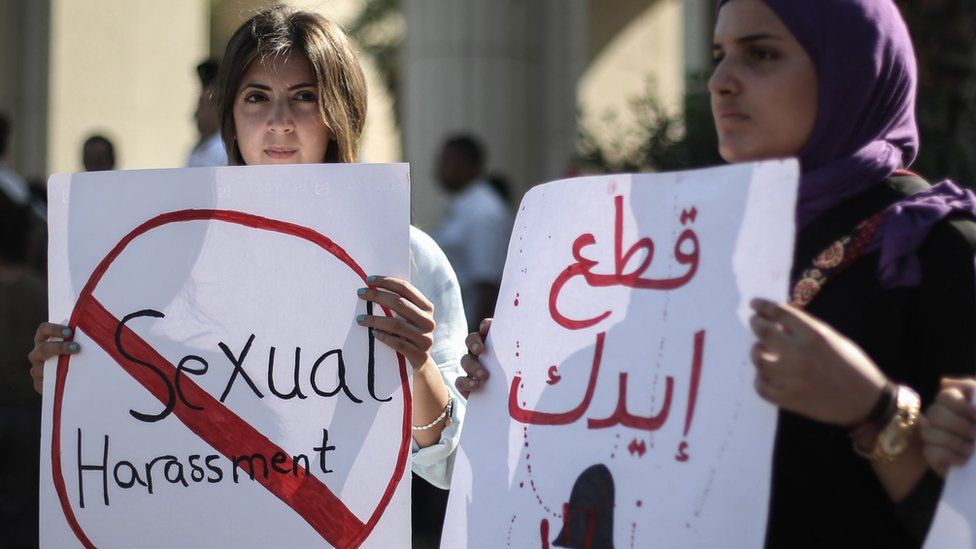 An Egyptian minibus driver who was stripped to his underwear after being accused of sexual harassment may himself have been the victim of a scam, Egyptian prosecutors say.
Initial reports suggested the unnamed man had tried to harass or kidnap a lone woman onboard his vehicle.
A crowd intervened and forced him to stand on top of the bus in his underwear. He was arrested by police.
Images of the incident have spread on Egyptian social media.
However, police have since released the driver and arrested a man on suspicion of inciting the crowd as part of an attempted robbery.
The alleged harassment victim, who left the scene during the commotion, has not been located.
هو دة اخرت ال يفكر يعمل غلط سواق حالا فى فيصل جرب ان يخطف اتعمل اجمل واجب معاه على شارع فيصل محطة حسن محمد مستشفى تبارك

Posted by Marymar Rozalenda on Saturday, September 1, 2018
It follows several high-profile incidents of sexual harassment in the country in recent months. Activists say that women who experience verbal or physical abuse are often ignored or victim-shamed.
One of the most prominent cases came last month when a young woman, Menna Gubran, uploaded a video of a man she accused of sexually harassing her on the streets of the capital.
In the clip, the man - later identified as Mahmoud Soleiman - can be seen approaching and inviting Ms Gubran for coffee as she waits for a bus. He apologised and left the scene after she rebuked him.
She later said that the man had circled her in his car and made inappropriate comments and only left when she began filming.
But Ms Gubran faced a backlash from some social media users who attacked her appearance and defended the behaviour of her alleged harasser. Mr Soleiman later said he would sue her for defamation.
But she found support in an unlikely place: Al-Azhar, Egypt's top Islamic institution.
"Harassment is haram [unlawful] under Islamic law and is completely condemned, and cannot be justified," it said in a statement.
"Some people have tried to use the girl's clothes or behaviour as an excuse for the crime of a harasser."
There have been other high-profile cases involving harassment in Egypt in recent weeks.
In the coastal city of Alexandria, a popular summer holiday destination, a man was fatally stabbed in an altercation with another man who had allegedly harassed his wife.
Another incident in July saw Lebanese tourist Mona el-Mazbouh jailed for eight years and fined for "producing and publishing indecent material" after posting a strongly-worded video against harassment she said she experienced there.
Her case bore echoes of the arrest of Egyptian human rights activist Amal Fathy in May after she uploaded a video criticising the government over the extent of sexual harassment in the country and other human rights issues.
Amnesty International has said it is unclear exactly which charges she faces, but added that she had been investigated for "spreading false news that harms national security".
Egypt moved to tackle the issue by introducing jail sentences and fines for offenders in 2014, but Human Rights Watch has said that sexual harassment is "endemic" in Egypt and that prosecutions remain rare.