Egypt sentences hundreds over 2013 pro-Morsi protests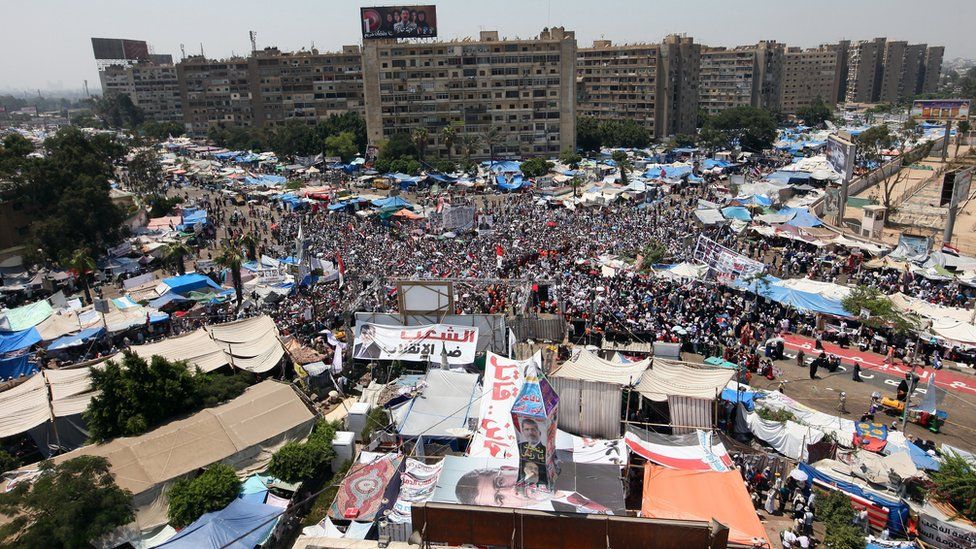 Egypt has delivered verdicts for more than 700 people over a pro-Muslim Brotherhood sit-in after President Mohammed Morsi was ousted in 2013.
The court confirmed 75 people's death sentences and life imprisonment for 47 others, including Islamic leaders.
Rights group Amnesty International has called the trial "grossly unfair" and a violation of Egypt's constitution.
Violence erupted at the 2013 protest in Cairo's Rabaa al-Adawiya square, with hundreds killed by security forces.
Those who were sentenced in the mass trial were accused of security-related offences including incitement to violence, murder and organising illegal protests.
Prominent members and politicians in the now-banned Muslim Brotherhood organisation were among those sentenced to life, including its Supreme Guide, Mohammed Badie.
Also indicted was award-winning photo-journalist Mahmoud Abu Zeid, better known as Shawkan, who received a five-year prison sentence.
He was detained while taking pictures of the dispersal of the demonstration. He is expected to now walk free after having spent five years in jail pending trial.
Hundreds of people were arrested when the Egyptian army and police dispersed the pro-Morsi protest, which took place a month after the democratically-elected former president was ousted by the then military chief and current president, Abdel Fatah al-Sisi.
The government said many protesters were armed, and that eight police were killed - although it initially said more than 40 members of the security services had died. It has since declared the Muslim Brotherhood a "terrorist organisation".