Autopsy on Coptic Christian monk shows signs of poisoning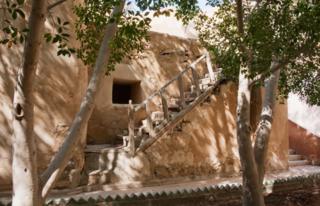 An autopsy on a Coptic Christian monk found dead in central Egypt shows signs of poisoning, officials say.
Zeinoun al-Maqari was one of six monks banished from a desert monastery after its abbot was found dead in a pool of blood in July.
The latest death came a day before the monk was scheduled to testify in the trial of two others charged with killing the abbot.
It is unclear whether he was poisoned by someone else or took his own life.
Wael al-Saad and Remon Rasmi Mansour were charged with the murder of Bishop Epiphanius at St Macarius Monastery in Egypt's Western Desert on 29 July.
The monks are accused of killing the cleric because they had "differences".
Zeinoun al-Maquari had served as a confessional priest for one of the two, Reuters news agency reports.
The case has shocked Egypt's Coptic Church, the largest Christian community in the Middle East.
One of the monks, Wael al-Saad, confessed to bludgeoning the bishop over the head with a 90cm (35in) steel pipe while his associate stood guard, according to the Egyptian attorney general's office.
He was expelled from the Church after the murder.
Egyptian prosecutors said the monk had had tensions with his superiors, and had been investigated for breaching monastic traditions.
The other suspect, Ramon Rasmi Mansour, threw himself from the monastery roof in September and has been treated in a Cairo hospital, according to Reuters.
The Coptic Church has unveiled strict new measures in the wake of the incident.
No new monks are to be accepted for a year, and clergy are forbidden to use social media. Monks are also banned from leaving monasteries without permission.
---
Who are the Coptic Christians?
The Coptic Orthodox Church is the main Christian Church in Egypt. While most Copts live there, the church has about a million members outside the country.
Copts believe that their faith dates back to about AD50, when the Apostle Mark is said to have visited Egypt. The head of the church is called the Pope, and is considered to be the successor of Saint Mark.
The Coptic Church separated from other Christian denominations at the Council of Chalcedon in 451, in a dispute over the human and divine nature of Jesus Christ.
The current Coptic Pope, Tawadros II, observed his own social media ban last month by closing his official Facebook page.