Egypt sentences activist for 'spreading fake news'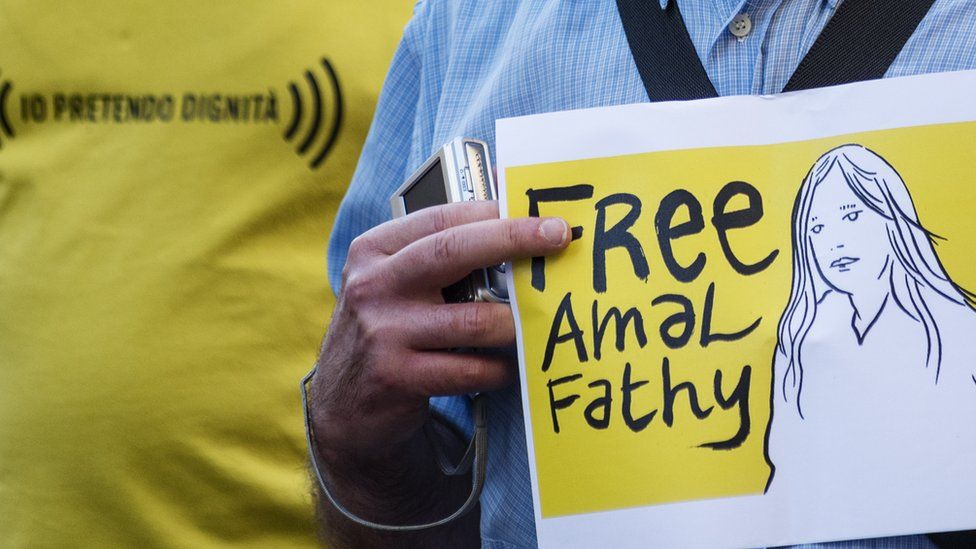 A court in Egypt has given human rights activist Amal Fathy a two-year-suspended sentence and a fine for "spreading fake news".
She has been in detention since May after posting a video criticising the government over the extent of sexual harassment in the country.
Amnesty International said this was "an outrageous case of injustice".
Egypt has recently passed a law that tightens controls over the internet - a move condemned by rights activists.
The legislation on "cybercrime" means websites can be blocked in Egypt if deemed to constitute a threat to national security or the economy.
It also allows any social media accounts with more than 5,000 followers to be placed under supervision.
Egypt's authorities say the measures are needed to tackle instability and terrorism.
Correspondents say that with street protests in Egypt all but banned, the internet has been one of the last forums left for Egyptians to express dissent.
What about Amal Fathy's case?
In addition to the suspended sentence, the court on Saturday also fined her 10,000 Egyptian pounds (£430; $560).
She would appeal against the verdict, her lawyer was quoted as saying by Reuters news agency.
Last May, Amal Fathy posted a 12-minute video on Facebook in which she described how she had been sexually harassed while visiting her bank.
She also criticised the government for not doing enough to protect women.
She was arrested two days later, and charged with attempting to harm the Egyptian state and possessing indecent material.
"She is not a criminal and should not be punished for her bravery."
Human Rights Watch has recently said that Egyptian authorities were increasingly using counterterrorism and state-of-emergency laws and courts to unjustly prosecute journalists, activists, and critics for peaceful criticism.
Egypt's authorities have not commented so far on the ruling.