Manhunt after two Israelis killed at West Bank factory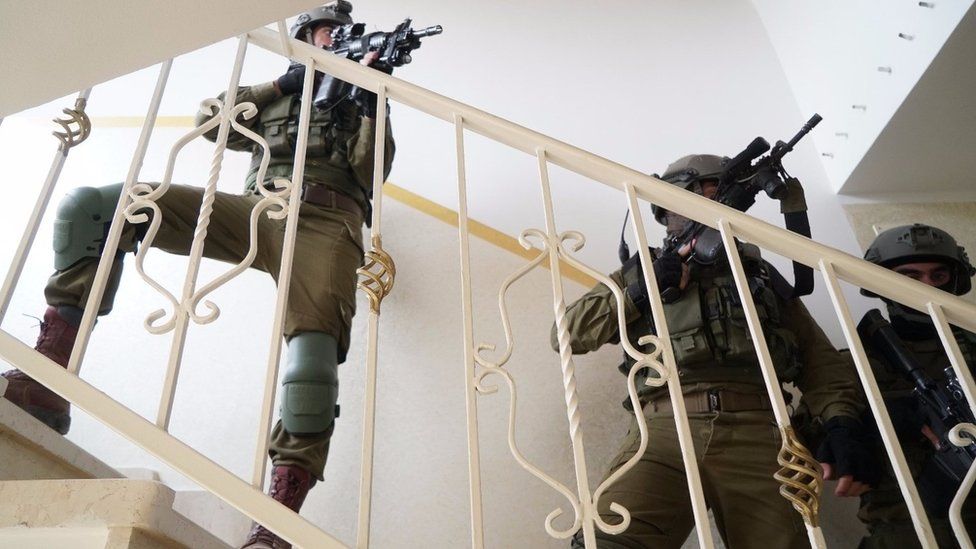 Israeli security forces are searching for a Palestinian suspected of killing two Israelis and wounding a third in the occupied West Bank on Sunday.
Kim Levengrond Yehezkel, 28, and Ziv Hajbi, 35, were shot dead at a factory near the Jewish settlement of Ariel.
CCTV footage showed a man carrying a rifle fleeing the scene. He was identified as Ashraf Naalwa, 23, who also worked at the factory.
Israel's military said it was treating the killings as a terrorist attack.
Israeli Prime Minister Benjamin Netanyahu said troops would soon apprehend the "despicable murderer" and "bring him to justice".
Sunday's attack took place at the Alon Group factory in the Barkan Industrial Zone, where some 3,300 Palestinians work alongside Israelis.
The Israel Defense Forces (IDF) said the assailant entered the factory shortly before 08:00 local time (05:00 GMT), armed with a homemade sub-machine gun known as a "Carlo".
He subsequently went to the factory's offices on the second floor, where he tied up and shot Ms Yehezkel, a mother-of-one who was working as a secretary, and Mr Hajbi, a father-of-three who worked in accounting.
He shot another woman in the stomach, moderately wounding her.
Surveillance video from the factory after the attack showed the gunman fleeing down a flight of stairs and then running past shocked onlookers.
The IDF later identified the assailant as Mr Naalwa, a Palestinian from the village of Shuwaika, north of Tulkarm, who worked at the factory as an electrician.
Troops had searched his house and surveyed it in preparation for demolition, and detained for questioning several Palestinians suspected of assisting him, the IDF added. They reportedly include Mr Naalwa's brother and sister.
The BBC is not responsible for the content of external sites.
A manager at another company in the industrial zone, Moshe Lev-Ran, suggested the attack might not have been politically motivated.
The Palestinian militant group Hamas praised the attack, saying it was a "natural response to the crimes of the Israeli occupation", but it did not claim to be behind it.
More than 600,000 Jews live in about 140 settlements built since Israel's 1967 occupation of the West Bank and East Jerusalem. The settlements are considered illegal under international law, though Israel disputes this.
Last month, a Palestinian teenager stabbed to death the US-born settler Ari Fuld, a well-known pro-Israel advocate, at a shopping centre in Gush Etzion.
More than 50 Israelis and several foreign nationals have been killed since late 2015 in a series of stabbings, shootings and car-ramming attacks, predominantly by Palestinians or Israeli Arabs.
More than 260 Palestinians have also been killed over the same period. Most have been assailants, Israel says. Others have been killed in clashes with Israeli troops.