Syria war: Rebels 'withdraw heavy weapons from Idlib buffer zone'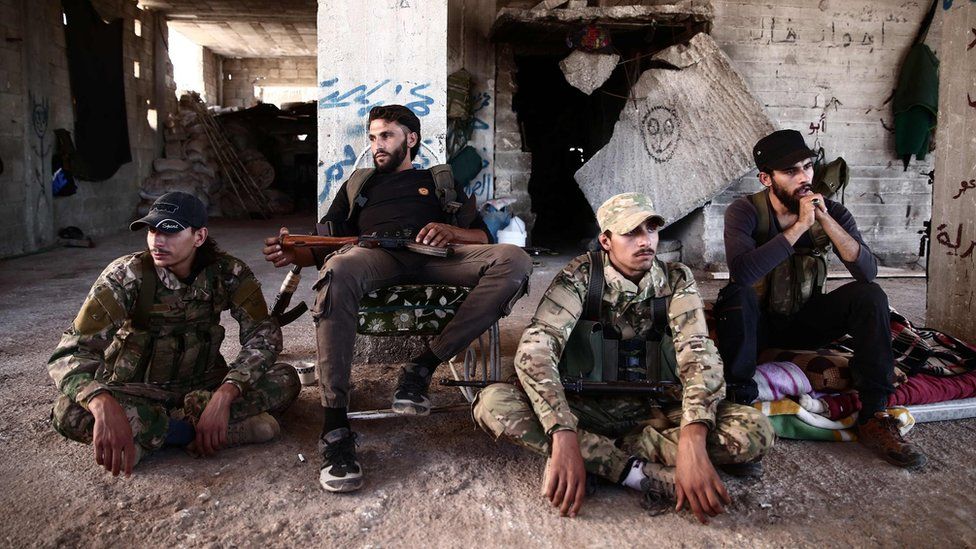 Syrian rebel fighters are reported to have withdrawn their heavy weapons from the frontlines around Idlib province.
Turkey's state-run Anadolu news agency said rockets, mortars and missiles had been removed in line with a deal to create a demilitarised buffer zone separating rebel and government forces.
The agreement is being overseen by Turkey, which backs the rebels, and Russia, a key ally of the government.
They want to avert a government assault on Idlib, the last major rebel bastion.
What did Turkey and Russia agree?
A memorandum of understanding said all "radical terrorist groups" - including members of Hayat Tahrir al-Sham (HTS), a powerful jihadist alliance once known as al-Nusra Front, that controls much of Idlib province - would have to withdraw from the zone by 15 October.
All other opposition armed groups would have to remove their tanks, multiple-launch rocket systems, artillery guns and mortars by 10 October, it added.
Once established, Russian and Turkish military personnel will conduct co-ordinated patrols along the zone's perimeter to detect and prevent violations.
Both countries also agreed "transit traffic" would be restored on the M4 and M5 highways - which run west from the city of Aleppo to Latakia on the Mediterranean coast, and south to Hama - by the end of 2018.
Are rebels and jihadists complying with the deal?
Anadolu cited a correspondent in Idlib as saying "opposition and other anti-regime groups" had completed the removal of heavy weapons on Monday.
The Turkish army had also sent weapons and armoured vehicles to the area in preparation for the patrols with the Russian military police, the agency added.
There was no immediate confirmation from the Turkish or Russian militaries.
Two jihadist groups - Hurras al-Din, which is believed to be al-Qaeda's new affiliate in Syria, and Ansar al-Din - have rejected the deal between Turkey and Russia, calling it a "great conspiracy". HTS, which the UN estimates has 10,000 fighters in Idlib, has not yet declared its position.
The main Turkish-backed rebel alliance, the National Liberation Front (NLF), said over the weekend that it had begun withdrawing its heavy weapons and that it would keep its medium weapons in place.
What does the Syrian government say?
The Syrian government welcomed the Idlib deal last month, but President Bashar al-Assad told a meeting of the ruling Baath Party on Sunday that it was only a "temporary measure" aimed at "stemming the bloodshed"
"This province and other Syrian territory still under terrorist control will return to the Syrian state," he was quoted by the Sana news agency as saying.
Mr Assad also dismissed Western opposition to an offensive in Idlib as "hysterical".
The UN has said a full-scale military operation could have devastating consequences in the province, which is home to some 2.9 million people.
Hundreds of thousands are already experiencing dire conditions in overcrowded sites where basic services have been stretched to breaking point.
The UN estimates as many as 800,000 people could be displaced by a battle. It is not clear where they could go because Turkey has shut its border and many opposition supporters fear imprisonment if they cross into government territory.