Jamal Khashoggi case: Mnuchin and Fox quit Saudi summit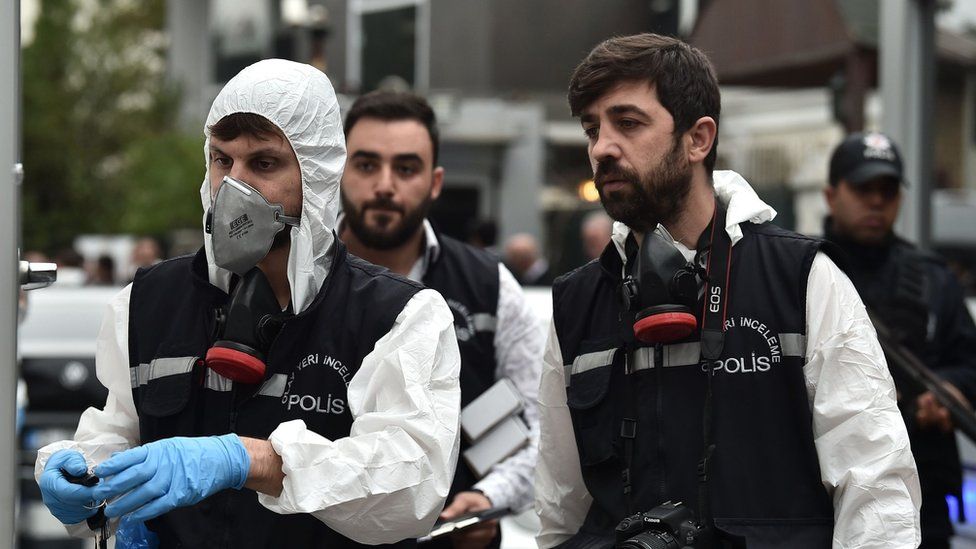 US Treasury Secretary Steven Mnuchin and UK International Trade Secretary Liam Fox have pulled out of an investment conference in Saudi Arabia.
Their moves come amid allegations the country was behind the killing of Saudi journalist Jamal Khashoggi.
Mr Khashoggi has not been seen since entering the Saudi consulate in Istanbul on 2 October, where Turkish officials allege he was murdered.
Saudi Arabia, which denies the killing, allowed investigators inside overnight.
What is the summit about?
The Future Investment Initiative summit will take place from 23 to 25 October in the Saudi capital Riyadh.
It is being hosted by Crown Prince Mohamed bin Salman to promote his reform agenda.
His plan for economic and social modernisation, called Vision 2030, aims to reduce Saudi Arabia's dependence on oil and provide new jobs.
As a result, Mr Mnuchin's decision to boycott the summit is seen as a substantial blow to the prince's agenda, correspondents say.
Investment bank Goldman Sachs became the latest business to say it would not send any executives to the conference.
Mr Mnuchin announced he would pull out of the summit following a discussion with President Donald Trump and Secretary of State Mike Pompeo.
Mr Pompeo went to Riyadh earlier this week to discuss the disappearance with Saudi King Salman.
He said he had been assured that Saudi Arabia would investigate the matter, and that he had told Mr Trump to give the country "a few more days" before deciding whether to take action.
What happened to Jamal Khashoggi?
It is not clear. Mr Khashoggi was last seen entering the Saudi consulate in Istanbul on 2 October, to pick up paperwork that would allow him to marry his fiancée Hatice Cengiz.
Turkish officials believe Mr Khashoggi was killed by a team of Saudi agents inside the consulate, with his body then removed.
Saudi Arabia has denied the claims, and initially insisted Mr Khashoggi had freely left the embassy.
The Turkish authorities say they have audio and video evidence of the killing - although these have not been made public.
The Yeni Safak newspaper, which is close to the government, quotes him as telling alleged Saudi agents sent to Istanbul: "Do this outside. You're going to get me in trouble."
However, Saudi Arabia says reports on Mr Khashoggi's death are "completely false and baseless" and that it is "open to co-operation" to find out what happened.
Several high-profile human rights groups have demanded that Turkey ask the UN to investigate the possible killing of Mr Khashoggi.
Amnesty International, Human Rights Watch, Reporters Without Borders and the Committee to Protect Journalists said that a "one-sided" investigation by Saudi Arabia was not good enough.
On Wednesday and Thursday, Turkish investigators spent almost nine hours searching the Saudi consul's residence, before moving on to the consulate itself about 200m (650ft) away, according to Reuters news agency.
Several vehicles with Saudi diplomatic number plates were filmed by CCTV cameras moving from the consulate to the residence just under two hours after Mr Khashoggi entered the consulate.
Late on Thursday, Turkish officials told journalists police were searching Belgrad Forest - a secluded woodland more than 10km (six miles) from the capital Istanbul - as well as Yalova city nearby.
An official told Reuters they suspected that Mr Khashoggi's remains had been disposed of in "a farm house or villa" in one of those areas.
Investigators had taken samples from the Saudi consulate and the consul's home, and would analyse them for traces of Mr Khashoggi's DNA, the official, who Reuters did not name, added.
How have other countries reacted?
Saudi Arabia is a key ally to many Western countries, especially the US. As one of the world's biggest oil exporters, it has significant influence on the world stage.
The Dutch and French finance ministers, and the head of the International Monetary Fund, are amongst those now boycotting the summit.
On Thursday Donald Trump told reporters it "certainly looks" like Mr Khashoggi is dead, adding "it's very sad".
He said there would be "very severe" consequences if Saudi Arabia was proved to have killed the journalist.
However, Mr Trump has also been accused of providing cover to the Saudi government.
He previously said he would not cancel military contracts with Saudi Arabia because "I don't want to hurt jobs", and also said he was unhappy Saudi Arabia was being treated as "guilty until proven innocent".
Russian President Vladimir Putin has said it is a pity that Mr Khashoggi has gone missing, but that Russia cannot damage relations with Saudi Arabia without hard facts.
Mr Khashoggi is a prominent journalist who has covered major stories for various Saudi news organisations.
He served as an adviser to top Saudi officials, but later fell out of favour with the government.
He went into self-imposed exile in the US last year, and wrote a monthly column in the Washington Post.
The newspaper said the column had been submitted by Mr Khashoggi's translator the day after he was reported missing.
It had initially held off from publishing the column, but decided to go ahead after accepting Mr Khashoggi was not going to return safely.
In his column, Mr Khashoggi criticised the state of press freedom in the Arab world, saying it left Saudis "either uninformed or misinformed".
Government moves to suppress journalists "no longer carry the consequence of a backlash from the international community", he wrote. "Instead, these actions may trigger condemnation quickly followed by silence."
Jamal Khashoggi disappearance: The key events
03:28: A private jet carrying suspected Saudi agents arrives at Istanbul airport. A second joins it late afternoon
12:13: Several diplomatic vehicles are filmed arriving at the consulate, allegedly carrying some of the Saudi agents
13:14: Mr Khashoggi enters the building, where he is due to pick up paperwork ahead of his marriage
15:08: Vehicles leave the consulate and are filmed arriving at the nearby Saudi consul's residence
21:00: Both jets leave Turkey by 21:00
Turkish government announces Mr Khashoggi is missing, thought to be in the consulate
Saudi Arabia says he left the embassy
Turkish officials tell the BBC they believed Mr Khashoggi was killed at the consulate. This is later strongly denied by Saudi Arabia
Forensic teams carry out searches of consulate