US to merge Jerusalem consulate general with new embassy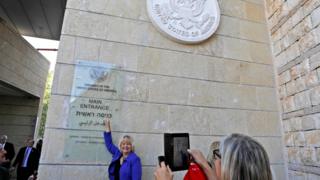 The US is to merge its consulate general in Jerusalem, which deals with Palestinian affairs, with its new embassy, the secretary of state says.
Mike Pompeo said the decision was made for efficiency reasons and did not signal a change of policy on Jerusalem, the West Bank or the Gaza Strip.
Palestinians condemned the move.
Senior official Saeb Erekat said the Trump administration was working with Israelis to "impose 'Greater Israel' rather than a two-state solution".
Israel regards Jerusalem as its "eternal and undivided" capital, while the Palestinians claim East Jerusalem - occupied by Israel in the 1967 Middle East war - as the capital of a future Palestinian state.
The closure of the consulate general means that Palestinian affairs will now come under the direction of the US ambassador to Israel, the BBC's James Reynolds in Jerusalem says.
The Palestinians see this as yet another move by the Trump administration to isolate and downgrade them, our correspondent adds.
Last December, President Donald Trump recognised Jerusalem as Israel's capital, which overturned decades of US neutrality on the issue, attracted international criticism, and led to the Palestinian Authority cutting off dialogue with Washington.
The US embassy was relocated from Tel Aviv to Jerusalem in May.
Then last month the US announced the closure of the Palestine Liberation Organisation's diplomatic mission in Washington.
Mr Pompeo said US activities with Palestinians in the West Bank, Gaza and Jerusalem would now be run through a new "Palestinian affairs unit" inside the US embassy that would operate from the current consulate site on Agron road.
He said the Trump administration was "strongly committed to achieving a lasting and comprehensive peace that offers a brighter future to Israel and the Palestinians".
But Mr Erekat, the PLO's secretary general, said the US could no longer play a part in the peace process, adding: "The Trump administration is part of the problem, not part of the solution."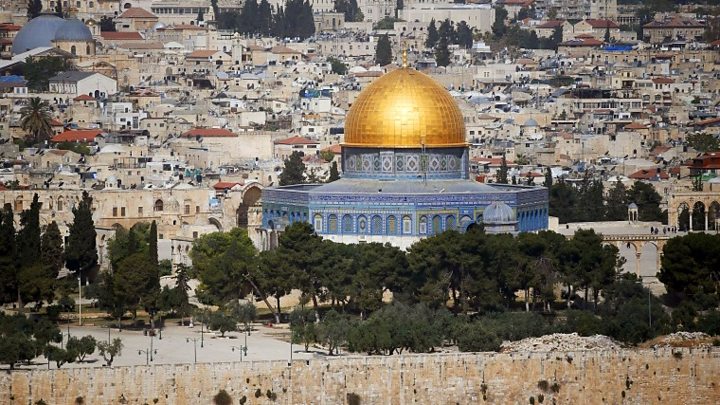 The status of Jerusalem goes to the heart of the Israeli-Palestinian conflict.
Israeli sovereignty over Jerusalem has never been recognised internationally, and according to the 1993 Israel-Palestinian peace accords, the final status of Jerusalem is meant to be discussed in the latter stages of peace talks.
Since 1967, Israel has built a dozen settlements, home to about 200,000 Jews, in East Jerusalem. These are considered illegal under international law, though Israel disputes this.
In December 2017, UN member states voted decisively at the General Assembly in favour of a resolution effectively declaring US recognition of Jerusalem as Israel's capital to be "null and void" and demanding it be cancelled.
Earlier this week, Australia said it would consider moving its embassy to Jerusalem, following the US lead.
Two other countries - Guatemala and Paraguay - also made the switch in May, but Paraguay later reversed the decision after a change of government.