Jamal Khashoggi case: Turkish police search forest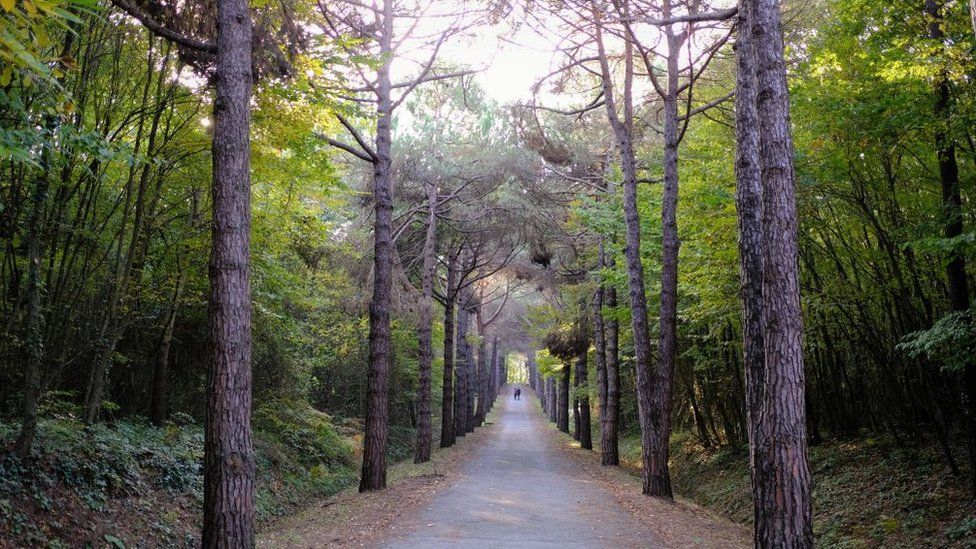 Police in Turkey investigating the alleged killing of Saudi journalist Jamal Khashoggi have expanded their search.
Unnamed Turkish officials say his body may have been disposed of in the nearby Belgrad forest or on farmland.
Mr Khashoggi disappeared after entering the Saudi consulate in Istanbul on 2 October, where Turkish officials allege he was murdered.
Saudi Arabia denies any knowledge of what happened to him.
Samples taken from the Saudi consulate and the consul's residence during searches this week are being tested for a match with Mr Khashoggi's DNA.
The BBC understands the police are searching the Belgrade forest because it is believed at least two vehicles from the Saudi consulate headed in that direction on the day of the suspected killing.
Meanwhile, 15 Turkish nationals employed at the Saudi consulate in Istanbul have been questioned by prosecutors, state news agency Anadolu reports.
Those giving witness statements included the consulate driver, receptionists, technicians and accountants, Anadolu said.
What happened to Jamal Khashoggi?
Mr Khashoggi - a prominent journalist who fell out of favour with the Saudi government - has been living in self-imposed exile in the US since last year.
He was last seen entering the Saudi consulate in Turkey's capital Istanbul on 2 October, to pick up paperwork that would allow him to marry his fiancée Hatice Cengiz.
Turkish officials believe Mr Khashoggi was killed by a team of Saudi agents inside the consulate, and his body then removed.
Saudi Arabia has denied the claims, and initially insisted Mr Khashoggi had freely left the embassy.
Why does Turkey say he was murdered?
Turkish officials say they have audio and video recordings that show Mr Khashoggi being murdered by a team of Saudi agents.
Turkish newspapers with close links to the government have published gruesome details of the alleged audio, including what they describe as the sounds of screams and Mr Khashoggi being interrogated and tortured.
Turkish officials say the group brought a bone saw into the country and that one of its members was a doctor who specialised in post-mortems.
Several vehicles with Saudi diplomatic number plates were filmed by CCTV cameras moving from the consulate to the residence just under two hours after Mr Khashoggi entered the consulate.
However, the recordings have not been publicly released, and Turkey's foreign minister says they have not shared the audio with anyone.
US Secretary of State Mike Pompeo denied US media reports that he had listened to the audio recordings, saying: "I've heard no tape, I've seen no transcript."
"This is a very serious matter that we're working diligently on, and so to put out headlines that are factually false does no one any good."
Is Turkey's evidence credible?
Some intelligence experts say they believe Turkey's claims about the audio recording are true.
Sir John Sawers, the former head of the UK's foreign intelligence service MI6, told the BBC's World at One: "The level of detail that's coming out from Turkish security sources is so clear and so damning that some form of tape must exist."
"All the evidence points to [the killing] being ordered and carried out by people close to [Saudi Crown Prince] Mohammed bin Salman," he said.
"I don't think he would have done this if he hadn't thought he had license from the US administration to frankly behave as he wishes to do so," he added.
However, Saudi Arabia has said reports on Mr Khashoggi's death are "completely false and baseless" and that it is "open to co-operation" to find out what happened.
Turkish police were allowed to enter the Saudi consulate on 15 October.
However, he has also cautioned against jumping to conclusions about Saudi Arabia's role, telling AP news agency the country was being treated as "guilty until proven innocent".
Russian President Vladimir Putin has said it is a pity that Mr Khashoggi has gone missing, but that Russia cannot damage relations with Saudi Arabia without hard facts.
What has the international reaction been like?
The incident has caused considerable strain between Saudi Arabia and its Western allies.
On Thursday, the New York Times reported that Saudi Arabia's leaders are considering blaming a high-level intelligence official close to Crown Prince Mohammed bin Salman for the killing. This, says the newspaper, is being viewed as a recognition of the international outcry over the scandal.
Several politicians, including US Treasury Secretary Steven Mnuchin and UK International Trade Secretary Liam Fox have pulled out of a major investment conference in Riyadh next week.
The summit, dubbed "Davos in the Desert", is being hosted by the Saudi Crown Prince to promote his reform agenda.
Jamal Khashoggi disappearance: The key events
03:28: A private jet carrying suspected Saudi agents arrives at Istanbul airport. A second joins it late afternoon
12:13: Several diplomatic vehicles are filmed arriving at the consulate, allegedly carrying some of the Saudi agents
13:14: Mr Khashoggi enters the building, where he is due to pick up paperwork ahead of his marriage
15:08: Vehicles leave the consulate and are filmed arriving at the nearby Saudi consul's residence
21:00: Both jets leave Turkey by 21:00
Turkish government announces Mr Khashoggi is missing, thought to be in the consulate
Saudi Arabia says he left the embassy
Turkish officials tell the BBC they believed Mr Khashoggi was killed at the consulate. This is later strongly denied by Saudi Arabia
Forensic teams carry out searches of consulate