Khashoggi death: How Saudi Arabia altered its account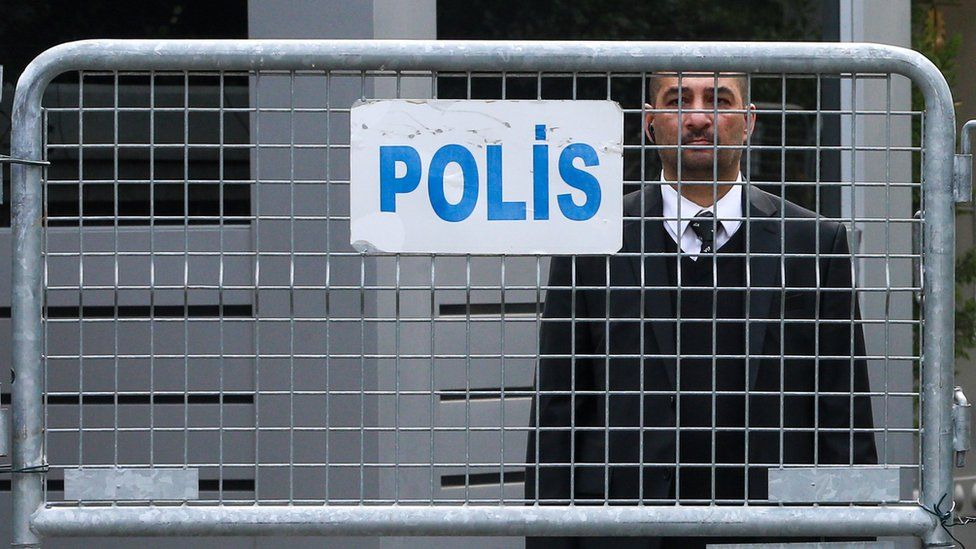 Saudi Arabia has said that journalist Jamal Khashoggi was killed at its consulate in Istanbul as part of a "rogue operation" by Saudi agents who had nothing to do with the powerful Crown Prince Mohammed bin Salman.
This latest account of what happened in Turkey on 2 October differs from previous statements presented by Saudi officials. It is also in conflict with those by Turkish officials who claim they have video and audio proof that Khashoggi, a prominent critic of the Saudi government, was murdered by a 15-strong team who arrived and departed on the same day.
So how has Saudi Arabia changed its story since Khashoggi's disappearance was first reported?
3 October: 'He left the consulate alive'
Khashoggi, who had been living in self-imposed exile in the US, was reported missing hours after he entered the Saudi consulate to obtain paperwork that would allow him to marry his Turkish fiancée.
The next day a Saudi official insisted that Khashoggi had left shortly after getting the paperwork and that he was "not in the consulate nor in Saudi custody".
The consulate later issued a statement saying it was working with Turkish authorities "to uncover the circumstances" of his disappearance.
8 October: 'Reports of death false and baseless'
Crown Prince Mohammed's brother and the Saudi ambassador to the US, Prince Khaled bin Salman, published a letter on 8 October insisting that reports about Khashoggi's death were "completely false and baseless".
"Jamal is a Saudi citizen who went missing after leaving the consulate," he wrote.
"After Turkish authorities and the media were allowed to inspect the consulate building in its entirety, the accusations changed to the outrageous claim that he was murdered, in the consulate, during business hours, and with dozens of staff and visitors in the building," he said, adding: "I don't know who is behind these claims, or their intentions, nor do I care frankly."
15 October: Possibility of 'rogue killers'
Following a telephone conversation between Saudi Arabia's King Salman and Donald Trump, the US president told reporters that the king had denied all knowledge of Khashoggi's disappearance.
Mr Trump described the king's denial as "very, very strong".
"It sounded to me like maybe these could have been rogue killers," Mr Trump said, adding: "Who knows?"
20 October: 'A brawl and a fist fight'
On 20 October, the Saudi government issued a press release following "preliminary investigations" by the Saudi public prosecution office.
It said the investigations had "revealed that the discussions that took place between [Khashoggi] and the persons who met him... at the Saudi consulate in Istanbul led to a brawl and a fist fight".
This, it added, led to Khashoggi's death.
A second official statement on the same day suggested that "a fight and a quarrel" had occurred between the journalist and "some" of those with him at the consulate, resulting in his "death and their attempt to conceal what had happened".
21 October: 'Murder was a mistake'
In an interview with Fox News, Saudi Foreign Minister Adel al-Jubeir referred to Khashoggi's reported death as "murder" for the first time.
"We are determined to find out all the facts and we are determined to punish those who are responsible for this murder," he said.
"The individuals who did this, did this outside the scope of their authority," he said. "Even the senior leadership of our intelligence service was not aware of this," he added, calling it a "rogue operation".
"There obviously was a tremendous mistake made, and what compounded the mistake was the attempt to try to cover up."