Syria war: Damascus national museum reopens doors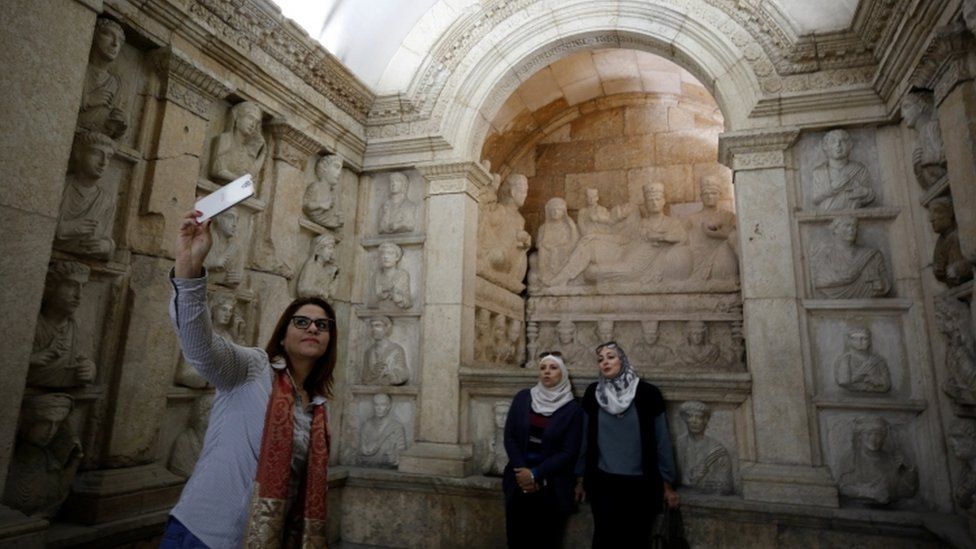 Part of Syria's national museum has reopened to the public six years after civil war forced its closure.
The world-renowned antiquities museum in Damascus closed in 2012 to protect its ancient artefacts from damage.
Most of the collection was then evacuated and kept at secret locations to keep exhibits safe.
The decision to reopen part of the museum comes as the Syrian government maintains normality is returning to the conflict-wracked country.
Earlier this year, the capital was secured by President Bashar Assad's forces, but fighting still continues in some areas of the country.
The seven-year conflict in Syria has left more than 350,000 people dead, and devastated many historic cities and sites across the country.
Culture Minister Mohamed al-Ahmad said the reopening of the museum sent a "genuine message" that the country's rich cultural heritage was not destroyed by "terrorism", the Associated Press reports.
Only part of the National Museum of Damascus opened to visitors on Sunday, but the museum's deputy director said authorities were working on reopening it all.
"We will exhibit a group of artefacts from all periods from prehistory, the ancient east and the classical and Islamic eras in this section," Ahmad Deeb told the media.
The museum's gardens stayed open to the public during the conflict, but the building was closed as Damascus fell under rebel rocket fire.
Syria, as one of the most centrally placed locations for trade routes throughout ancient history, is renowned for its rich and diverse heritage.
Some of its famous sites, including the Unesco world heritage site at Palmyra, fell into the hands of the Islamic State militant group and were intentionally damaged.
Others, like the ancient heart of Aleppo, were destroyed by fierce and relentless fighting.
An unknown number of antique items are suspected to have been smuggled abroad and sold since the conflict began - with accusations falling on all sides.
Government officials have said thousands of artefacts have been successfully recovered from militant-held areas or on the border.
Earlier this month hundreds of these recovered artefacts were put on display at the Damascus Opera House.