Gavin Ford: British radio host found dead at home in Lebanon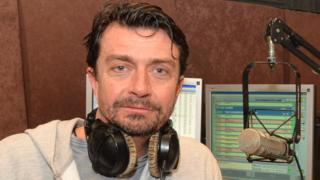 A British radio host who presented a popular breakfast show in Lebanon has been found dead at his home.
The body of Gavin Ford, who joined the Lebanese station Radio One in 1995, was discovered on Tuesday in the town of Beit Meri, east of the capital Beirut.
Security sources have told Lebanese media that initial investigations indicate he was murdered.
"We are heartbroken to announce the passing of our dear Gavin Ford," Radio One wrote in a social media post.
Staff at Radio One said they alerted the authorities after they were unable to contact Mr Ford when he failed to show up at work.
Police have opened an investigation and an anonymous security source told the AFP news agency that "initial information suggests that Ford was murdered".
Security sources told Lebanese newspaper Annahar that the British radio host had been strangled and his hands were found bound behind his back.
Lebanon's LBCI TV reported that he had also received "a blow to the head, which resulted in his death".
Mr Ford's show, Gavin Ford in the Morning, became popular with the station's listeners.
Tributes on social media following his death described him as a "bright star" with an "engaging charismatic voice".
The UK's ambassador to Lebanon, Chris Rampling, has also tweeted about the news, saying: "I am shocked and deeply saddened by the death of Gavin Ford, one of Lebanon's most popular morning breakfast hosts."
"The thoughts of all at the embassy are with his family, friends and colleagues at this terribly difficult time," he added.
Mr Ford studied at the National Broadcasting School in London before going on to present a breakfast show on Radio Caroline, an offshore station in the UK broadcast from a ship.
In an attempt to escape the "constant storms", he later found work with stations in France and Cyprus, before moving to Lebanon, where his breakfast show was said to have been the country's most popular since 1996.
Nearly a year ago, British embassy worker Rebecca Dykes was found raped and murdered in Beirut, with an Uber driver later arrested over the killing.