Islamic State group: Civilians evacuated from last Syria enclave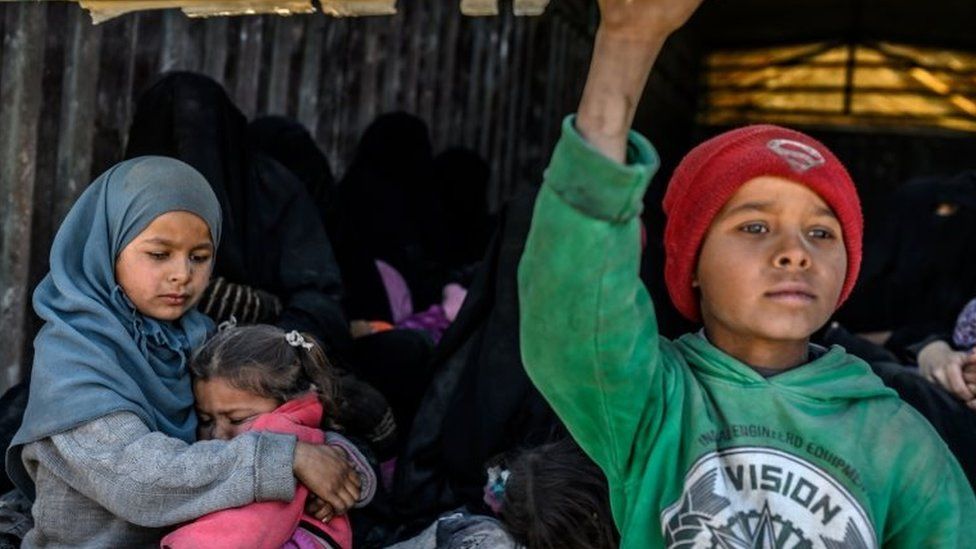 Civilians have been evacuated from the last village in Syria still held by the Islamic State (IS) group.
A convoy on Wednesday carried hundreds of men, women and children from Baghuz, near the Iraqi border.
The US-backed Syrian Democratic Forces (SDF) alliance have said they are waiting for their removal before launching an offensive against militants "entrenched inside".
Those removed are being screened then taken to camps, the SDF say.
An estimated 300 IS fighters are thought to be holed up inside a tiny pocket of land.
How close is the capture?
There have been conflicting reports on how close the SDF is to ridding the enclave of IS.
The US-led coalition fighting IS has said the "most hardened" fighters remain within Baghuz.
The SDF has said the group are waiting for confirmation all civilians are out before storming Baghuz.
"Our forces said from the start that they have two options: unconditional surrender or for the battle to continue until its end," SDF spokesman Mustafa Bali told the Reuters news agency.
As many as 2,000 people may have left the enclave on Wednesday, Reuters reports.
Another SDF spokesman, Adnan Afrin, told the AFP news agency that a number of IS fighters had been caught infiltrating the evacuations.
"Civilians and fighters from many nationalities have surrendered," he said, adding "there was a group of IS fighters hidden among the civilians... but as far as we know, our colleagues have arrested them."
What are conditions like for civilians?
Some 20,000 are estimated to have fled the area in recent weeks, but in recent days departures had stalled.
On Tuesday, the UN said that some 200 families were apparently being prevented from leaving by IS militants.
Human rights chief Michelle Bachelet warned civilians within the area were trapped, subject to intense aerial bombardment from US-led coalition and allied Syrian forces alike.
"Civilians continue to be used as pawns by the various parties," Ms Bachelet said, calling for fighters to allow their safe passage.
Shortly after, a convoy of about 50 lorries arrived on its outskirts to help get them out.
On Wednesday at least 15 of those vehicles were reported as leaving by journalists at the scene.
The thousands who have fled in recent weeks have been taken by the SDF to a makeshift camp for displaced people at al-Hol, in Hassakeh province.
Among them are the wives and children of IS militants and many foreign nationals, including the British teenager Shamima Begum, who was 15 when she ran away from her home to join IS four years ago.
Separately, a woman who fled from Alabama to join the group has also been told she cannot return.
US Secretary of State Mike Pompeo says Hoda Muthana, 24, has no "legal basis" to claim American citizenship or re-enter the country.
I have instructed Secretary of State Mike Pompeo, and he fully agrees, not to allow Hoda Muthana back into the Country!

— Donald J. Trump (@realDonaldTrump) February 20, 2019
Does this mean the end of IS?
The fall of Baghuz is significant - but experts have warned the group's ideological pull endures.
At its height, five years ago, IS controlled 88,000 sq km (34,000 sq miles) of territory stretching from western Syria to eastern Iraq.
It proclaimed the creation of a "caliphate", imposing its brutal rule on almost eight million people and generating billions of dollars from oil, extortion, robbery and kidnapping.
Even if fighters are defeated in Syria there are still significant numbers of IS-affiliated militants in pockets around the world.
Experts warn that individuals inspired by the group will continue to carry out attacks despite the loss of their territory.