Egypt president could rule until 2030 as constitutional changes backed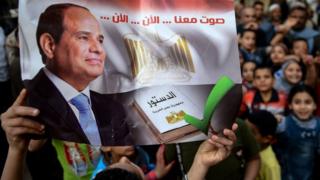 Egyptians have overwhelmingly approved in a referendum constitutional changes that could allow President Abdul Fattah al-Sisi to stay in power until 2030.
The National Election Authority said 88.8% of those who took part endorsed the proposals. The turnout was 44.3%.
Mr Sisi's second term has been extended from four to six years, and he will be allowed to seek one more term in 2024.
The changes also expand the military's power to intervene in politics and give Mr Sisi more power over the judiciary.
In 2013, Mr Sisi led the military's overthrow of Egypt's first democratically elected president, Mohammed Morsi, following protests against his rule.
Since then, he has overseen what human rights groups say is an unprecedented crackdown on dissent that has led to the detention of tens of thousands of people.
National Election Authority chairman Lashin Ibrahim announced on Tuesday night that 26.4m valid votes were cast in the three-day referendum, which took place from Saturday to Monday. Another 831,000 ballots were deemed to be void.
The turnout was five percentage points higher than in the last constitutional referendum in 2014 and three points higher than in last year's presidential election, when Mr Sisi faced no serious competition and won 97% of valid votes cast.
Mr Ibrahim criticised calls for a boycott the referendum, which he alleged had been "promoted by the forces of darkness and evil" to "destroy the democratic atmosphere in which it took place".
On Facebook, President Sisi expressed his "appreciation and pride to the great Egyptian people", who he said had exercised their political and constitutional rights and "dazzled the world" with their awareness of the challenges facing their country.
Before Mr Ibrahim's announcement, a group of opposition figures who met in the Turkish city of Istanbul dismissed the referendum as a "sham" and said they would consider the result "null and void".
They alleged that the government had denied Egyptians freedom to express peacefully opposition to the changes before the vote and that it had used public money to distribute electoral bribes.
There were reports during the referendum that some people were offered free rides to their local polling stations or given food parcels once they had voted.
An activist was also allegedly arrested for holding up a banner saying "No to the constitutional amendments" in the al-Tagamu al-Khamis area of New Cairo.
The State Information Service said on Monday that there had been "a global consensus on the integrity of the referendum procedures".
It stressed that the food parcels were distributed by some businessmen and party delegates, and not by any state entities, with the sole purpose of encouraging them to vote. It also dismissed criticism of the amendments by foreign media and other organisations as "worthless false readings".
The Egyptian authorities did not give the BBC accreditation to report on the vote.
Human Rights Watch's deputy Middle East director, Michael Page, said the constitutional amendments were "a shameless attempt to entrench the military's power over civilian rule, and the referendum took place in such an unfree and unfair environment that its results can have no pretence to legitimacy".
"President Sisi's desire to demolish an independent judiciary and secure his autocratic rule for at least 11 more years is re-creating the impoverished and repressive political environment that drove Egyptians to revolt against former President Mubarak in 2011," he added.
The amended constitution says that, as well as protecting Egypt and preserving its security, it is the duty of the military to "protect the constitution and democracy, and safeguard the basic components of the state and its civilian nature, and the people's gains, and individual rights and freedoms".
Military courts will also be allowed to try civilians for crimes "that represent an assault" against military facilities, equipment, weapons, documents, and public funds. Previously, such assaults had to be "direct". Civilians who attack facilities protected by the military, such as public universities, will also face military courts.
The president will also head the Supreme Council for Judicial Bodies and Authorities, which will supervise the judiciary, and have the authority to select the chief justice of the Supreme Constitutional Court as well as the public prosecutor.