Turkish diplomat and Iraqi civilian shot dead in Iraqi Kurdistan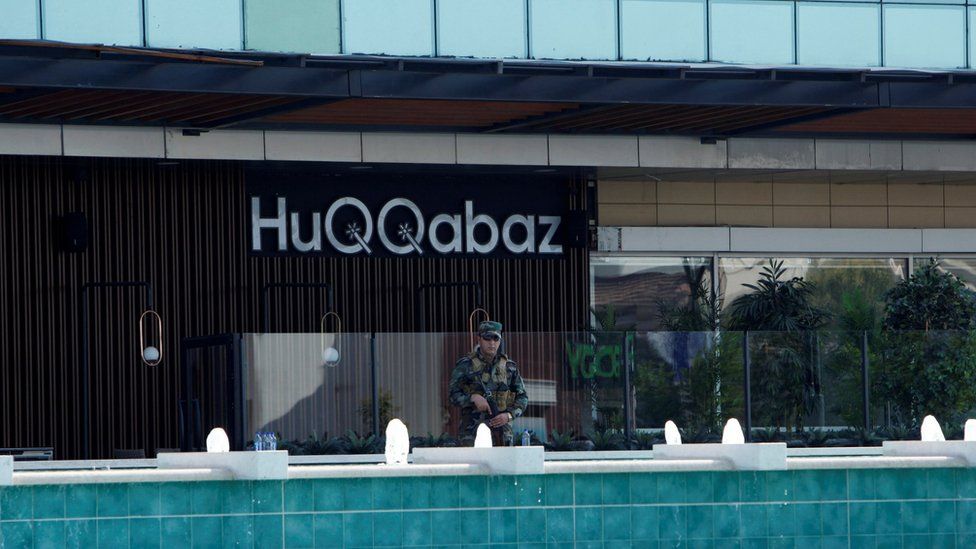 A Turkish diplomat was among two people shot dead on Wednesday in Irbil, the capital of Iraq's Kurdistan Region.
The victims, who were eating at a restaurant when gunmen opened fire, were reportedly Turkey's deputy consul in the city and an Iraqi civilian.
Turkish President Recep Tayyip Erdogan condemned the "heinous attack".
No-one has so far said they were behind it. The Kurdistan Workers' Party (PKK), which has fought Turkey for decades and has bases in Iraq, has denied any role.
"We have no knowledge about an incident of shooting and killing of Turkish consulate officials in Irbil", a spokesman for the group's military wing, the People's Defence Forces (HPG), told the Iraqi Kurdish Dwarozh News website.
What do we know about the attack?
The shooting took place at about 14:30 (11:30 GMT) on Wednesday at HuQQabaz restaurant on Airport Road, between Irbil's Dream City and Empire districts.
Turkish Foreign Minister Mevlut Cavusoglu said three assailants opened fire at the restaurant, killing the Turkish diplomat and the Iraqi civilian, and injuring another Iraqi. The diplomat and the Iraqis were sitting at adjacent tables, he added.
Initial reports said that three Turkish diplomats were killed.
The Kurdistan Region's internal security forces, the Asayish, said it had launched a full investigation and had contacted Turkish diplomats to offer them assistance.
Mr Cavusoglu said Turkey was "collaborating with the Iraqi authorities to find the perpetrators, to find out the motive, and to make sure all details are unveiled".
"We will send a delegation [to Irbil] if necessary," he added.
Ibrahim Kalin, a spokesman for President Erdogan, wrote on Twitter: "The necessary response will be given to those who staged this treacherous attack."
The Kurdistan Regional Government said it strongly condemned the killing and vowed to find the perpetrators and hold them accountable. "We will never allow Kurdistan Region's peace and security to be harmed," it added.
An Iraqi foreign ministry spokesman said it would closely follow the investigation.
Who might be behind the attack?
Asked whether the PKK was behind the shooting, Mr Cavusoglu said it was not yet clear if it was a "terrorist attack". The Iraqis could have been the targets, he noted.
PKK fighters, who have been fighting for autonomy for Turkey's mainly Kurdish south-east since 1984, have used the remote mountainous areas along the Iraq-Turkey border as a sanctuary and to stage attacks on Turkish forces. In response, Turkey has carried out cross-border air and artillery strikes and ground raids.
Last week, Turkey said it had launched an operation involving commandos, air strikes and artillery targeting PKK positions in the Xwakurk (Hakurk) area.
The PKK meanwhile confirmed that one of its senior leaders - Diyar Gharib Mohammed, who sat on the presidential council of an umbrella organisation to which the PKK belongs - had been killed in a Turkish air strike.
In June, a group called the Self-Defence Forces of Southern Kurdistan was established in the region to attack Turkish military outposts on Iraqi territory and remove "occupiers". It was not clear whether the new group was linked to the PKK.