Iran cancels accreditation of IAEA nuclear inspector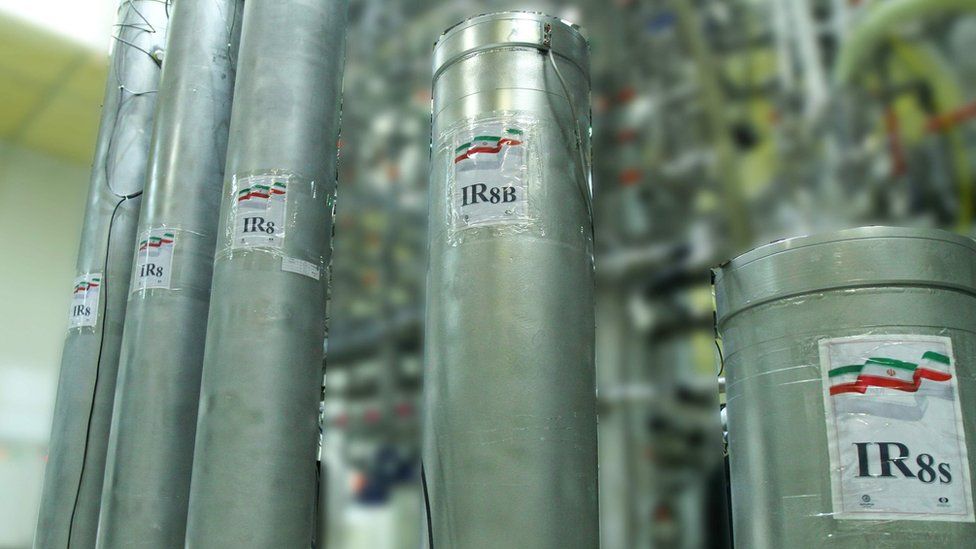 Iran has cancelled the accreditation of an International Atomic Energy Agency (IAEA) inspector who was prevented from entering a nuclear facility last week.
It said the woman triggered an alarm at the gate to the Natanz uranium enrichment plant, raising fears that she was carrying "suspicious material".
The IAEA disagreed with the account and said the inspector was also temporarily prevented from leaving Iran.
It was apparently the first such case since the 2015 nuclear deal was signed.
Meanwhile, the US said Iran might be "positioning itself to have the option of a rapid nuclear break-out" - the time it would take to acquire enough fissile material for one bomb - after it suspended another commitment under the accord.
On Thursday, uranium enrichment resumed at the underground Fordo facility. Enriched uranium can be used to make reactor fuel but also nuclear weapons.
It is the fourth such step Iran, which has insisted its nuclear programme is entirely peaceful, has taken in response to the sanctions reinstated by US President Donald Trump when he abandoned the nuclear deal last year.
Under the accord, Iran agreed to limit its sensitive nuclear activities and allow in international inspectors in return for the lifting of economic sanctions.
Mr Trump wants to force Iran to negotiate a new agreement that would place indefinite curbs on its nuclear programme and also halt its development of ballistic missiles. But Iran has so far refused.
The other parties to the deal - the UK, France, Germany, China and Russia - have tried to keep it alive. But the sanctions have caused Iran's oil exports to collapse, the value of its currency to plummet and the inflation rate to soar.
What happened with the inspector?
At a special meeting of the IAEA's 35-nation board of governors in Vienna on Thursday, Iranian ambassador Kazem Gharibabadi said the inspector was denied entry to Natanz because alarms went off during a routine security check.
The check involved "a special chemical detector that can find a range of explosive materials containing nitrates", he added.
The inspector then "sneaked off" to the toilet while she was waiting for a further security check, he said.
"There was no doubt that suspicious material was involved."
Mr Gharibabadi denied reports that the inspector had her travel documents taken and was briefly detained before she left Iran.
US ambassador Jackie Wolcott told the meeting: "The detention of an IAEA inspector in Iran is an outrageous provocation."
"All board members need to make clear now and going forward that such actions are completely unacceptable, will not be tolerated, and must have consequences."
An IAEA spokesperson said the inspector had been "temporarily prevented from leaving Iran" and that Acting Director General Cornel Feruta had made clear that this was "not acceptable and should not occur".
"Based on the information available to us, the agency does not agree with Iran's characterisation of the situation involving the inspector, who was carrying out official safeguard duties in Iran. The agency will continue to consult with Iran with a view to clarifying the situation," the spokesperson added.
The board of governors also discussed the "detection of potentially undeclared nuclear material" in Iran.
Israeli officials reiterated claims on Thursday that Iran has continued to conceal nuclear material dating from the previous nuclear programme, Middle East correspondent Tom Bateman reports.
The three Israeli officials, speaking at a briefing attended by the BBC, said the tests showed that uranium had been stored at the site, but not in a form that could be used for a weapon.
Why does the US fear an Iranian 'break-out'?
Before 2015 Iran had two plants - Natanz and Fordo - where uranium hexafluoride gas was fed into centrifuges to separate out the most fissile isotope, U-235.
The 2015 deal saw Iran agree only to produce low-enriched uranium, which has a 3-4% concentration of U-235 and can be used to produce fuel for nuclear power plants. Weapons-grade uranium is 90% enriched or more.
Iran also agreed to install no more than 5,060 of the oldest and least efficient centrifuges at Natanz until 2026, and not to carry out any enrichment at Fordo until 2031. Fordo's 1,044 centrifuges were supposed to spin without gas being injected.
The head of the Atomic Energy Organisation of Iran (AEOI) said on Monday that the number of advanced IR-6 centrifuges operating at Natanz had doubled to 60.
Early on Thursday, the AEOI began injecting uranium hexafluoride into Fordo's centrifuges in the presence of the IAEA, spokesman Behrouz Kamalvandi said. By Saturday, he added, it would be producing 4.5% enriched uranium.
President Hassan Rouhani said on Tuesday that Iran was aware of the "sensitivity" of the other parties to the deal regarding enrichment at Fordo, which was built in secret about 90m (300ft) under a mountain to shield it from air strikes. But he stressed that the step could be reversed if they upheld their commitments.
Following the resumption of enrichment at Fordo, US Secretary of State Mike Pompeo said: "Iran's expansion of proliferation-sensitive activities raises concerns that Iran is positioning itself to have the option of a rapid nuclear break-out."
"It is now time for all nations to reject this regime's nuclear extortion and take serious steps to increase pressure."