Israel-Gaza sees surge of cross-border violence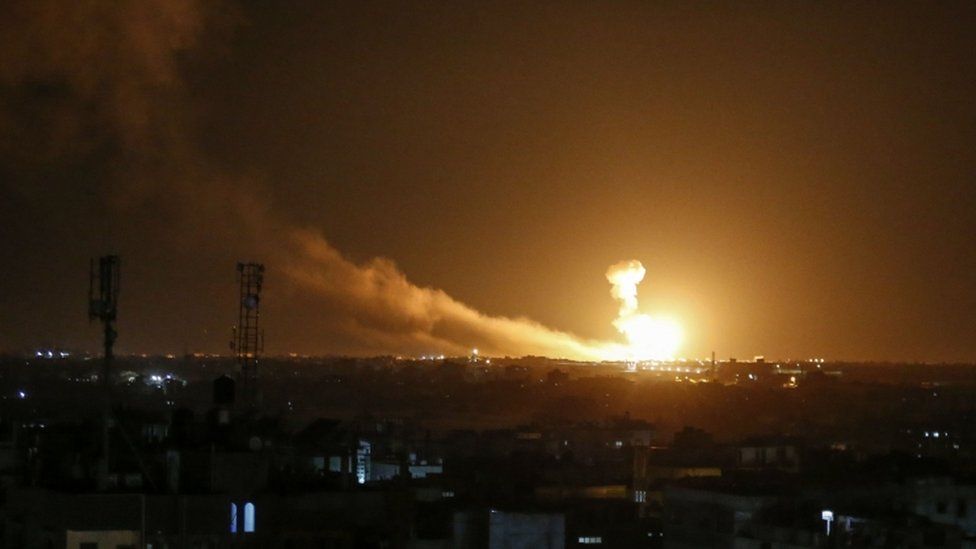 The Israeli military has carried out air strikes against the militant group Palestinian Islamic Jihad (PIJ) in Gaza and Syria in response to rocket fire.
On Sunday, more than 20 rockets were fired from Gaza into southern Israel, causing some damage.
Overnight, the Israeli military struck what it called PIJ "terror targets", including weapons development and training facilities near Damascus.
PIJ said two fighters were killed in Syria and vowed to avenge their deaths.
Gaza's health ministry reported that four Palestinians were wounded in the territory.
On Monday, the Israeli military carried out further air strikes on PIJ targets in Gaza, after at least 14 rockets were launched from the territory into southern Israel.
The hostilities escalated on Sunday morning, when the Israel Defense Forces (IDF) said it had killed a PIJ militant near Israel's border fence with the Gaza Strip.
The IDF said troops identified two men attempting to plant an explosive device on the fence and opened fire at them.
A video shared widely on social media showed an Israeli bulldozer scooping up the body of the man, provoking anger among Palestinians.
The IDF said it removed the body in a way that prevented further danger to its troops. But some Palestinians called for retaliation and hours later, several barrages of rockets were fired from Gaza towards southern Israel.
The IDF said 26 rockets were launched, 13 of which were intercepted by the Iron Dome missile defence system.
Israeli media reported that one home and one car were damaged, and that two civilians were treated for mild injuries in Ashkelon - one woman who tripped and hit her head while running to a shelter, and another woman who suffered from shock.
PIJ claimed responsibility for the rocket fire, calling it a response to the killing of its fighter at the border fence.
On Sunday night, Israeli fighter jets carried out retaliatory strikes on PIJ targets.
The IDF said the targets in Gaza included the group's headquarters in the southern city of Khan Younis and storage sites in neighbouring Rafah.
In Syria, a base used by PIJ to develop new weapons and produce tens of kilograms of rocket fuel each month was struck, according to the IDF.
The IDF also said it hit a PIJ squad preparing to fire rockets from northern Gaza.
Syrian state media cited a military source as saying Syrian air defences intercepted the majority of the Israeli missiles fired towards the surroundings of Damascus shortly before midnight on Sunday. The source did not mention any casualties.
But PIJ later confirmed in a statement that the air strikes in Syria killed two of its members, naming them as Salim Salim and Ziad Mansour.
The group said their "deaths will be avenged" and that the attack was "proof of the Israeli failure to deal with Islamic Jihad fighters in the battlefield".
The Syrian Observatory for Human Rights, a UK-based monitoring group, said four members of Iran-backed militias were also killed in the Israeli strikes in Syria.
On Monday morning, another 14 rockets were fired into Israel. The IDF said 12 of the rockets were intercepted, but one hit a children's playground in the southern Israeli town of Sderot.
In response, Israeli forces struck more PIJ targets in Gaza, including a base in Khan Younis used for training and weapons storage that featured underground infrastructure.
Israeli Prime Minister Benjamin Netanyahu warned the militant group that controls Gaza, Hamas, to stop the rocket fire or face a wider conflict.
"If you don't shoot them, we will shoot you. I'm talking about a war," he told Army Radio. "I only go to war as a last option but we have prepared something you can't even imagine."
The UN Special Co-ordinator for the Middle East Peace Process, Nickolay Mladenov, also called for rocket firing to stop, warning that it "only risks dragging Gaza into another destructive round of hostilities with no end in sight".
PIJ subsequently announced a unilateral ceasefire. A statement said the group had completed its "retaliation" for the Israeli strikes but that it would respond to any further "aggression".
PIJ, which is backed by Iran, is one of the strongest militant groups in Gaza.
In November, an Israeli air strike killed a senior PIJ commander who the IDF said had undermined efforts to broker a ceasefire between Israel and Hamas.