Iraq base attack: Coalition denies strike on Iran-backed fighters in Syria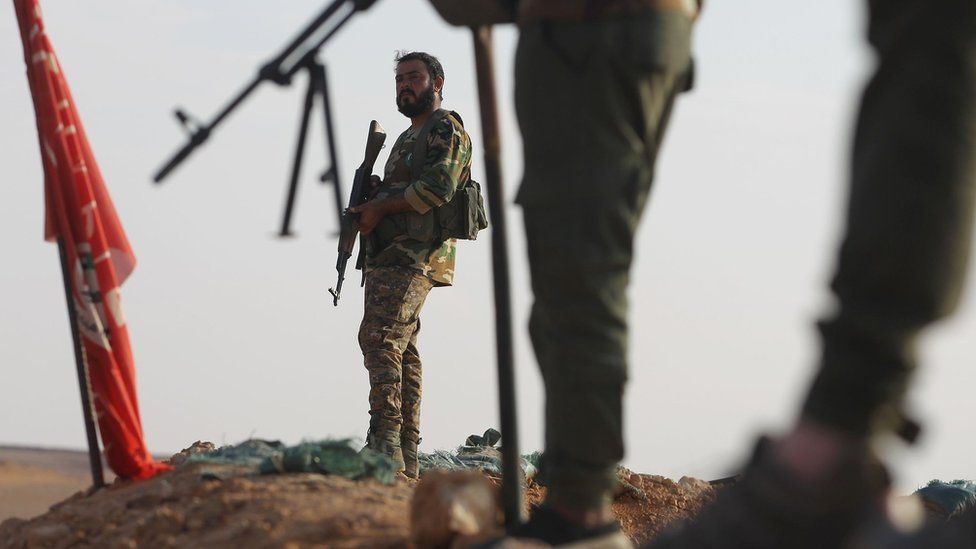 A US-led coalition has denied carrying out air strikes on Iran-backed Iraqi Shia militiamen in eastern Syria after a deadly attack on its troops in Iraq.
A monitoring group reported that bases belonging to the paramilitary Popular Mobilisation force were hit on Wednesday night, killing 26 people.
Earlier, a rocket attack on the Camp Taji military base in Iraq killed two American troops and a British soldier.
A US commander said Shia militia groups were likely to have fired the rockets.
"While we are still investigating the attack, I will note that the Iranian proxy group Kataib Hezbollah is the only group known to have previously conducted an indirect fire attack of this scale against US and coalition forces in Iraq," Central Command chief Gen Kenneth McKenzie told a Senate committee.
UK Prime Minister Boris Johnson described the attack as "deplorable", while the US defence secretary said President Donald Trump had authorised a response and warned that all options were on the table.
The US has accused Iran-backed militias of 13 similar attacks on Iraqi bases hosting coalition forces in the past year.
The killing of an American civilian in one such incident in December triggered a round of violence which ultimately led Mr Trump to order the assassination of the top Iranian general Qasem Soleimani and Kataib Hezbollah commander Abu Mahdi al-Muhandis the following month.
What do we know about the air strikes?
Syrian state news agency Sana said unidentified aircraft "launched an aggression" on Wednesday night on the south-eastern outskirts of Albu Kamal, close to the Syria-Iraq border. The attacks caused only material damage, it added.
The UK-based monitoring group said all of those killed in the strikes were Iraqis, and that weapons and ammunition stores were also destroyed.
It was not clear who carried out the strikes. The coalition has conducted raids on Islamic State (IS) militants in Syria since 2014, while Israel has sought to counter what it calls Iran's "military entrenchment" there.
Iranian forces and Iraqi Shia militias are operating in Syria to support forces loyal to President Bashar al-Assad in the country's civil war.
What happened at Camp Taji?
The Iraqi military base, which is about 15km (9 miles) north of the capital Baghdad, hosts foreign troops from the US-led global coalition against IS. Their mission is to train and advise Iraqi security forces.
A coalition statement said that at about 19:35 (16:35 GMT) on Wednesday Camp Taji was hit by approximately 18 Katyusha rockets. Three coalition personnel were killed and 12 others wounded, it added.
Later, Iraqi forces found a rocket-rigged lorry a few kilometres from the base.
Iraqi journalist Ali Al Dulaimy, who filmed the attack from the nearby town of Baji, said he heard screams of panic from American troops inside the camp, and that he saw them rushing to put out fires.
The UK Ministry of Defence identified the British soldier who was killed as Lance Corporal Brodie Gillon, a Combat Medical Technician who served as a Reserve with the Scottish and North Irish Yeomanry.
The two American personnel who died were active-duty troops with the US Army and Air Force, a US military official told the New York Times.
What was the reaction to the attack?
The British prime minister said: "The attack against the Taji military base in Iraq is deplorable."
"Our servicemen and women work tirelessly every day to uphold security and stability in the region - their presence makes us all safer."
Iraqi President Barham Saleh condemned what he called a "terrorist attack" that had targeted "Iraq's security and its security".
He demanded a full investigation and for those responsible to be held to account.
"While offering our condolences to the families, relatives and the states of the victims, we call upon all sides to exercise restraint and remain calm, [and] to enable Iraq's government to fully manage and carry out its security and sovereign duties."
In response, UK Foreign Secretary Dominic Raab said: "I welcome the Iraqi president's call for an immediate investigation to hold perpetrators to account - but we must see action."
Later, US Defence Secretary Mark Esper said President Trump had "given me the authority to do what we need to do".
Asked whether that might include strikes inside Iran, he replied: "I'm not going to take any option off the table right now, but we are focused on the group - groups - that we believe perpetrated this in Iraq," he said.
Why is Iraq drawn into the US-Iran confrontation?
Tensions between the arch-foes intensified last year, after Iran-linked fighters targeted US military and civilian personnel in a series of rocket attacks. There were also unclaimed air strikes in Iraq targeting militia facilities and Iranian officials.
In late December, a rocket attack on an Iraqi military base killed a US civilian contractor. The US blamed the powerful Kataib Hezbollah militia, which is part of the Popular Mobilisation, and carried out air strikes on its bases in Iraq and Syria that left at least 25 fighters dead.
The US embassy in Baghdad was then attacked by crowds of protesters, and President Trump warned Iran it would "pay a very big price".
On 3 January, Mr Trump authorised a drone strike near Baghdad airport that killed Qasem Soleimani - commander of the Islamic Revolution Guard Corps' Quds Force and architect of Iranian policy in the Middle East - and Abu Mahdi al-Muhandis.
Five days later, Iran launched ballistic missiles at Iraqi bases hosting US forces. The attack left more than 100 US troops with traumatic brain injuries.
Iran's Supreme Leader, Ayatollah Ali Khamenei, said the missile attack was "a slap in the face" for the US and vowed to end the American presence in the region.
There are about 5,000 US personnel and hundreds more from other countries in Iraq. They are deployed at the request of the government, but the parliament passed a bill following Soleimani's killing demanding the invitation be rescinded.