Coronavirus: Lebanon begins 'total' shutdown as cases increase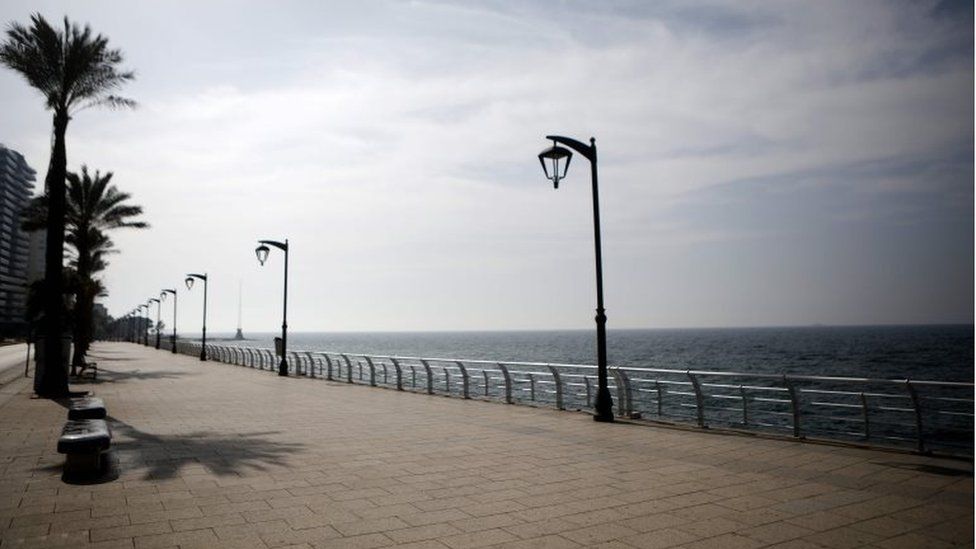 Lebanon has begun a "total" lockdown for four days, following a rise in the number of coronavirus cases.
The government had been easing restrictions imposed two months ago to try to prevent the spread of Covid-19.
Shops, restaurants and hair salons had been allowed to re-open. But they now have to close again.
The efforts to fight the coronavirus have had a crushing impact on the economy, which was already in a dire state before the pandemic.
Lebanon started negotiations with the International Monetary Fund (IMF) on Wednesday to secure financial assistance it urgently needs.
Lebanon has reported 870 confirmed cases of Covid-19 and 26 associated deaths.
Last week, the government responded to a drop in the number of new infections by easing restrictions on businesses and places of worship in place since mid-March.
But Prime Minister Hassan Diab warned on Tuesday that more than 100 new infections had been recorded in the previous four days, accusing some of "negligence and lack of responsibility" for ignoring guidelines on social distancing.
He announced that a "total lockdown" - excluding the health, agriculture, food and manufacturing industries - would be imposed from 19:00 local time (16:00 GMT) on Wednesday until 05:00 on Monday in response.
By Martin Patience, BBC News, Beirut
Just a day ago, the capital's famous seaside promenade was crowded with people taking a stroll before sunset - it could be their last walk along the front for a while.
After easing restrictions, the Lebanese government is now slamming on the brakes.
The authorities have won praise for their handling of the coronavirus crisis. But the shutdown has had a crushing impact on an economy, which was already in a state of collapse following decades of rampant corruption and staggering mismanagement.
The currency is now freefall; inflation is soaring; and, despite calls for social distancing, anti-government protests are breaking out once more in the main cities.
Many Lebanese think the biggest threat facing them is not the coronavirus but instead the hunger, poverty and desperation caused by the country's economic collapse.
People "should stay home and avoid going out except for urgent cases", Information Minister Manal Abdel Samad said, adding that the government would re-evaluate its plan for gradually reopening the economy.
The rise in the number of new cases has partly been attributed to infected expatriates arriving from overseas on repatriation flights.
On 7 May, 25 citizens who all boarded an inbound flight from Lagos, Nigeria, were found to be infected, the health ministry announced.
Videos have also been circulating on social media showing shoppers failing to abide by social distancing measures, and many more people out on the streets than expected.