Coronavirus: Israel tightens second lockdown amid acrimony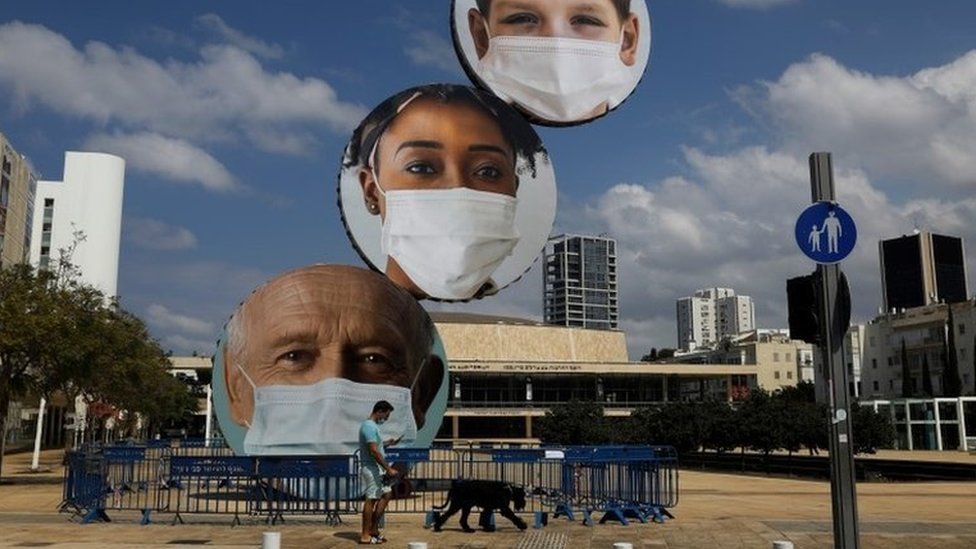 Israel has tightened restrictions on its population in the fight against coronavirus, one week after a second lockdown came into effect.
From Friday afternoon, businesses not officially considered essential were ordered closed, and travel restricted to 1km (0.6 miles) from people's homes.
Other planned rules which would affect protesters and synagogue-goers have not yet been approved amid acrimony.
Covid-19 cases in Israel have continued to rise despite the latest lockdown.
A new record of more than 8,000 infections for a single day were recorded on Thursday in Israel, which has one of the highest rates of infections per capita in the world.
Some 1,405 people have died with the disease, with the total number of confirmed cases reaching 215,273 out of a population of 9.2 million.
Prime Minister Benjamin Netanyahu said on Thursday the stricter measures were a necessity.
"Wake up. Enough is enough. We are in a different reality. Something needs to be done and it must be done now."
Under the latest restrictions, almost all businesses have been told to close for at least the next two weeks, with a possibility the lockdown might be extended depending on the situation. Restaurants are only being permitted to serve home-deliveries.
People are also restricted to staying within a reduced radius from their homes, apart from in emergencies and for specific exemptions.
The government's most controversial planned measure - limits on public gatherings - has not yet been approved after a parliamentary committee that must amend the law to allow it could not reach agreement.
Opponents see the move as an attempt to stop weekly protests against Mr Netanyahu, which have drawn thousands of demonstrators to assemble outside his residence in Jerusalem.
Restrictions on gatherings would also drastically affect the number of people allowed to attend prayer services in synagogues - two days ahead of Yom Kippur, the holiest day in the Jewish calendar, which traditionally sees synagogues full to capacity across the country.
Such a move is particularly opposed by sections of the ultra-Orthodox community, whose support Mr Netanyahu relies upon in his national unity government.
Israel's government was praised in the spring for taking early action that contained the spread of Covid-19 and resulted in a very low death rate compared to other countries. But it has come in for widespread criticism for losing control since the first lockdown was eased in May.
The virus quickly returned and last Friday, as new cases reached daily highs of more than 5,000, Israel became the first developed country to return to a nationwide lockdown.