Saudi Arabia first women's football league kicks off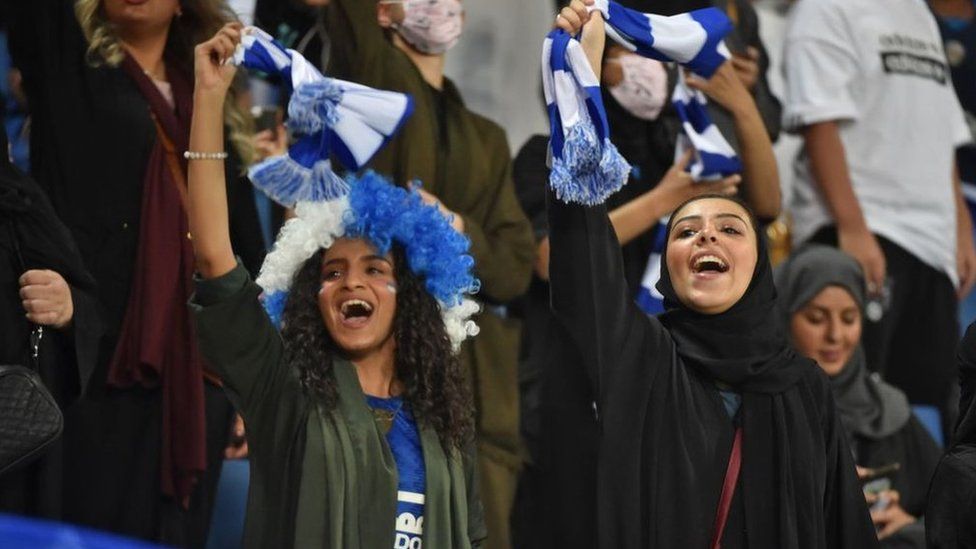 Saudi Arabia's first women's football league has begun, after being postponed because of the coronavirus pandemic.
More than 600 players for 24 teams based in Riyadh, Jeddah and Dammam are competing for a championship cup.
The opening matches on Tuesday evening were not televised, but Saudi media hailed them as another step forward for women's participation in sport.
For many years, the authorities cited cultural norms and religious teachings in denying women the right to participate in sporting activities. Conservative clerics warned that opening sports to them would lead to immorality.
Seven matches took place in the capital Riyadh and the Red Sea city of Jeddah on the opening day of the Saudi Women's Football League (WFL), which had been due to kick off in March.
The teams will compete in their respective cities before participating in the final nationwide championship stage, where the championship cup will be awarded. The total prize fund is 500,000 Saudi riyals ($133,000; £100,000).
The government-run Saudi Sports for All Federation (SFA) said that through the WFL it was striving "to empower women and to encourage them to become active and to participate in sports at the community level".
"Based on what we've seen, and how beloved the sport of football is all over the kingdom, I believe we will see many more of our sisters getting involved in professional sports," he said.
Najla Ahmed, a 16-year-old from Riyadh who plays football for her school, told the newspaper that she would try out for a local team in 2021.
"I'll be 17, and therefore eligible, and I would love to see anyone try and stop me."
The first international women's golf tournament also took place in Saudi Arabia this week.
However, critics of the Saudi government dismissed such events as "sportswashing" - designed to cover up the country's poor human rights record, including the continued detention of several women activists who had campaigned for reforms.
"Saudi citizens and residents should enjoy top-notch entertainment and sporting events, but they also should enjoy basic rights such as free expression and peaceful assembly," Michael Page, deputy Middle East director at Human Rights Watch, said earlier this week.