Saudi Arabia denies crown prince held 'secret meeting' with Israeli PM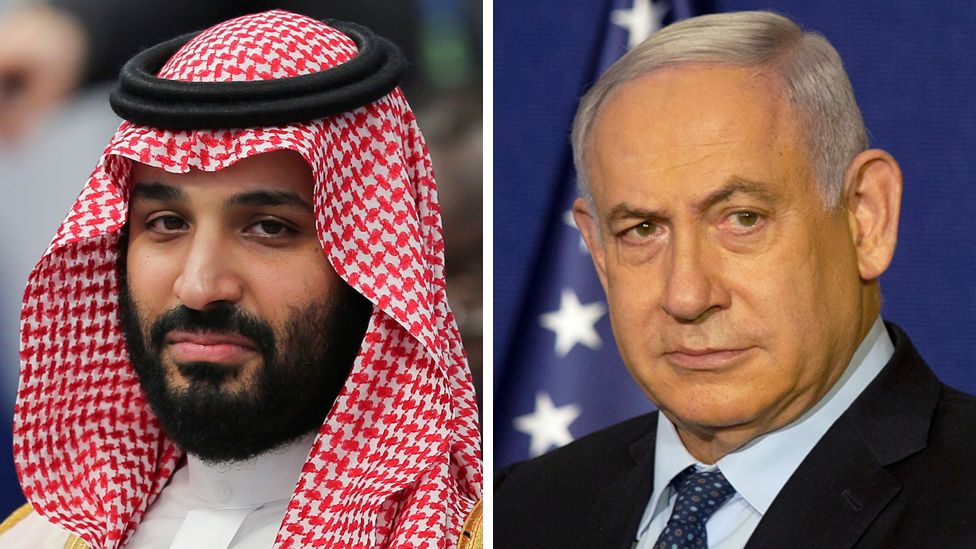 Saudi Arabia's foreign minister has denied that Israeli Prime Minister Benjamin Netanyahu flew to the Gulf kingdom on Sunday to secretly meet Crown Prince Mohammed bin Salman.
It would be the first known meeting between leaders of the historical foes.
US President Donald Trump has been pressing them to normalise relations after brokering deals between Israel and the United Arab Emirates, Bahrain and Sudan in recent months.
Saudi Arabia cautiously welcomed those moves, but indicated it would wait until there was a peace agreement between Israel and the Palestinians.
Also on Monday, a delegation of senior Israeli officials travelled to Sudan on what would also be the first such visit to a formerly hostile country, an unnamed Israeli official confirmed. The countries are expected to map out areas of co-operation.
Citing unnamed Israeli sources, Israeli public broadcaster Kan and other media earlier reported that Mr Netanyahu and the head of the Mossad intelligence service, Yossi Cohen, attended talks in Saudi Arabia on Sunday evening with Crown Prince Mohammed and US Secretary of State Mike Pompeo.
However, the Saudi foreign minister later denied that any Israeli officials had attended the meeting between Prince Mohammed and Mr Pompeo.
"The only officials present were American and Saudi," Prince Faisal said.
The BBC's Chief International Correspondent Lyse Doucet, who is in Riyadh, says senior Saudi officials are denying this highly sensitive story, on and off the record.
This has long been a matter of very delicate diplomacy for the kingdom, which has taken an awkward, if not embarrassing, turn, she adds.
The reported trip was spotted by an Israeli journalist on a flight-tracking website; a private jet used by Mr Netanyahu was flying to the Saudi city of Neom.
The Red Sea resort is a hi-tech and tourism hub planned by Mohammed bin Salman.
It is close to the borders of Egypt and Jordan, and only some 70km (44 miles) from the southern tip of Israel - a symbolic destination for the leaders to discuss a changing Middle East, mediated by President Trump's outgoing team.
With the UAE, Bahrain and Sudan signed up, normalisation between Israel and Saudi Arabia would be the big deal.
But Saudi Arabia will be cautious over going public with an Israeli rapprochement for fear of a backlash in the conservative nation. And the big hurdle comes back to a core issue - the Saudis still say there will be no deal before the Israelis reach a permanent peace agreement with the Palestinians.
According to data from FlightRadar24.com, a Gulfstream IV jet took off from Tel Aviv's Ben Gurion International airport on Sunday afternoon and flew south along the eastern coast of Egypt's Sinai Peninsula before heading towards Saudi Arabia's north-western Red Sea coast.
The BBC is not responsible for the content of external sites.
Skip twitter post by avi scharf
Allow Twitter content?
This article contains content provided by Twitter. We ask for your permission before anything is loaded, as they may be using cookies and other technologies. You may want to read Twitter's cookie policy, external and privacy policy, external before accepting. To view this content choose 'accept and continue'.
The BBC is not responsible for the content of external sites.
End of twitter post by avi scharf
The aircraft landed in Neom just after 18:30 GMT and remained there until 21:50, according to the data. It then returned to Tel Aviv via the same route.
Mr Netanyahu said he would not comment, adding only that he was "working on broadening the circle of peace".
But in an interview with Army Radio, Israel's Education Minister Yoav Gallant appeared to confirm the meeting took place, saying talks between Mr Netanyahu and Crown Prince Mohammed were an amazing achievement.
Mr Netanyahu's social media adviser, Topaz Luk, meanwhile tweeted: "Gantz is playing politics while the prime minister is making peace".
President Trump has said he expects Saudi Arabia to normalise relations with Israel, but such a move faces big hurdles.
Prince Faisal bin Farhan Al Saud said in an interview on Saturday with Reuters news agency during the G20 summit - hosted by Saudi Arabia but with world leaders participating virtually - that the kingdom's position had not changed.
"We have supported normalisation with Israel for a long time, because we are the authors of the 2002 Arab Peace initiative, which envisioned complete normalisation with Israel."
"But there is one very important thing that has to happen first, which is a permanent and full peace deal between the Palestinians and Israelis that delivers a Palestinian state with dignity within the 1967 borders to the Palestinians."