Ruhollah Zam: EU powers boycott Iran forum over execution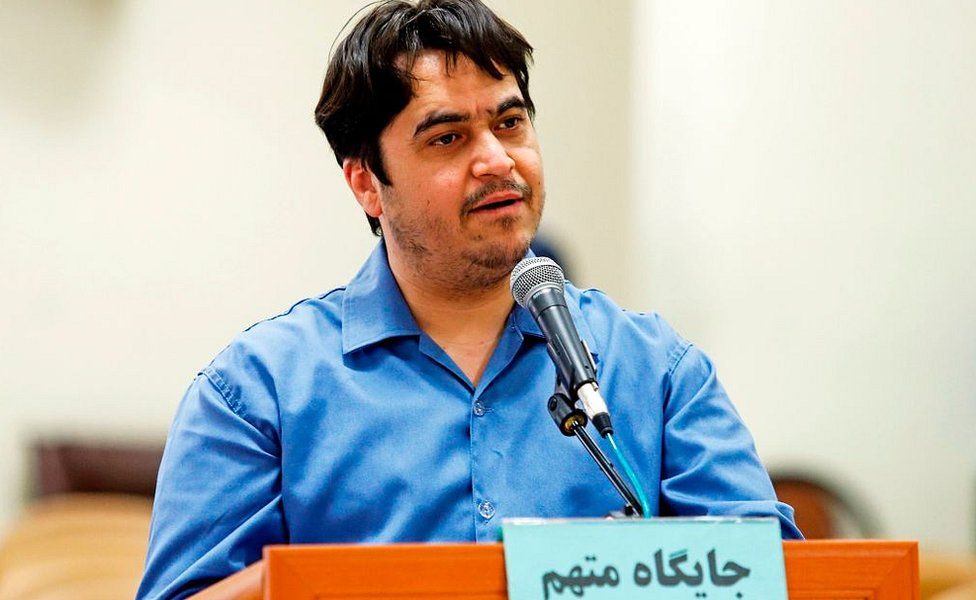 Four European countries have withdrawn from an online business forum in the Iranian capital, Tehran, following the execution of an Iranian opposition journalist.
The ambassadors boycotting the forum, scheduled for Monday, are from France, Germany, Italy and Austria.
It comes amid a growing diplomatic row between Iran and European countries over the killing of Ruhollah Zam.
Zam had been accused of using a messaging app to stir up dissent.
The journalist had been granted asylum in France after documenting mass protests in Iran in 2017 on his online news feed. He was later captured in Iraq and taken to Iran. He was hanged on Saturday.
France called the execution "barbaric and unacceptable" and said it ran counter to Iran's international obligations. The EU also strongly condemned the killing "in the strongest terms".
In response, Iran summoned the envoys of France and of Germany, which currently holds the EU's rotating presidency, in protest at the criticism.
Then on Sunday, France announced on Twitter that its ambassador to Iran would not participate in the Europe-Iran Business Forum, along with the three other envoys. At the foot of the tweet the ministry used the hashtag #nobusinessasusual.
The BBC is not responsible for the content of external sites.
Ruhollah Zam - the son of reformist cleric Mohammad Ali Zam - ran Amad News, a popular anti-government website that Iran accused of inciting the 2017-18 protests.
The network, which had more than a million followers on the encrypted messaging app Telegram, shared videos of protests and damaging information about Iranian officials.
It was removed by Telegram for breaching the company's rules on posting dangerous content, but later reopened under a different name.
However, human rights organisation Amnesty International said he had been the victim of "an unfair trial that relied on forced confessions".