Coronavirus: Lebanon to impose round-the-clock curfew as cases spike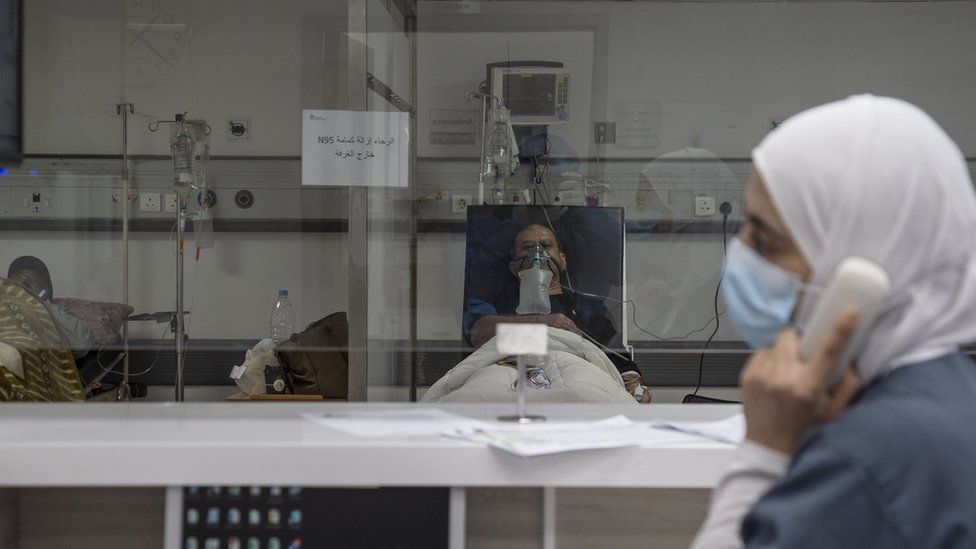 Lebanon will enforce an 11-day curfew, with hospitals struggling to cope with a spike in new coronavirus infections.
People will be forbidden from leaving their homes from 05:00 (03:00 GMT) on Thursday, with few exemptions. They will be unable to shop in supermarkets and will need to rely on deliveries.
The only airport will remain open, but the number of passengers will be cut.
The authorities say that without drastic action the country's fragile health system will be overwhelmed.
Compared to other countries, Lebanon had until now coped relatively well with the coronavirus.
Despite a rise in the number of new cases, the government relaxed restrictions ahead of Christmas and New Year, hoping to bolster the country's crumbling economy. Bars and nightclubs were allowed to open for the first time in months.
Health officials said that the easing of restrictions had now led to a dramatic spike in infections.
Lebanon, which has a population of six million, has reported more than 222,000 confirmed cases of Covid-19 and 1,629 deaths since the start of the pandemic.
"We have seen dreadful scenes of citizens waiting in front of hospitals for a chair or a bed," President Michel Aoun said at a meeting of the Supreme Defence Council on Monday afternoon.
"Radical measures must be taken so that we can mitigate the catastrophic consequences of the coronavirus outbreak," he added.
Caretaker Prime Minister Hassan Diab blamed the spike in cases on "the stubbornness of people and their rebellion against measures taken to protect them from the threat of this pandemic".
But he also admitted that "the enforcement of these measures was not equal to the level of the risk".
A statement from the Supreme Defence Council said only health professionals, those working in the food sector and other essential workers will be allowed out on to the streets during the curfew, which is scheduled to last until 05:00 on 25 January but could well be extended.
Supermarkets, bakeries and grocers may remain open but only for delivery. Rumours that they would be shut completely had sparked a wave of panic buying before the announcement.
Land and sea borders will also be closed to all travellers unless they have a valid transit visa, and passengers flying in from Baghdad, Istanbul, Adana, Cairo and Addis Ababa will need to quarantine in a hotel for seven days and undergo two coronavirus tests.
Save the Children warned that the curfew would exacerbate the suffering of vulnerable families and urged the government to provide fair and transparent social assistance packages.
"Almost half of the population can't afford to buy sufficient food to last them through the supermarket closures," said Jennifer Moorehead, the charity's Lebanon director.
"We fear they will face hunger as it is uncertain whether stores have the capacity to deliver food to people's homes."
Lebanon is already reeling from an economic collapse that has seen a huge number of people lose their jobs.
The local currency has also lost 80% of its value against the US dollar in the past year, which among other things has seriously disrupted the importation of medical supplies.
Lebanon expects to receive its first shipment of Covid-19 vaccines from Pfizer-BioNTech in mid-February.
The government has ordered enough to cover 15% of the population, and has said it plans to secure vaccines to cover another 20% through the World Health Organization-backed global Covax scheme.