Israel eases restrictions following vaccine success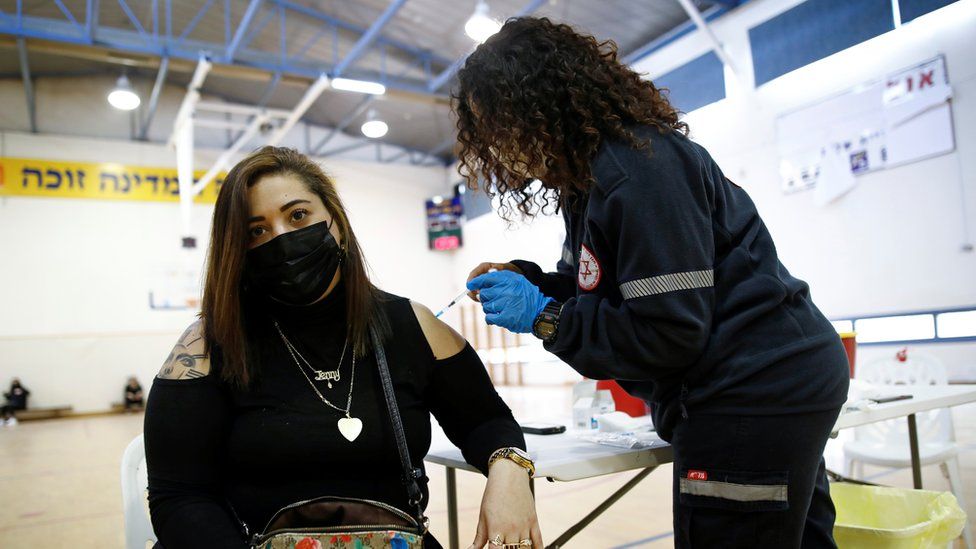 Israel is easing lockdown restrictions as studies there reveal the Pfizer vaccine is 95.8% effective in preventing hospitalisations and death.
From Sunday, shops, libraries and museums can open but social distancing and masks are still required.
The health ministry says it is the first stage of returning to normal life.
The country entered its third lockdown on 27 December after a resurgence of the virus.
Under the easing measures, people are now able to enter shopping malls and tourist attractions such as zoos.
A number of other facilities are now able to reopen including gyms, hotels and synagogues. However they require a "green passport", a certificate that can only be obtained once you have been vaccinated. A small number of people who have recovered from the virus and are not currently eligible for the vaccine are also able to obtain the certificate.
Despite the easing of restrictions, Israel's airport will remain closed for another two weeks.
On Saturday, the health ministry said studies revealed the risk of illness from the virus has dropped 95.8% among people who have had both doses of the Pfizer vaccine.
It also found that the vaccine was 98% effective in preventing fever or breathing problems.
Prime Minister Benjamin Netanyahu says he expects 95% of Israelis over 50 to be vaccinated over the next two weeks.
Earlier this week, the Gaza Strip received its first doses of the vaccine after Israel approved the transfer through its border. The shipment included 2,000 doses of Russia's Sputnik V vaccine which will be used on patients who have had organ transplants and those with kidney failure, an official told Reuters news agency.
It comes as the Palestinian Health Ministry struck a deal with Israel's Health Ministry to vaccinate 100,000 Palestinians who work in the country.