Syria war: 'Grasp window of opportunity', says UN envoy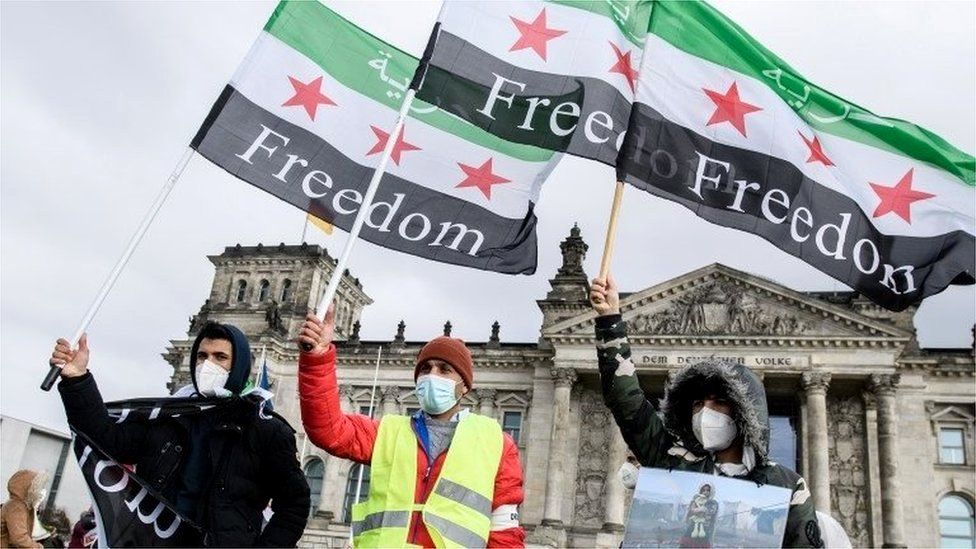 The UN's special envoy to Syria has said he sees a rare "window of opportunity" to end the fighting there, 10 years after the conflict began.
Speaking to the BBC, Geir Pedersen however said if the chance was lost the war could grind on for another decade.
He called on all the warring sides to take a "step-by-step" approach to build trust and reach a negotiated solution.
At least 400,000 people have been killed and more than half of Syrians displaced since fighting began in 2011.
The conflict started after peaceful pro-democracy protests were violently suppressed by security forces, leading opposition supporters to take up arms. Fighting spread across the country, eventually involving hundreds of rebel and jihadist groups and drawing in outside powers for and against the government.
After years of fierce fighting, pro-Syrian forces have retaken large parts of the country and a fragile ceasefire is in place between the government and rebels in the last province under the latter's control, Idlib, in the north-west.
"For the first time in 10 years, the frontlines in Syria have not changed," Mr Pedersen told the BBC's chief international correspondent Lyse Doucet. "This creates an opportunity."
Mr Pedersen said he was talking to countries including Syria's main allies Russia and Iran, as well as Turkey and European countries which have supported the Syrian opposition, to push for a political solution.
"We are actually at a new stage of development," given the unprecedented lull in the conflict, he said, saying the relative calm needed to be turned into a nationwide ceasefire.
There have been four UN special envoys since Syria's conflict erupted in 2011. All ended up apologising to the Syrian people; all blamed the intransigence of Syria's warring sides and gridlock in the UN Security Council.
Norwegian diplomat Geir Pedersen has focused much of his effort on a constitutional committee. It was meant to be a door to gradually pry open the central issue of power-sharing. Its underscored how President Bashar al-Assad's team is still unwilling to give an inch, especially when the balance on the battlefield is now overwhelmingly in their favour.
Pedersen, like every UN envoy before him, is again turning to foreign powers, including Russia and Iran who call many of the shots in Syria, to try to find a negotiated way out of this quagmire. It's an approach rooted in realpolitik, but also the shock and sorrow that Syria could have spiralled into such darkness - on the world's watch.
The new US administration under Joe Biden - what Mr Pedersen called the fourth main power in Syria - had to be part of fresh international co-operation over Syria, even if its foreign policy priorities lay elsewhere.
"If you forget Syria," he said, "then it will come back to haunt you. It will come back to haunt all of us, first and foremost, the Syrian people, but that may have dire consequences for international peace and security as well."
The envoy proposed that years of deadlock over the shape of Syria's political future - Syria and its allies have rejected calls for its President Bashar al-Assad to step aside - could be broken in stages.
"What I'm suggesting is what I call a step-by-step approach, where all parties this time have to put their issues on the table... not only what they believe is a realistic outcome of this conflict, but also issues they're ready to discuss.
"I believe that we now have a window of opportunity. And we should concentrate on that window of opportunity," to build trust between all the sides, he said.
"I know what is at stake, and if you can't achieve that... the consequences will first and foremost be paid by the Syrian people."