Netanyahu trial: Editor 'told to drop negative stories about Israel PM'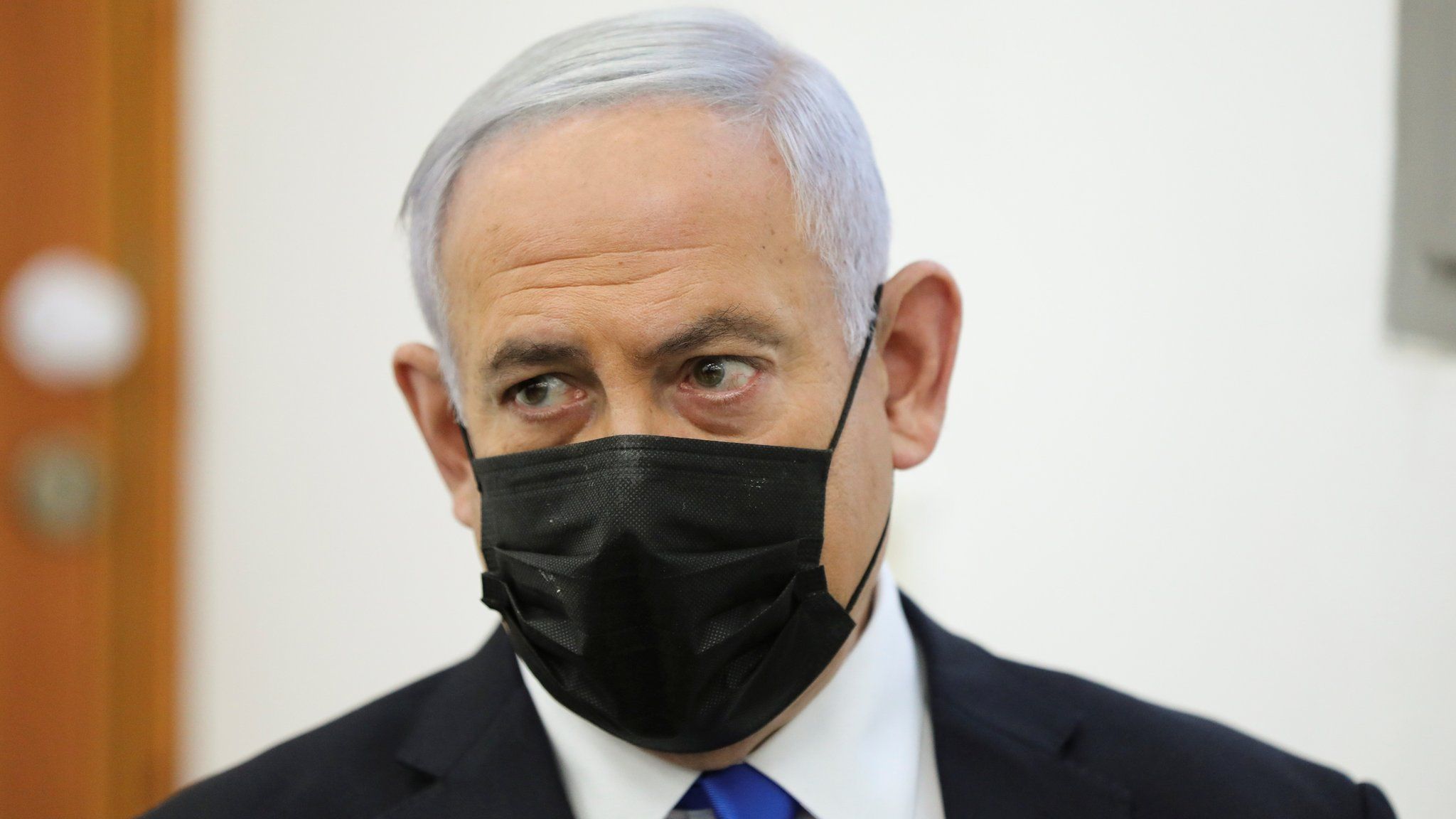 The first witness in Benjamin Netanyahu's corruption trial has said he was told to make negative stories about the Israeli PM "disappear".
Former Walla CEO Ilan Yeshua alleged he was also ordered by the news website's owner, Shaul Elovitch, to post content that attacked Mr Netanyahu's rivals.
Prosecutors said Mr Netanyahu made regulatory decisions worth hundreds of millions of dollars to Mr Elovitch in return for favourable coverage.
Both men have denied any wrongdoing.
The prime minister, who is being tried on charges of bribery, fraud and breach of trust in connection with three separate cases, dismissed the hearing as a "charade" and accused the prosecution of a "coup attempt".
It comes as Israel's president meets parliamentarians to ask whom they support to form the next government following last month's election.
The vote failed to end the long period of political stalemate that has led to four elections in two years, leaving both Mr Netanyahu's right-wing bloc and the parties opposed to him short of a majority.
President Reuven Rivlin will consult party leaders this week, then nominate who he thinks has the best chance of forming a new coalition government.
What is Benjamin Netanyahu accused of?
He has been indicted in three cases, known as 1,000, 2,000 and 4,000:
Case 1,000 - Fraud and breach of trust: he is accused of receiving gifts - mainly cigars and bottles of champagne - from powerful businessmen in exchange for favours
Case 2,000 - Fraud and breach of trust: Mr Netanyahu is accused of offering to help improve the circulation of Israeli newspaper Yediot Ahronot in exchange for positive coverage
Case 4,000 - Bribery, fraud and breach of trust: As PM and minister of communications at the time of the alleged offence, Mr Netanyahu is accused of promoting regulatory decisions favourable to Shaul Elovitch, the controlling shareholder in Israeli telecom giant Bezeq, in exchange for positive coverage by Mr Elovitch's Walla news site
Mr Netanyahu has denied all the charges against him, branding them a "witch-hunt" by his political opponents, and has vowed to clear his name.
What happened at Monday's hearing?
Dozens of Netanyahu supporters and protesters demanding his removal from office gathered outside the Jerusalem District Court as the prime minister arrived for the start of the trial's evidentiary stage.
Mr Netanyahu sat with his lawyers as lead prosecutor Liat Ben Ari delivered her opening statement, describing what she called a "substantial and serious case involving government corruption".
She alleged the prime minister made "improper use of the major government power placed in him to demand and obtain improper benefits from the owners of major Israeli media outlets to advance his personal interests".
"The relationship between Netanyahu and the defendants became currency, something that could be traded," she told the three-judge panel. "This currency could distort a public servant's judgment."
Afterwards, Mr Netanyahu was allowed to leave the courtroom and Mr Yeshua took the stand.
The former Walla CEO's testimony is seen as key to Case 4,000, the most serious against the prime minister because it involves the bribery charge.
He told the court that in late 2012 he began to receive requests from Mr Elovitch "to make negative articles about the prime minister and his wife disappear and post articles that benefit them".
There were also "requests to post articles against various people who were against the prime minister", he said, including Naftali Bennett, a former protégé of Mr Netanyahu who served in his cabinet from 2013 to 2020.
Mr Yeshua testified that there were times when he was instructed to take down a story immediately "because this week [Mr Netanyahu] has to sign something for me".
"How much can you lie?" Mr Elovitch's wife, Iris, shouted as Mr Yeshua spoke.
Mr and Mrs Elovitch have been charged with bribery and obstruction of justice in connection with Case 4,000. They have denied wrongdoing.
Mr Netanyahu has insisted he received nothing from Mr Elovitch and that Walla's coverage of him was negative. He has said experts supported the regulatory decisions he made, which prosecutors allege were of substantial financial value to Mr Elovitch.
Several hours after Monday's hearing ended, Mr Netanyahu denounced as "hypocrisy" the prosecution's claim that he abused his powers.
"The entire proceeding against me was an abuse of the destructive power the prosecution holds," he told a news conference.
"This is how you try to topple a strong prime minister from the right wing," he added. "This is what a coup attempt looks like."
How can the PM serve and stand trial?
He is presumed innocent unless proven otherwise, and there is currently no legal barrier to him staying in office as prime minister.
And even if convicted, Mr Netanyahu would not be required to step down until the appeals process is exhausted - something that could take years.
A former prime minister, Ehud Olmert, stepped down as his party's leader when he was under investigation for corruption in 2008 but technically remained in office until elections the following year - polls which brought Benjamin Netanyahu to power.
Mr Olmert was eventually convicted of bribery, fraud, obstruction of justice and breach of trust in connection with several cases. He served 16 months of a 27-month prison sentence.