Iran nuclear deal: US joins Vienna talks aimed at reviving accord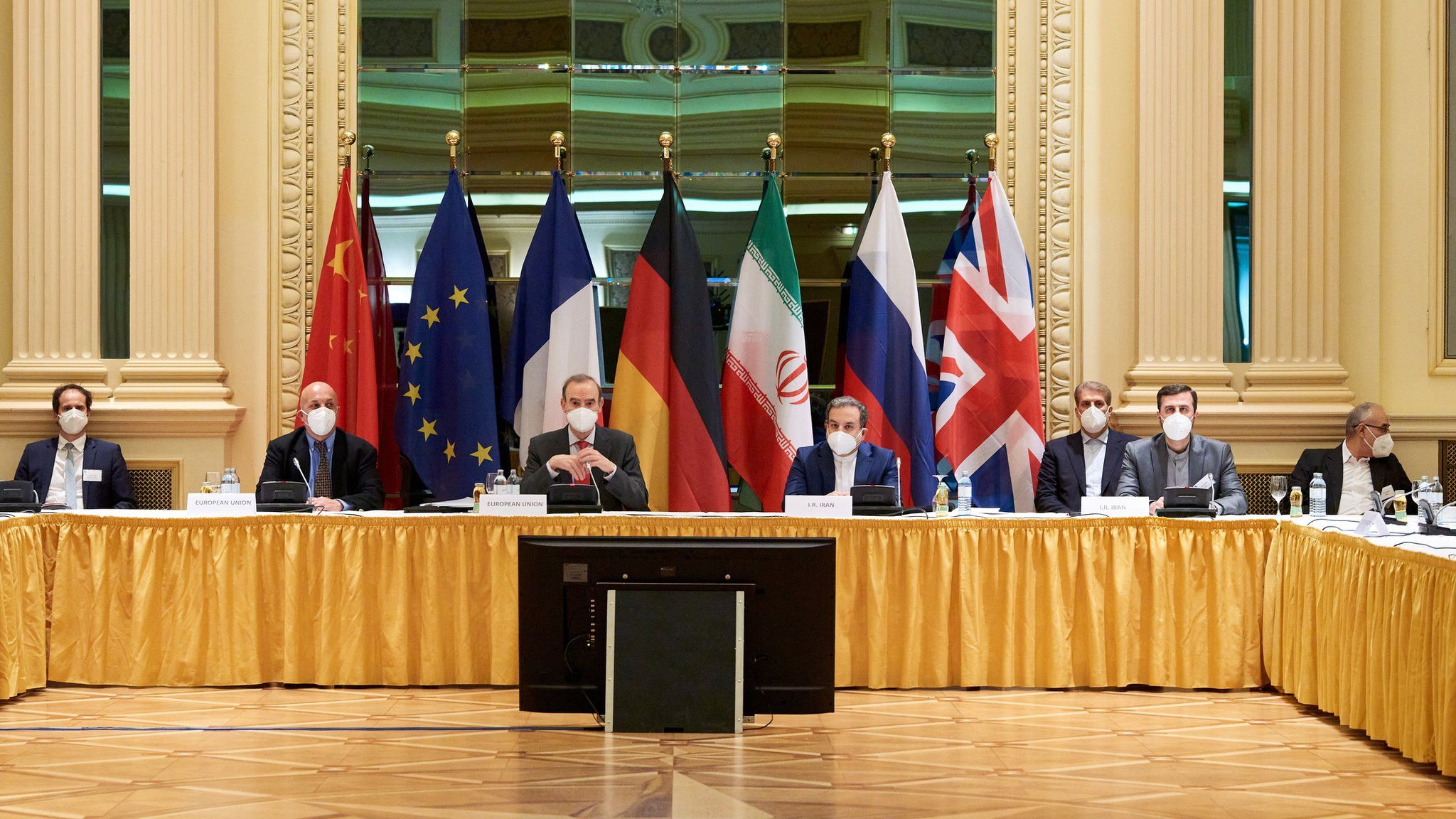 The United States has joined talks in Vienna aimed at reviving the Iran nuclear deal, which the Trump administration abandoned in 2018.
President Joe Biden has said he wants to return to the landmark accord.
But the six remaining state parties need to find a way for him to lift the sanctions imposed by his predecessor and for Iran to return to the agreed limits on its nuclear programme.
Iran has said it will not meet the US face to face until that happens.
Officials from the UK, France and Germany are acting as intermediaries, shuttling between two hotels in the Austrian capital. Diplomats from the two other remaining parties, Russia and China, are also attending.
Mr Ulyanov added that the experts began their work immediately, but warned that the restoration of the deal would not happen quickly.
"It will take some time. How long? Nobody knows. The most important thing... is that practical work towards achieving this goal has started."
Iran nuclear crisis: The basics
World powers don't trust Iran: Some countries believe Iran wants nuclear power because it wants to build a nuclear bomb - it denies this.
So a deal was struck: In 2015, Iran and six other countries reached a major agreement. Iran would stop some nuclear work in return for an end to harsh penalties, or sanctions, hurting its economy.
What is the problem now? Iran re-started banned nuclear work after former US President Donald Trump pulled out of the deal and re-imposed sanctions on Iran. Even though new leader Joe Biden wants to rejoin, both sides say the other must make the first move.
US state department spokesman Ned Price also sounded a note of caution ahead of the talks, telling reporters in Washington on Monday: "We don't anticipate an early or immediate breakthrough, as these discussions, we fully expect, will be difficult."
When asked about the comments on Tuesday, Iranian government spokesman Ali Rabiei said it found the "position realistic and promising".
"We are confident that we are on the right track, and if America's will, seriousness and honesty is proven, it could be a good sign for a better future for this agreement," he added.
Mr Rabiei reiterated that Iran was "ready to mutually return to all its obligations in the shortest possible time after verifying the fulfilment of the obligations by the other parties".
Before Joe Biden took charge in the White House, discussions on Iran often emphasised that time was of the essence, that only a small window remained before the Iranian presidential election in June, when hardliners are expected to do well. But neither side has been making haste. In both Washington and Tehran, the Iran deal is deeply polarising.
In the US, sceptics want a much bigger bargain which covers Iran's ballistic missiles and regional ambitions. And there's concern Tehran keeps inching away from compliance with the 2015 deal.
In Iran, views have hardened across the political spectrum that the West can't be trusted. Donald Trump's exit from the deal, Europe's inability to rescue it, and Mr Biden's slow return, have toughened its resolve to strike a hard bargain. Its overriding goal is to see sanctions lifted, and its oil sales resume.
With both sides saying "You go first", there's a need for a road map, a sequencing of steps where Iran returns to full compliance, the US lifts sanctions, and direct talks start again. That will take time, but at least the pace is now starting to pick up.
The nuclear deal, known as the Joint Comprehensive Plan of Action (JCPOA), has been in intensive care since Donald Trump pulled the US out of it.
He said it was based on "a giant fiction that a murderous regime desired only a peaceful nuclear energy programme" and reinstated crippling economic sanctions in an attempt to compel Iran to negotiate a replacement.
Iran, which insists it does not want nuclear weapons, refused to do so and retaliated by rolling back a number of key commitments under the accord.
Since the end of the year it has accelerated the breaches in an attempt to increase pressure on the US. They have included operating advanced centrifuges to enrich uranium, resuming enrichment to 20% concentration of the most fissile U-235 isotope, and building a stockpile of that material.
The nuclear deal only allows Iran to produce and store limited quantities of uranium enriched up to 3.67% concentration, which can be used to produce fuel for commercial nuclear power plants. Uranium that is enriched to 90% or more can be used to make nuclear weapons.