Israel's Netanyahu tasked with forming new government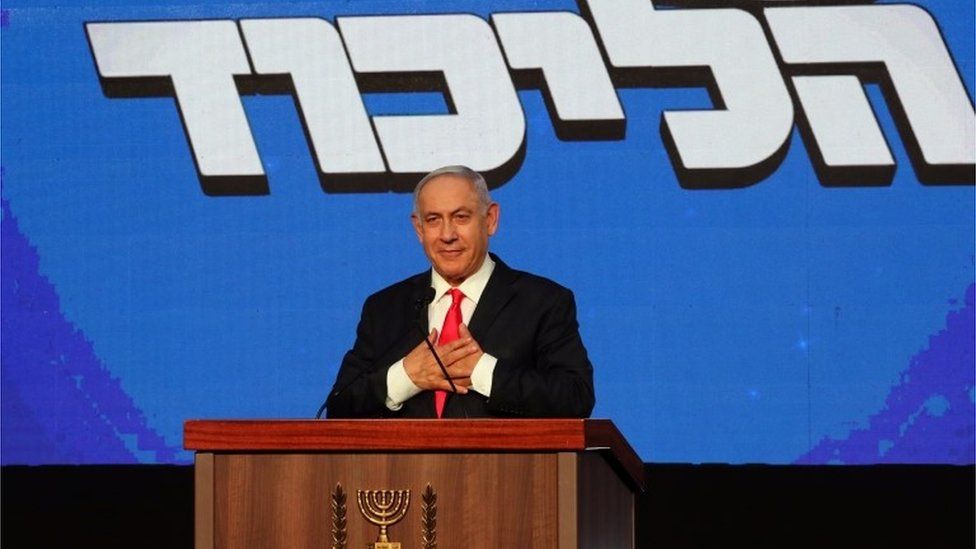 Israel's president has tasked Benjamin Netanyahu with forming a new government following recent elections which did not produce a clear winner.
Mr Netanyahu - Israel's caretaker prime minister - got the most endorsements from MPs as the candidate to try to put a ruling coalition together.
Neither he nor opposition parties won enough votes in last month's polls to be sure of forming a government.
The elections in March were a record fourth in two years.
Three earlier rounds ended inconclusively.
The leader of the right-wing Likud party now has an initial 28 days to try to secure sufficient backing from other parties in parliament to join him in a governing coalition, after which time he can request a two-week extension. If Mr Netanyahu fails, the task will pass to someone else.
Announcing Mr Netanyahu's nomination, President Reuven Rivlin said he was doing so even though he did not believe any candidate "has a realistic chance of forming a government that will have the confidence of the Knesset [parliament]".
In order to obtain a parliamentary majority, he would require the backing of another right-wing, nationalist party, Yamina, led by a political rival, as well as an Arab party, Raam. Neither have committed to giving Mr Netanyahu their support.
Mr Netanyahu is Israel's longest-serving leader, having led five governments since 1996. The last, which saw him share power with the then-main opposition party to help tackle the coronavirus pandemic, collapsed in December, triggering the latest elections.
You may also be interested in: