Iran to enrich uranium to 60% after 'wicked' nuclear site attack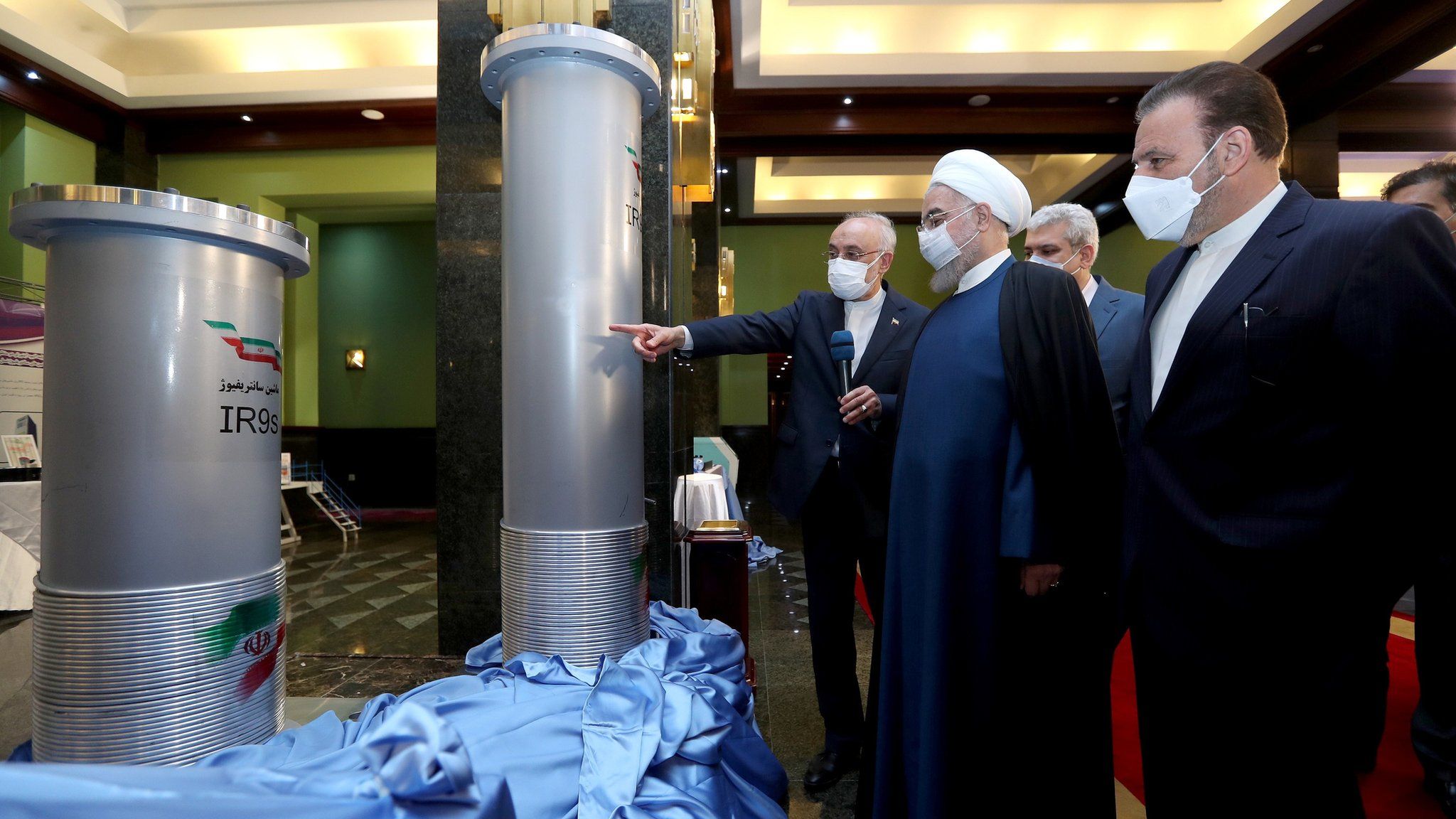 Iran will produce 60%-enriched uranium in retaliation for a suspected Israeli attack on a nuclear site, President Hassan Rouhani says, bringing it closer to the purity required for a weapon.
A blast knocked out the power system at Natanz on Sunday, causing damage to thousands of uranium centrifuges.
Mr Rouhani warned the perpetrators that enrichment would now be ramped up as a response to "your wickedness".
But he reiterated that Iran's nuclear activities were "exclusively peaceful".
France, Germany and the UK expressed "grave concern" at the move, saying Iran had "no credible civilian need for enrichment at this level".
The three countries are parties to a 2015 nuclear deal with Iran, under which it is permitted to enrich uranium up to 3.67% purity to make reactor fuel. Weapons-grade uranium is 90%-enriched or more.
Iran began producing 20%-enriched uranium - a level that takes most of the overall effort required to get to weapons-grade - in January as part of its response to the US sanctions reinstated by former President Donald Trump when he abandoned the accord three years ago.
Israel, which sees Iran's nuclear programme as a potential threat to its existence and is critical of Joe Biden's efforts to revive the deal, has neither confirmed nor denied involvement in the Natanz incident. But public radio cited intelligence sources as saying it was a cyber operation by Mossad, Israel's overseas intelligence agency.
US intelligence officials told the New York Times that a large explosion completely destroyed the power system that supplied an underground hall at Natanz where uranium hexafluoride gas was fed into centrifuges to separate out the most suitable isotope for nuclear fission, called U-235.
The head of the Iranian parliament's research centre, Alireza Zakani, said on Tuesday that several thousand centrifuges were "damaged or destroyed in one instant" and that "the main part of our enrichment capacities" were eliminated.
On Tuesday night, Iran's ambassador to the International Atomic Energy Agency (IAEA) announced it had just started enriching uranium up to 60% purity for the first time in response to the attack.
"We expect to accumulate the product next week," Kazem Gharibabadi tweeted. "This will improve significantly both the quality and quantity of radiopharmaceutical products."
Iran will also install 1,000 additional centrifuges at Natanz and replace damaged IR-1 centrifuges - the oldest and least efficient - with more advanced IR-6 models, significantly increasing its enrichment capacity.
President Rouhani told a cabinet meeting on Wednesday that, while Iranian security agencies had yet to provide their final reports on the attack, "apparently it is the crime of the Zionists". Iran does not recognise Israel's right to exist and often refers to it as the "Zionist state".
"You cannot conspire against the Iranian nation and commit a crime in Natanz; we will cut off your arms when you commit a crime," he said.
"What you did was nuclear terrorism; what we've done is legal," he added.
Mr Rouhani said those responsible wanted to derail the indirect talks between US and Iranian officials in Vienna which are aimed at reviving the nuclear deal, formally known as the Joint Comprehensive Plan of Action (JCPOA).
"We know what you are trying to do; you want us to be empty-handed at the talks but we're attending the negotiations with an even fuller hand."
Iran's Supreme Leader, Ayatollah Ali Khamenei, later warned that US officials did not want to "accept the truth" and often made suggestions that were "not even worth looking at".
"Sanctions must be removed first. Once we are certain that has been done, we will carry out our commitments," he said.
The governments of France, Germany and the UK said enriching uranium up to 60% was "a serious development" since it constituted "an important step in the production of a nuclear weapon".
"Iran's announcements are particularly regrettable given they come at a time when all JCPOA participants and the United States have started substantive discussions, with the objective of finding a rapid diplomatic solution to revitalise and restore the JCPOA. Iran's dangerous recent communication is contrary to the constructive spirit and good faith of these discussions."
White House spokeswoman Jen Psaki said Iran's decision was "provocative".