Lod: Why an Israeli town's mayor is warning of civil war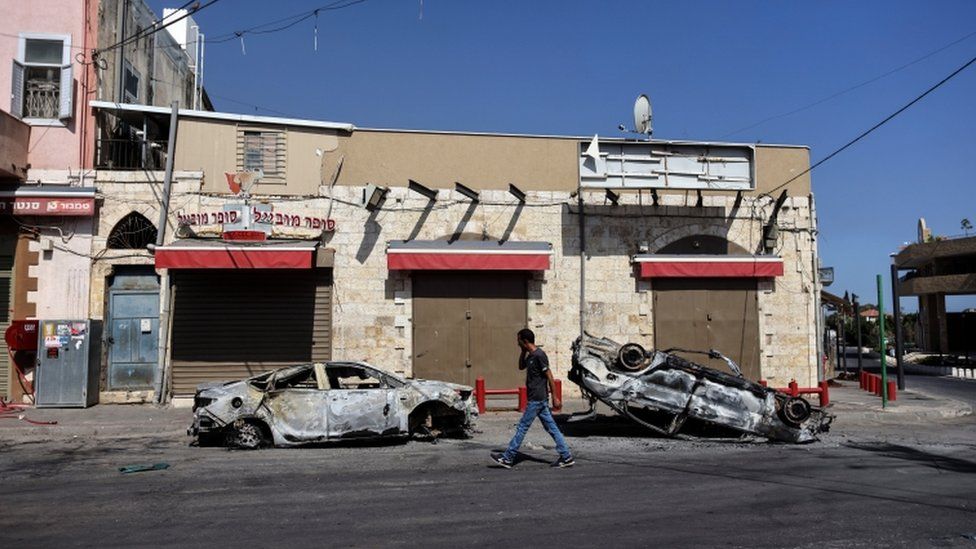 "Civil war has broken out in Lod."
That is how Mayor Yair Revivo described the situation after violence exploded in the mixed Arab-Jewish Israeli town, lying 15km (9 miles) south-east of Tel Aviv.
Protests by Israeli Arabs in the town turned into full-scale riots on Tuesday night. Demonstrators clashed with police and set cars and buildings ablaze, the day after a funeral for a man allegedly shot dead by Jewish residents.
"This is a complete loss of control," Mr Revivo told Israel's Channel 12 News. "Synagogues are being burned. Hundreds of cars set alight... The situation is incendiary."
The BBC is not responsible for the content of external sites.
Skip twitter post by Greg Price
Allow Twitter content?
This article contains content provided by Twitter. We ask for your permission before anything is loaded, as they may be using cookies and other technologies. You may want to read Twitter's cookie policy, external and privacy policy, external before accepting. To view this content choose 'accept and continue'.
The BBC is not responsible for the content of external sites.
End of twitter post by Greg Price
Violence also flared in other cities and towns with sizeable Arab populations - including neighbouring Ramle, Acre, Jaffa, Jisr al-Zarqa and Umm al-Fahm. Police arrested 270 people.
"The sight of the pogrom in Lod and the disturbances across the country by an incited and bloodthirsty Arab mob, injuring people, damaging property and even attacking sacred Jewish spaces is unforgiveable," President Reuven Rivlin said on Wednesday.
He added: "The silence of the Arab leadership about these disturbances is shameful, giving support to terrorism and rioting and encouraging the rupture of the society in which we live and in which we will continue to live once all this has passed."
A number of Israeli Arab politicians have called for an end to the rioting.
The unrest follows days of high tensions in Jerusalem, with clashes between Israeli police and Palestinians at a key holy site, and escalating hostilities between Palestinian militants in the Gaza Strip and the the Israeli military since Monday night that have left more than 50 people dead.
In recent days, Israeli Arabs have staged protests in sympathy with Palestinians in Jerusalem and Gaza.
During protests on Monday in Lod - a third of whose population is Arab - an Arab resident in his 30s, Musa Hassuna, was shot dead and another person seriously injured.
Haaretz cited a Jewish resident as saying an "Arab crowd tried to break into the neighbourhood", and that his neighbours "were forced to shoot in the air" because they felt in danger.
Mr Hassuna's father said his son had not gone to protest and that he had been passing through the area when "they shot him at point-blank".
Police arrested three suspects, who said they had acted in self-defence.
Hundreds attended Mr Hassuna's funeral on Tuesday. Clashes soon broke out with the police, and Israeli media reported that two officers were injured and a police car was set on fire.
The BBC is not responsible for the content of external sites.
As night fell the violence escalated and synagogues and businesses were attacked. Reuters news agency said there were also reports of Jews stoning a car driven by an Arab.
"This is the first time we've seen local residents using weapons, opening fire, and the response from our units has been also using live fire in order to prevent anyone from being killed," police spokesman Mickey Rosenfeld said.
The BBC is not responsible for the content of external sites.
Skip twitter post 3 by Joe Truzman
Allow Twitter content?
This article contains content provided by Twitter. We ask for your permission before anything is loaded, as they may be using cookies and other technologies. You may want to read Twitter's cookie policy, external and privacy policy, external before accepting. To view this content choose 'accept and continue'.
The BBC is not responsible for the content of external sites.
End of twitter post 3 by Joe Truzman
Separately, a 52-year-old father and his 16-year-old daughter were killed when a Palestinian rocket fired from Gaza hit their car in Lod. Khalil and Nadin Awad were both Israeli Arabs.
Prime Minister Benjamin Netanyahu has now declared a state of emergency in Lod, granting police more powers there. It is reportedly the first time since 1966 the government has used emergency powers over an Arab community.
"It's anarchy from rioters and we cannot accept it," Mr Netanyahu told reporters on a visit to the town early on Wednesday, vowing to "restore law and order with an iron fist".
"I don't feel safe exiting my home," Jewish resident Lior Benisti told Channel 12. "We wanted to go to my sister, we have two small daughters and we decided to stay in tonight even though we don't have a rocket-proof room. Better take the risk of rockets than the mayhem outside."
Who are the Israeli Arabs?
In total, about 21% of Israel's population are Israeli Arabs - about 1.96 million people, according to a December report by Israel's Central Bureau of Statistics.
During the war that surrounded the creation of the State of Israel in 1948, hundreds of thousands of Arabs were forced from or fled their homes. Those who stayed in what became Israel, and their descendants, have been granted citizenship and are known as Israeli Arabs.
About 80% of Israeli Arabs are Muslim, with the rest identifying as either Christian or Druze. Most identify strongly with Palestinians in Gaza and the West Bank, with many calling themselves "Palestinian citizens of Israel".
Israel's government says its Arab citizens have equal social and political rights, although they are exempt from compulsory military service.
But Israeli Arabs themselves say they are treated as second-class citizens who face legal, institutional and social discrimination.
Authorities in Lod built a 3m-high (10ft) wall through a part of the town in 2010, separating the Jewish and Arab communities. Officials said it was to reduce crime, but Israeli Arabs said it was an attempt at enforcing segregation.