Israel-Gaza violence dominates Arab media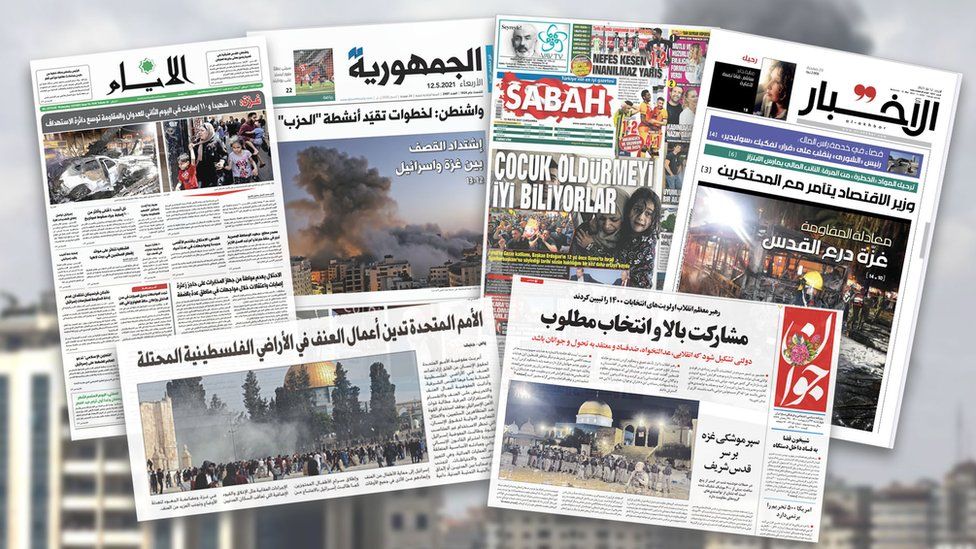 The escalation of violence in Israel and Gaza dominates TV and press coverage in most of the Middle East, with an outpouring of anger and solidarity with the Palestinians expressed by social media users across the region.
However, the news remains relatively low down the running order of Syrian TV news, and in Iran it only started topping bulletins on Tuesday. 
In both countries - key members of the so-called "axis of resistance" to Israel - domestic issues have taken priority. 
Qatari Al-Jazeera's Arabic channel, a traditional supporter of the Palestinian cause, gives the story full coverage. It is also the lead story on Saudi-funded Al Arabiya, which is pressing its guests and correspondents on claims by both sides.
Arab press highlights 'dilemma'
Some Arabic newspapers predict a long-running armed conflict while others criticise "deluded" Arab countries that signed peace deals with Israel.
London-based website Rai al-Youm said: "Perhaps a major confrontation is imminent. We are in the beginning of an armed intifada that may last for months."
Jordan's Al-Dustour daily says Arab countries face "a serious dilemma" - whether to preserve their Arab-Islamic identity or continue normalisation with Israel. 
A column in Algeria's Echorouk says the clashes have "revealed the limitations and delusion of the normalisers".
In Lebanon, Nidaa al-Watan notes how protests in Lebanese cities rejected "oppression against the Palestinian people".
An editorial in Jerusalem-based Al-Quds urges Egypt to work hard for a truce to end "the bloodbath in Gaza". "We see that a truce will be good for all the parties, particularly our people in the Gaza Strip. No party has any interest in an ongoing military escalation," it says. 
The story dominated Egypt's press on Tuesday, but on Wednesday it was pushed down by domestic matters. However, state-owned Al-Ahram newspaper expresses surprise at the "international silence and the silence of the Biden administration" in the US.
On social media, Arabic hashtags being used to express solidarity with the Palestinians include "Gaza under attack", "Free Palestine" and "Gaza resists".
Thousands of users have lashed out at the Arab leaders, saying that they only care about "maintaining their relations" with Israel to remain in power.
The view from Turkey and Iran
The conflict has topped Turkey's news agenda for several days, with both print and broadcast media widely condemnatory of Israel. 
"They [Israel] know well how to kill children," reads the front page of the flagship pro-government Sabah newspaper on Wednesday. 
"Your day of reckoning will come," says Yeni Safak in its main headline.
Opposition Sozcu newspaper says the Arab world, the US, the EU and UN have "not given a strong response".
Iran's domestic media is focused on its June presidential election, but the Israel-Gaza conflict is the main international story.
Rolling news channel IRINN and Press TV report Israeli attacks in the Gaza Strip, while newspapers highlight Palestinian militants firing rockets into Israel.
"Biggest missile attack against Tel Aviv," says the headline in conservative Khorasan.
And hardline Javan writes: "Gaza's missile shield over honourable Quds [Jerusalem]".