Alireza: Alleged killing of Iranian gay man sparks outcry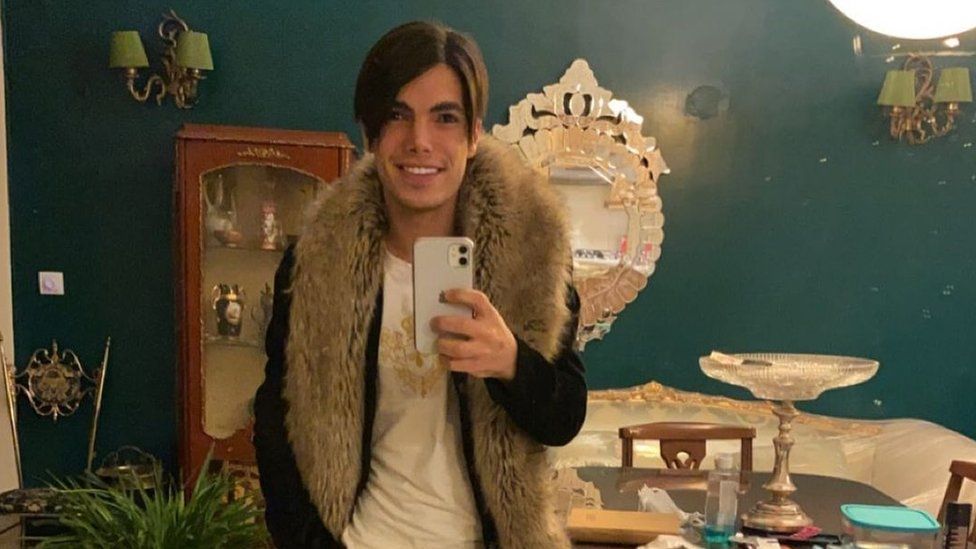 The alleged murder of a 20-year-old gay Iranian man is sparking outrage and condemnation around the world.
Ali Fazeli Monfared, known to friends and on social media as Alireza, was reportedly kidnapped and beheaded in Ahvaz, south-west Iran, last week.
His partner told BBC Persian he believed he may have been killed by male relatives.
The Iranian authorities have not commented on his death but BBC Persian obtained photos of his grave site.
News of his death had been reported by 6Rang, the Iranian Lesbian and Transgender Network.
The group suggested he may have been kidnapped and killed by family members after they discovered evidence of his sexuality.
'Fashionable fun-loving young man'
Alireza was last heard from on 4 May in a phone call with his mother, reports say.
His body was reportedly found discarded by a palm-tree, a day after she was told he was dead and was instructed where to find his remains.
The 20-year-old's partner, Aghil Abyat, said Alireza had travelled to Ahwaz to visit his mother, pick up a military service exemption card and sell his mobile phone.
He was supposed to fly to Turkey to join Mr Abyat just days later, apparently in the hope of applying for asylum in Europe.
In months-old voice notes, heard by BBC Persian, Alireza spoke of the difficulties of being gay in Iran and said he had received death threats from within his wider family.
One friend, who spoke to the BBC, described him as a "fashionable, fun-loving young man who would have loved to get famous one day".
The friend said, although she did not know Alireza was gay, she was aware he had faced pressure from his family over his appearance and his social media image.
Alireza's Instagram feed, which is flooded with thousands of followers and tributes, shows him posing for selfies, having fun with friends and lip-syncing along to music.
The BBC is not responsible for the content of external sites.
His partner told the BBC his family complained about "the way he dressed up and for the plastic surgeries he used to do".
Mr Abyat fears Alireza may have been killed after his family found the military exemption card and realised he planned on leaving Iran.
Military service is compulsory for young men in Iran, but exemptions can be given to gay men and transgender women under an exemption which classifies them as having mental disorders.
Rights group 6Rang said the circumstances surrounding Alireza's murder reaffirmed their concerns about the potential dangers of the sexual orientation exemption. The group previously raised concern that the exemption could allow officials to easily identify LGBT individuals and leave them vulnerable to abuse, punishment and discrimination.
Being gay in Iran remains extremely taboo. Same-sex relations are illegal and can be punishable by death.
There were conflicting reports of arrests over the death but Iranian officials have made no public comment.
After news of Alireza's death spread, his name became a popular social media hashtag with users around the world sharing messages of solidarity with LGBT individuals facing persecution in their home countries.
Others paid tribute to Alireza with artwork and by sharing posts from his Instagram page.
The BBC is not responsible for the content of external sites.
Celebrities including pop star Demi Lovato have posted about Alireza's killing.
Drag queen Jackie Cox, who spoke about her Iranian heritage on RuPaul's Drag Race, also posted about the suspected murder on social media.
The BBC is not responsible for the content of external sites.
Skip twitter post by Jackie Cox
Allow Twitter content?
This article contains content provided by Twitter. We ask for your permission before anything is loaded, as they may be using cookies and other technologies. You may want to read Twitter's cookie policy, external and privacy policy, external before accepting. To view this content choose 'accept and continue'.
The BBC is not responsible for the content of external sites.
End of twitter post by Jackie Cox
Reporting by the BBC's Soroush Pakzad