TikTok: How Israeli-Palestinian conflict plays out on social media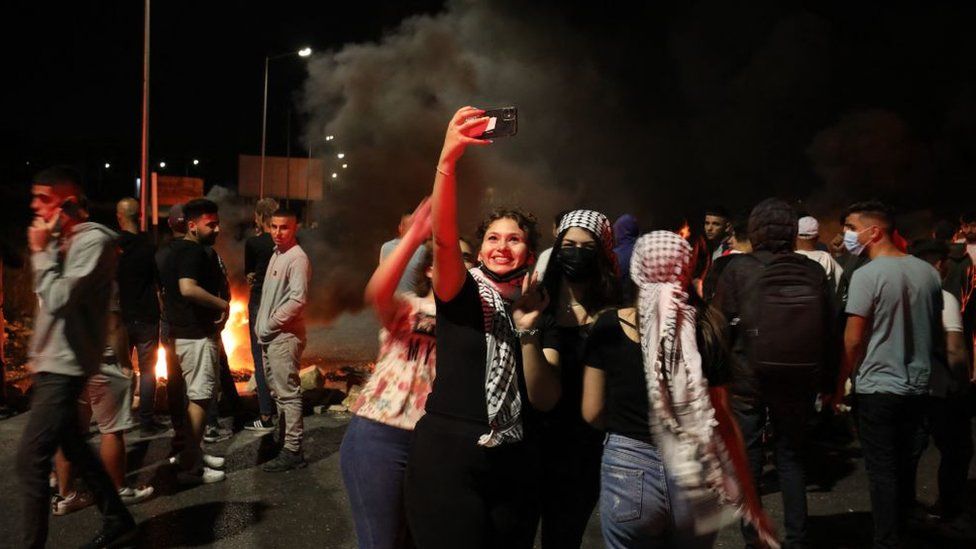 As fighting between Israel and Palestinian militants escalates on the ground, TikTok has become a forum for airing tensions.
Once known primarily for viral dance trends, the video app has also become a key platform for sharing news. The Chinese-owned site has a vast, mostly younger audience, with an estimated 700 million active monthly users worldwide.
Footage of rocket fire over Israel, destruction in Gaza and Palestinian protests have all gone viral on the site. It has brought the conflict to people's phone screens around the world.
But there are also concerns that it and other social media sites are spreading falsehoods or extremism.
This week's violence in Gaza and Israel is the worst since 2014.
It came after weeks of rising Israeli-Palestinian tension in East Jerusalem, which culminated in clashes at a holy site revered by both Muslims and Jews. Hamas, the militant group that rules Gaza, began firing rockets after warning Israel to withdraw from the site, triggering retaliatory air strikes.
Even before the latest fighting broke out, tensions between Palestinians and Israelis have played out on TikTok.
In April, a video of teenagers in East Jerusalem slapping two Orthodox Jewish boys on public transport went viral on the app. Police arrested two suspects the following week. TikTok removed the video for violating its community guidelines shortly afterwards.
Protest clips also began to appear on TikTok. Users posted videos under the hashtag #SaveSheikhJarrah, in reference to the threatened evictions of Palestinian families in a neighbourhood in East Jerusalem. Such videos are now being viewed and shared around the globe.
Chris Stokely-Walker, author of TikTok Boom: China, the US and the Superpower Race for Social Media, told the BBC that TikTok's ease of use and colossal popularity allowed the rapid spread of its content.
"Creating tools for video through the app are so simple that anybody from a 12-year-old to a 90-year-old can actually do it themselves without all that much technical nous," he said. "It's also the size of the audience - we know that TikTok has something like 732 million monthly active users worldwide. So if you're posting something then the likelihood is it will be seen by a lot of people."
Users of TikTok - as well as other social media sites like Facebook, Instagram and Twitter - are using the #SaveSheikhJarrah hashtag alongside footage of clashes with Israeli security forces, as well as the situation on the ground in Gaza.
Another post by TikTok user Sabrina Abukhdeir - with more than 1.5 million views - showed crying Palestinian children and the destruction of a high-rise block in Gaza.
"You guys know what to do," she wrote, urging people to share the video.
And the Israel Defense Forces (IDF) has a strong presence online. It has 1.3 million followers on Twitter and more than 70,000 on TikTok, where it has been posting videos of its forces in action and scenes from inside Israel.
Dr Gabriel Weimann at Haifa University in Israel said there was a battle of "hearts and minds" online - and that as of now "it's not an equal war".
"From the Israeli side you see a counter flow, which I must say is less powerful, not organised at all, and if you ask me less persuasive," he told the BBC. "Maybe because in Israel nobody thought that TikTok would be a powerful or important platform."
This month a video went viral on both TikTok and Twitter showing Jews dancing and cheering while a tree burns in the Al-Aqsa mosque compound in Jerusalem. Social media users claimed they were celebrating the destruction of the mosque.
In reality, they were gathered to celebrate Jerusalem Day, and the mosque was not damaged in the fire. Israeli police said it was due to fireworks set off by Palestinian protesters, while demonstrators said it was due to stun grenades used by officers.
On Thursday night, Israel's Defence Minister Benny Gantz asked Facebook and TikTok to remove posts from their sites which he said could encourage violence.
"These are measures that will directly prevent the violence that is being intentionally stirred through social media by extremist elements that are seeking to do damage to our country," he reportedly said. "We are in a moment of social emergency, and we expect your assistance."
"Our teams have been working swiftly to remove misinformation, attempts to incite violence, and other content that violates our Community Guidelines, and will continue to do so," a spokesperson from TikTok told the BBC in an emailed statement.
Shaydanay Urbani works for First Draft News, an organisation set up to counter mis-and disinformation online.
"A lot of the things we have seen are old media taken out of context," she told the BBC. "[Stories] circulating from a totally different time and a totally different place."
But in fact, the New York Times said, the original video appeared over a year ago on YouTube with a caption saying it was a Jordanian family faking a funeral. TikTok has since also removed this video for breaching its community guidelines.