Iran agrees to extend IAEA nuclear monitoring deal for one month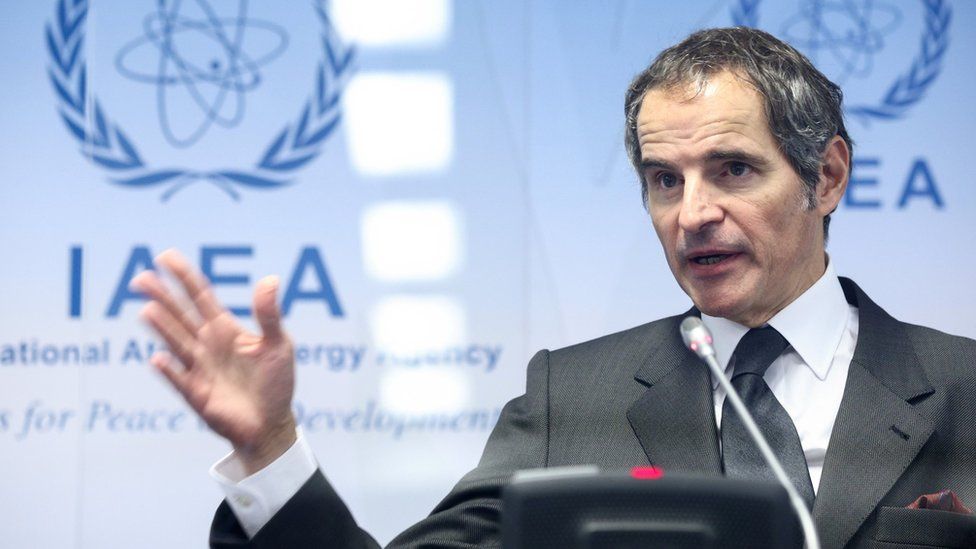 Iran has agreed to extend by one month an agreement allowing the International Atomic Energy Agency (IAEA) to keep surveillance cameras at nuclear sites.
IAEA chief Rafael Grossi told reporters that the deal would now end on 24 June.
Iran reduced its co-operation with the watchdog in February in retaliation for sanctions reinstated by the US when it abandoned a nuclear deal in 2018.
It said the extension was a gesture of "good faith" while talks on lifting the sanctions continued in Vienna.
However, it will expire soon after Iran's presidential election on 18 June, when hard-line opponents of the outgoing Hassan Rouhani are expected to do well and the Iranian negotiators in the Austrian capital are likely to change.
Iran nuclear crisis: The basics
World powers don't trust Iran: Some countries believe Iran wants nuclear power because it wants to build a nuclear bomb - it denies this.
So a deal was struck: In 2015, Iran and six other countries reached a major agreement. Iran would stop some nuclear work in return for an end to harsh penalties, or sanctions, hurting its economy.
What is the problem now? Iran re-started banned nuclear work after former US President Donald Trump pulled out of the deal and re-imposed sanctions on Iran. Even though new leader Joe Biden wants to re-join, both sides say the other must make the first move.
Iran has gradually breached its commitments under the nuclear deal to put pressure on the US to lift its sanctions and on the five remaining parties - China, France, Germany, Russia and the UK - to deliver the promised benefits.
The world powers have been particularly concerned by Iran's violation of all limits on the production and stockpiling of enriched uranium, which can be used to make reactor fuel but also nuclear weapons.
In February, Iran said it would also stop implementing the Additional Protocol to their IAEA Safeguards Agreement, which allows inspectors to access any site they deem suspicious and to obtain images from surveillance cameras installed at nuclear sites.
However, the country then reached a "temporary technical understanding" with the IAEA that saw it agree to store the images for three months and then delete them if no wider deal was reached for the US to re-join the nuclear accord and lift its sanctions.
Announcing the extension, Iran's ambassador to the IAEA, Kazem Gharibabadi said the world powers involved should "seize the extra opportunity provided by Iran in good faith for the complete lifting of sanctions in a practical and verifiable manner".
While he welcomed the move, Mr Grossi also acknowledged that the situation was not ideal.
"The temporary understanding is a sort of stop-gap measure. It is to avoid flying completely blind," he said.
Earlier on Monday, Iran's foreign ministry said "very significant progress" had been made at the Vienna talks and that it could "easily lead to results if a political decision is made in Washington".
The comments came after US Secretary of State Antony Blinken told ABC News: "Iran, I think, knows what it needs to do to come back into compliance on the nuclear side, and what we haven't yet seen is whether Iran is ready and willing to make a decision to do what it has to do.
"That's the test and we don't yet have an answer."