The dilemma of rebuilding Gaza without rearming Hamas
By Yolande Knell
BBC News, Jerusalem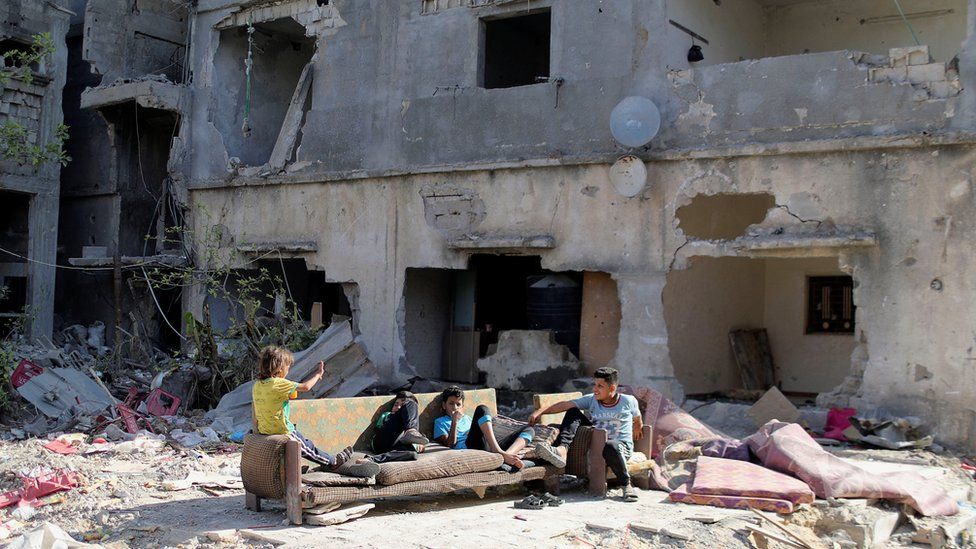 With long-range rockets, missile launchers and drones, Hamas fighters in camouflage gear have held parades across the Gaza Strip since the recent deadly fighting with Israel.
They underscore the challenge for international donors wanting to help rebuild Gaza without rearming what is seen by the US, EU, Israel and others as a terrorist group.
On his recent visit to Jerusalem and the West Bank, the UK's Foreign Secretary, Dominic Raab, told me it was "crucially important" to ensure funds went to "the Palestinian people, to alleviate their plight, and do not drift into the pockets of Hamas".
The Islamist organisation, which governs Gaza, does not recognise Israel's right to exist.
According to the UN, in Gaza this conflict destroyed or damaged more than 16,000 homes, along with 58 schools and training centres, nine hospitals, 19 clinics and vital infrastructure.
The Israeli military says it attacked more than 1,000 militant targets.
The Khalidi family in Gaza City are among the thousands left homeless. When Israeli war planes targeted their neighbours' building, their apartment was caught in the blast.
"I found glass all over my son's toys. I cried a lot when I saw the damage," says Waad al-Khalidi, who is now staying at a relative's house with her husband and baby.
"The war ended but we don't have money for repairs. I just want our beautiful home back."
At least 256 people were killed in Gaza, according to the UN, and 13 people were killed in Israel during the hostilities.
The UN said at least 128 of those killed in Gaza were civilians. Israel's military said 200 were militants; Hamas's leader there, Yahya Sinwar, put the number of fighters killed at 80.
A land and sea blockade of Gaza, which is imposed by Israel and Egypt, looks set to make reconstruction slow and complicated.
This was introduced after Hamas seized full control of the tiny territory from the Palestinian Authority (PA) in a bloody internal battle in 2007, a year after it won the last general election.
It has crippled the economy but has only partly succeeded in its stated security aim: to stop weapons and other supplies from reaching militants.
During the 11 days of violence in May, the Israeli military says that more than 4,300 rockets were fired from Gaza towards Israeli towns and cities, damaging or destroying homes and other infrastructure.
The intensity with which they were fired and their range were greater than in the last serious outbreak of hostilities in 2014.
"They've replenished themselves and added a few longer-range rockets to their arsenal with a heavier payload so obviously they've advanced their capabilities," says Michael Herzog, a retired Israeli brigadier-general at The Washington Institute for Near East Policy.
Back in 2014, Egypt completed the destruction of smuggling tunnels under its border with Gaza, stopping missiles being brought in from Iran.
However, militants from Hamas and Islamic Jihad, a smaller group, increasingly use Iranian expertise to manufacture their own rockets in secret workshops.
Last year, an Al Jazeera documentary showed Hamas commanders claiming they had made missiles from water pipes for abandoned Israeli settlements in Gaza and unexploded munitions from Israeli air strikes and a sunken British WW1 warship off the coast.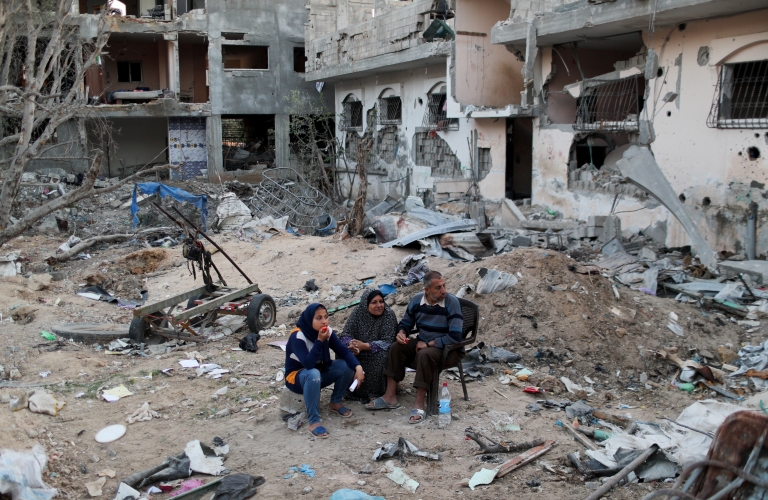 REUTERS
Damage to housing and services in Gaza
16,250housing units sustained some degree of damage
1,165destroyed housing and commercial units in 331 buildings

58education facilities damaged

9hospitals partially damaged

19clinics damaged

400,000people with no regular access to safe piped water
Source: UN OCHA
"As they say, necessity is the mother of all invention," comments Michael Herzog who saw the report, "but on top of that, I think what was not disclosed, was that Hamas put its hands on a lot of 'dual-use' materials and used them for its own military purposes."
Israel heavily restricts imports of "dual-use" goods - including pipes, cement and iron - that can have military or civilian purposes. Egypt has allowed a limited supply of building materials to enter.
Yet, the Israeli military says that in its recent bombardment of Gaza, it destroyed more than 100km (62 miles) of a vast underground militant tunnel network that it called "the Metro", which Hamas had built at a cost of millions of dollars.
The UN is under pressure to reform an elaborate mechanism that it set up to supervise the entry of building materials to Gaza after the 2014 conflict.
"We're working on that right now with the Palestinian Authority and the Israeli side to determine how we can make it faster," says Lynne Hastings, the UN Resident Co-ordinator for the Occupied Palestinian Territory.
She told journalists checks were also being carried out "to see whether or not any mistakes by any of the parties involved may have been made over the past several years, to ensure that the aid is not diverted".
All supplies entering Gaza are supposed to be carefully stored by approved importers and monitored with cameras while UN inspectors check they are only used for legitimate repairs. Their data is shared with Israeli intelligence.
The US and other foreign donors insist that the internationally accepted PA must continue to be their partner in rebuilding Gaza.
There are also demands for Qatari funds - which have previously gone directly to the Palestinian territory - to be channelled through it - something Hamas vehemently opposes.
Some commentators express concern at the way aid is being used as a diplomatic tool to boost and legitimise the PA leadership.
Just prior to the Gaza fighting, the PA President Mahmoud Abbas had postponed the first parliamentary election in 15 years. He said this was because Israel was blocking voting in Jerusalem, but many believe it was because his Fatah faction looked set to lose to Hamas.
"It's hugely problematic," says prominent Palestinian lawyer, Diana Butto.
"It's effectively trying to impose the results of an election without having elections. They're saying to the people of Gaza: if you want things to be rebuilt, we're not going to push for elections, but we're going to push for these people who we like to be in charge."
Cairo is continuing to mediate talks on aid between the Palestinian factions and with Israel, in an effort to bolster the fragile ceasefire in Gaza.
Adding to the complex picture, there are Israeli demands for two missing Israeli civilians and the bodies of two Israeli soldiers held by Hamas to be returned.
Amid the devastation, Hamas leaders have sought to reassure ordinary Palestinians that all homes that need repairs will be fixed.
But in Gaza City, Ms Khalidi knows she is in for a long wait.
"I don't care much about politics and I don't care who pays," she says, "but I want Hamas to abide by its pledge."