Activist critical of Palestinian Authority dies after arrest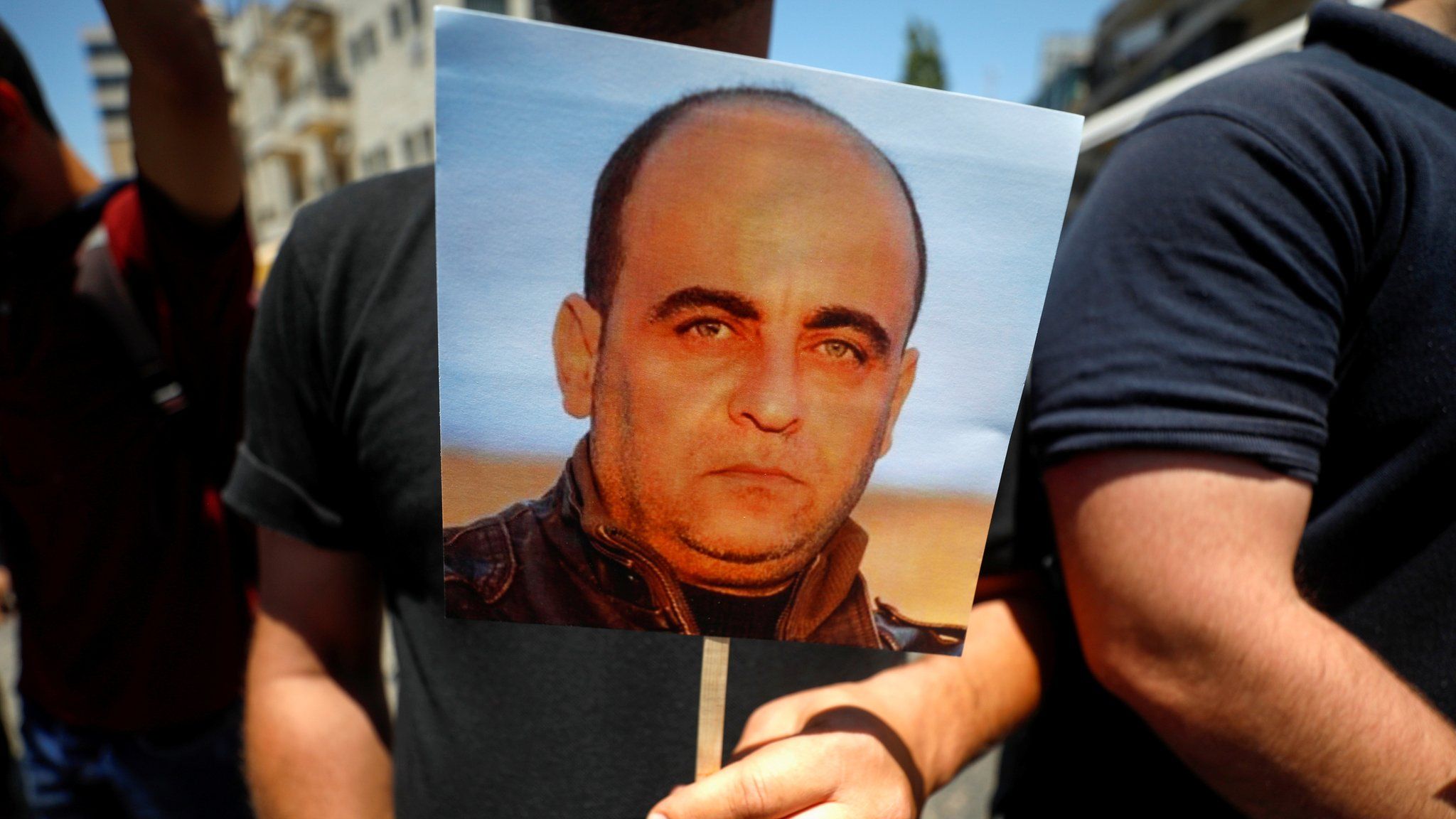 A Palestinian activist who was a well-known critic of the Palestinian Authority's leadership has died after being arrested by its security forces.
Palestinian officers detained Nizar Banat at his home near the occupied West Bank city of Hebron overnight.
Mr Banat's family have alleged that he was badly beaten during the raid.
Hebron Governor Jamil al-Bakri said the public prosecution had issued a summons for Mr Banat and that "during the arrest his health deteriorated".
"He was immediately transferred to the Hebron Government Hospital. After he was examined by doctors, he was pronounced dead," he added, without commenting on the family's allegations.
Human rights groups have accused the Palestinian security forces, which receive international funding, of routinely arresting and torturing peaceful critics and opponents to crush dissent. However, deaths in custody are rare.
The PA governs parts of the West Bank that are not under full Israeli control.
He alleged that officers stormed into the room where Mr Banat was sleeping, sprayed him with pepper spray and then began beating him with iron bars and wooden batons. They later dragged Mr Banat from the room, stripped him of his clothes and took him away in a vehicle, he added.
Another cousin, Hussein, told Reuters news agency: "They kept beating him continuously for eight minutes. If you came to arrest him, take him. Why the brutality? And why the violence?"
Ammar said that about an hour and a half after the raid the family learned through WhatsApp groups that Mr Banat had died. He added that they had not been able to see his body at the hospital.
"The announcement of his death [at the hospital] was a ruse," he alleged.
PA Prime Minister Mohammed Shtayyeh, meanwhile, ordered the immediate formation of an investigative committee to look into the death. It will be headed by Justice Minster Mohammed Shalaldeh and will include a doctor chosen by the Banat family.
The veteran Palestinian politician Hanan Ashrawi tweeted: "The violent arrest & death in detention of Nizar Banat by the Palestinian security forces is a serious crime & a dangerous development."
"The deterioration of conditions has gone unchecked for some time which led to this escalation. Accountability is imperative."
A spokesman for Hamas, the Palestinian militant group that controls the Gaza Strip, said "the assassination" of Mr Banat "reflect[ed] the PA's bloody policy of settling scores".
The United Nations Middle East peace envoy Tor Wennesland said he was "alarmed and saddened" by Mr Banat's death.
"My deepest condolences to his family & loved ones," he added. "I call for a swift, independent & transparent investigation. Perpetrators must be brought to justice."
The European Union's delegation to the Palestinians expressed shock at Mr Banat's death and also called for an independent investigation.
Mr Banat, 43, had been arrested several times by the PA's forces in recent years.
He often posted videos on Facebook page in which he directly accused powerful individuals of corruption. He also urged Western countries to stop providing financial aid to the PA.
He was a candidate on the Freedom and Dignity electoral list for the Palestinian legislative elections, which had been due to take place last month but were postponed by President Mahmoud Abbas at the end of April amid a dispute over voting rights in East Jerusalem.
In early May, unidentified gunmen fired bullets, stun grenades and tear gas at his home - an attack Mr Banat blamed on President Abbas's Fatah movement, which dominates the PA.
Mr Banat denounced the PA on Monday over a deal that would have seen Israel give the Palestinians at least one million soon-to-expire coronavirus vaccines in exchange for a similar number of doses from a shipment that the Palestinians are expecting later this year.
The PA swiftly cancelled the deal when the first batch of jabs arrived from Israel, saying they were nearer to their expiry date than expected.