Dubai Expo 2020: Coronavirus-delayed world fair opens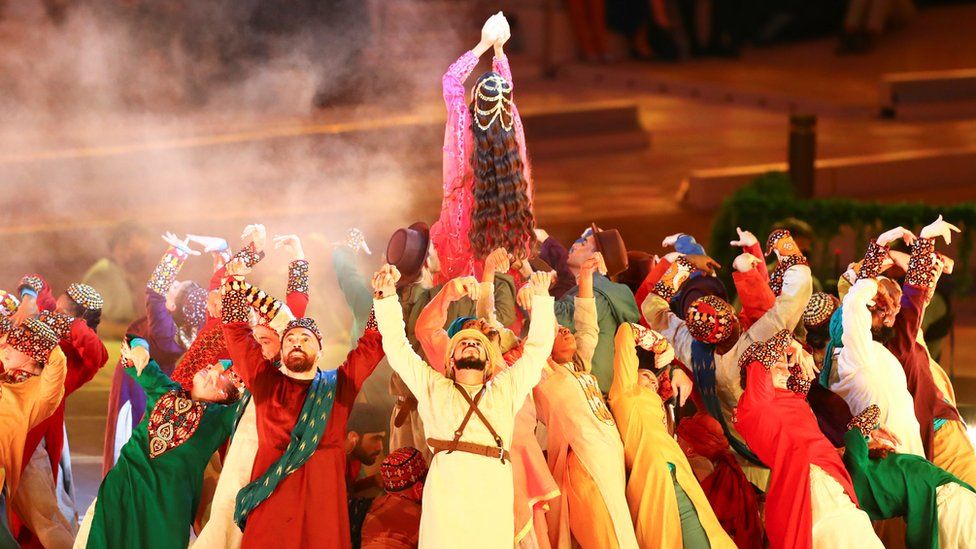 The coronavirus-delayed Expo 2020 has opened in Dubai, with organisers aiming to stage the largest global gathering since the start of the pandemic.
More than 190 countries are showcasing their cultures and innovations inside architecturally striking pavilions on the 438-hectare (1,083-acre) site.
Dubai's government has spent an estimated $7bn (£5.2bn) on the event.
It hopes to attract 25 million visitors over the next six months to boost tourism and investment in the emirate.
Organisers say they have been "delighted" with ticket sales, but analysts believe they will struggle to meet the target because of the continuing restrictions on global travel.
Travellers can visit Dubai if they have a negative PCR test done before departure, however a vaccine is required to visit the rest of the United Arab Emirates.
To get into the Expo itself, all those aged 18 and over will be required to show proof of a vaccination or a negative PCR test. Free testing will be available to ticket-holders on site.
Dubai's ruler, Sheikh Mohammed bin Rashid Al Maktoum, declared the Expo open at a ceremony on Thursday evening that featured stars from across the world, including Italian tenor Andrea Bocelli, British popstar Ellie Goulding and Chinese pianist Lang Lang.
Sheikh Mohammed told the Al Bayan newspaper this week that it would be "exceptional event to be engraved in mankind's memory".
"We take pride in welcoming representatives of 192 countries to the land of tolerance, as we invest in this global gathering to find solutions to global challenges on the grounds of international co-operation that humanity is in need of," he said.
China's pavilion is one of the largest at the Expo and is shaped like a traditional lantern; Morocco's was made with traditional mud-building methods; and Saudi Arabia's includes the world's largest interactive lighting floor, LED mirror screen and interactive water feature.
The UK's pavilion is inspired by a project from the late scientist Stephen Hawking and features a 21m-tall (69ft) structure made of slats on which algorithmically generated words appear to form a "Collective Message".
There has been some criticism of the event because of the UAE's human rights record.
A resolution cited what it described as the "systematic persecution of human rights defenders, journalists, lawyers and teachers speaking up on political and human rights issues in the UAE", as well the country's "inhumane practices against foreign workers" who constitute 80% of the population.
Related Internet Links
The BBC is not responsible for the content of external sites.