Lebanon left without power as grid shuts down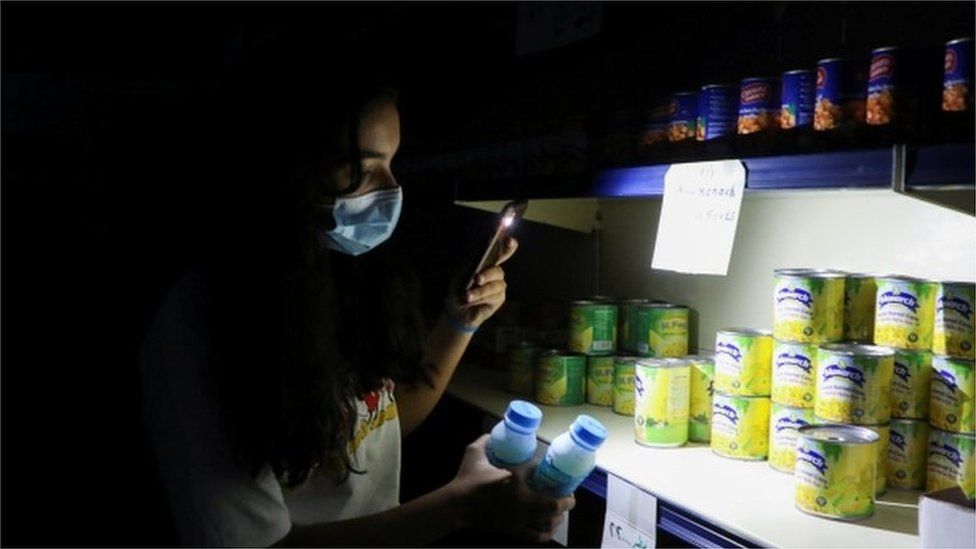 Lebanon has been left without electricity, plunging the country into darkness amid a severe economic crisis.
A government official told Reuters news agency the country's two largest power stations, Deir Ammar and Zahrani, had shut down because of a fuel shortage.
The power grid "completely stopped working at noon today" and was unlikely to restart for several days, they said.
For the past 18 months Lebanon has endured an economic crisis and extreme fuel shortages.
That crisis has left half its population in poverty, crippled its currency and sparked major demonstrations against politicians.
A lack of foreign currency meanwhile has made it hard to pay overseas energy suppliers.
Many Lebanese people already depend on private diesel-powered generators for power. These however have become increasingly expensive to run amid the lack of fuel, and cannot cover for the lack of a nationwide power grid.
People were often receiving just two hours of electricity a day in the country before this latest shutdown.
In case you're wondering, this is what it looks like inside a Lebanese private generator hub. 300+ flats getting all their power from here. Those who can't afford the bills (millions of LLP per month) have nothing during this blackout, and only 1-2 hours when the grid is on. pic.twitter.com/LPQEFKj30Z

— Anna Foster (@annaefoster) October 9, 2021
In a statement, Lebanon's state electricity company also confirmed the shutdown of the two power plants, which together provide some 40% of the country's electricity.
Their closure led to the "complete outage" of the power network, the statement reportedly said, "with no possibility of resuming operations in the meantime".
Al Jazeera reports protests in the northern town of Halba, outside the offices of the state power company, as well as residents blocking roads with burning tyres in the city of Tripoli.
The country is also grappling with the aftermath of the Beirut blast in August 2020, which killed 219 people and injured 7,000 others.