Beirut port blast: The tensions around the investigation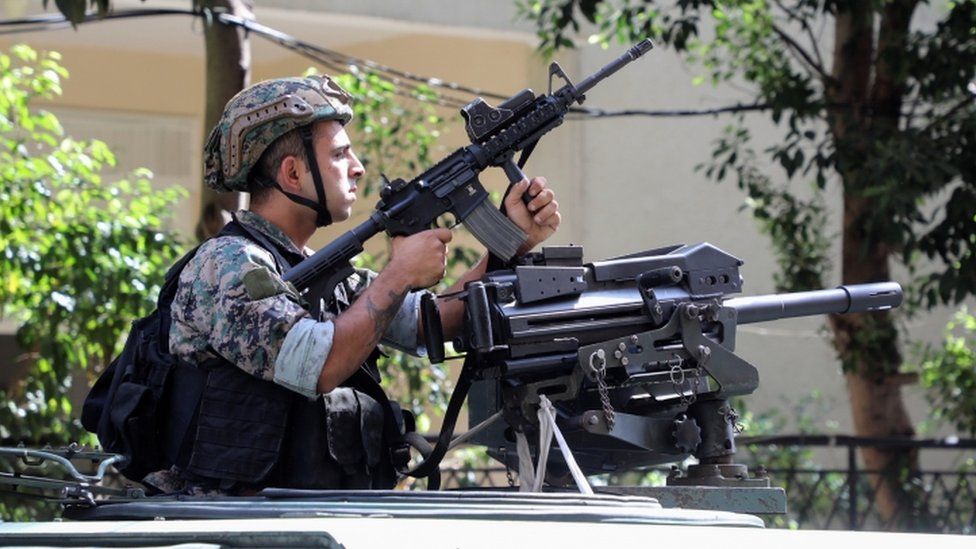 Tensions in Lebanon over an investigation into last year's devastating explosion at Beirut's port have spilled over into violence, with clashes leaving at least six people dead.
The colossal blast would have tested any country but Lebanon was already stuck in a deep economic crisis, with rampant inflation, power cuts and a shortage of basic goods.
Lebanon's complex and delicate political system balances power between the country's different sects, something critics say has entrenched the political elite and stifled the possibility of reform.
Here's a look at what happened last year, and how those events and the row about the ensuing inquiry could threaten Lebanon's fragile peace.
What happened in the blast?
The port explosion took place on 4 August 2020 after a fire detonated 2,750 tonnes of ammonium nitrate.
The combustible chemical, which is widely used as agricultural fertiliser, had been stored unsafely in a port warehouse for almost six years.
The blast shook the city to its core, blowing boats out of the water and destroying vital grain stores.
Senior officials had been aware of the material's existence and the danger it posed but failed to secure, remove or destroy it.
A total of 219 people lost their lives, some 7,000 were injured, more than 250,000 lost their homes and huge areas of the city were devastated.
Lebanese people have described the blast as their 9/11 but no-one has so far been held accountable, and an investigation into the explosion has been dogged with controversy.
On several occasions it has been suspended, its lead judges accused of bias.
Victims' relatives and activists say the inquiry is being hampered by the Lebanese political leadership's efforts to shield politicians and officials from scrutiny.
Who is the current investigating judge?
Judge Tarek Bitar was appointed to the inquiry earlier this year after the first lead judge was removed.
His name was first put forward by the then Justice Minister Marie-Claude Najm when the inquiry was set up but on that occasion he turned the job down.
Ms Najm had herself wanted an international investigation but was opposed by other senior politicians.
Relatively young at 47, Judge Bitar is seen by the victims' families as conscientious and bold, but parts of the political elite regard him as a serious threat.
He is not known to have any political affiliations.
He has never appeared in public or spoken to the press.
But he has summoned politicians from a number of parties for questioning.
His tough stance has led to complaints and accusations of bias from former government ministers.
Who is Judge Bitar investigating?
The two men at the centre of the latest controversy are Ali Hassan Khalil, a former finance minister and Ghazi Zaiter, a former public works minister.
Both are MPs with the Shia Muslim Amal party, allies of the powerful Hezbollah movement.
They and other senior politicians - including Hassan Diab, the caretaker prime minister who resigned after the blast, and former interior minister Nohad Machnouk - have been accused of negligence by investigators.
All deny any wrongdoing, and all have filed complaints against Judge Bitar, leading twice to the suspension of the investigation.
However, the Court of Cassation, Lebanon's supreme court, has rejected the complaints and allowed Judge Bitar to resume his work.
There is also time pressure on the judge, as Mr Zaiter, Mr Khalil and Mr Machnouk will regain their parliamentary immunity on 19 October when the chamber goes back into session.
How does this all fit in with wider problems in Lebanon?
Hezbollah and Amal see the investigation as highly politicised, and accuse it of focusing too narrowly on their allies.
Mr Khalil told local media during the week that it threatened to push Lebanon towards civil strife.
Then on Wednesday a demonstration organised by the Shia groups to call for Judge Bitar's removal was fired on. Six people were killed and 32 injured.
Hezbollah and Amal blamed a Christian group opposed to them, the Lebanese Forces faction, for the violence.
Lebanese Forces leader Samir Geagea has condemned the violence and appealed for calm.
But the incident has raised fears of a return to a sectarian conflict.
It is the worst violence since 2008, when followers of the Sunni-led government exchanged fire with gunmen loyal to Hezbollah.
The country was torn apart by civil war between 1975 and 1990.