Israel advances plans for 3,000 new homes in West Bank settlements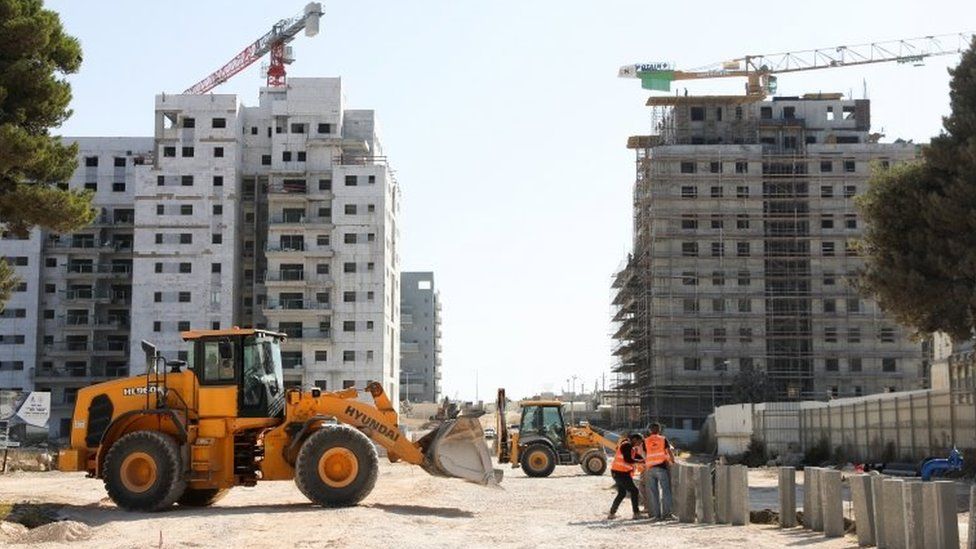 Israel's government has advanced plans for more than 3,100 new homes in Jewish settlements in the occupied West Bank.
A planning committee gave its final approval for 1,800 housing units and preliminary approval for 1,344 others.
The announcement follows a public rebuke of Israeli policy from US President Joe Biden's administration.
It warned that it "strongly opposed the expansion of settlements" because it damaged prospects for peace between Israel and the Palestinians.
More than 600,000 Jews live in 145 settlements built since Israel's occupation of the West Bank and East Jerusalem in the 1967 Middle East war. Most of the international community considers the settlements illegal under international law, though Israel disputes this.
The Palestinians have called on the world to confront Israel over the "aggression" constituted by settlement construction on land they claim for a future independent state.
This week has seen the most significant announcements for expansion of Israeli settlements since President Biden entered the White House in January, says the BBC's Yolande Knell in Jerusalem.
The decision follows another development on Sunday, when the Israeli authorities asked builders to submit bids for the construction of more than 1,355 settler homes that already have final approval.
On Tuesday, US state department spokesman Ned Price told reporters that it was "deeply concerned" by the Israeli plans.
"We strongly oppose the expansion of settlements, which is completely inconsistent with efforts to lower tensions and to ensure calm, and it damages the prospects for a two-state solution," he said.
Mr Price added that the Biden administration would "raise our views on this issue directly with senior Israeli officials in our private discussions".
Former US President Donald Trump displayed a much more tolerant attitude towards settlement activity and declared that settlements were not inconsistent with international law.
Israel promoted plans for more than 30,000 settler homes in the West Bank during the four years he was in power, according to Peace Now.
A senior Israeli official told Reuters news agency on Wednesday that Prime Minister Naftali Bennett's government was "trying to balance between its good relations with the Biden administration and the various political constraints".
Mr Bennett is a right-wing nationalist who took office in June at the head of a coalition of eight parties from across the entire political spectrum of Israeli politics.
He has long championed the right of Jewish settlement in the West Bank and rejects the notion of the creation of a Palestinian state alongside Israel.
The prime minister has ruled out resuming peace talks with the Palestinians and said he will instead focus on initiatives to improve living conditions for them.
Next week, the Israeli planning committee is scheduled to discuss plans for 1,300 new homes in Palestinian villages in the 60% of the West Bank, classified as "Area C" under the Oslo Accords, that is under full Israeli military and civil control.
It would be the largest number of homes for Palestinians approved by Israel for more than a decade, according to Israeli media.