Auschwitz tattoo stamp auction suspended by Israeli court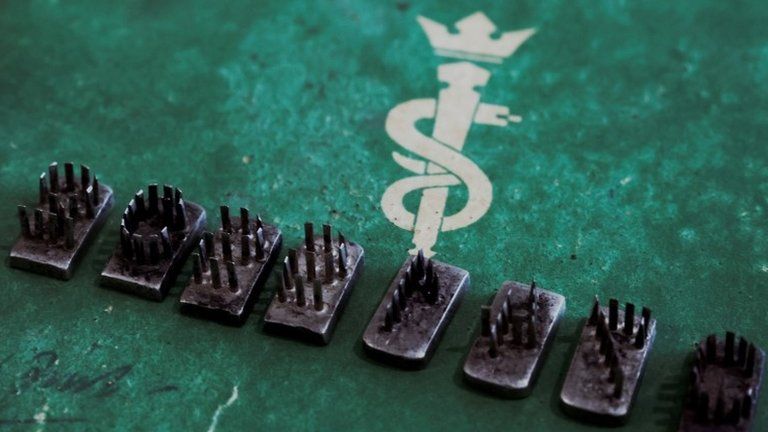 An Israeli court has suspended the sale by a Jerusalem auctioneer of tools used to tattoo inmates at the Auschwitz death camp, after an appeal by Holocaust survivors.
The auctioneer, Meir Tzolman, described the set of stamps made from needles as "the most shocking Holocaust item", and said he wanted it in "the right hands".
Bidding had reached $3,400 (£2,490) by the time the injunction was issued.
A court hearing to decide whether the auction should proceed or not will take place on 16 November.
A lawyer for the Center Organizations of Holocaust Survivors in Israel, which filed the appeal, said: "Such an evil item can't have an owner... Its sale is illegal and goes against the public decency doctrine."
"This is an item that is not private property, rather a horrific monument belonging to the entire public, and serving as evidence to the crimes of the Nazis and their aides," David Fohrer added.
Colette Avital, chairwoman of the survivors' group, told AFP news agency that the stamps were used "to turn people from humans into numbers" and that they belonged in a museum.
There was no immediate comment from Mr Tzolman, but he insisted on Tuesday that he was "the last to underestimate or diminish the value of the Holocaust".
"I want to make sure that the item gets into the right hands and does not disappear from the pages of history," he added.
According to the United States Holocaust Memorial Museum, prisoners were originally tattooed with stamps consisting of interchangeable needles arranged in the shape of numbers, which were punched onto inmates' skin and ink rubbed into the wound.
The tattoo was permanent and such markings have become one of the grimmest symbols of the Nazi Holocaust, in which some 6 million Jews were systematically murdered by Adolf Hitler's regime across Europe during World War Two.
According to the auction house, the set for sale is one of only three known to exist. It says one is held at the Military Medical Museum in St Petersburg, Russia, and the other at the Auschwitz Museum, which has memorialised the site of the camp in what was then Nazi-occupied Poland.