Covid: Israel to impose travel ban for foreigners over new variant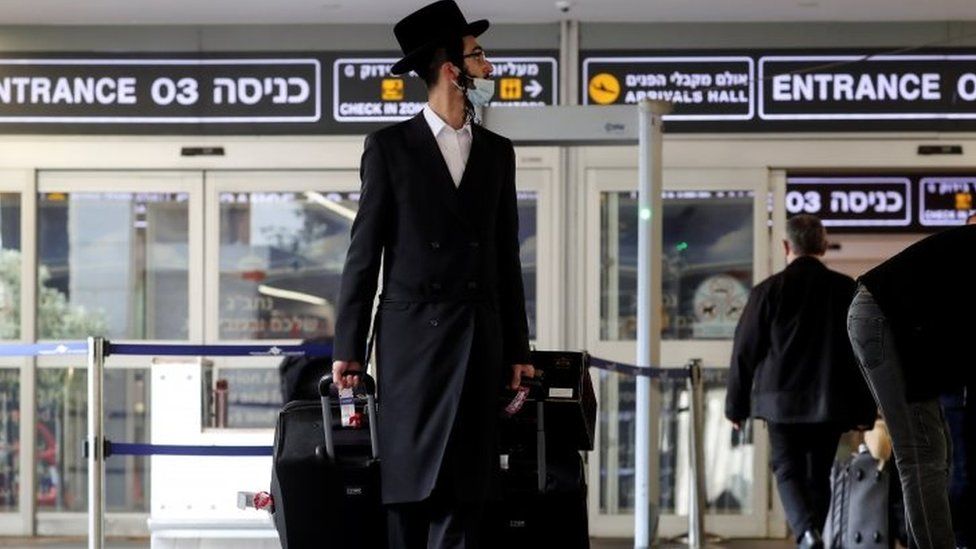 Israel is to ban foreigners from entering the country for 14 days and use surveillance to halt the spread of the new Covid variant, local media report.
The ban is expected to come into effect at midnight on Sunday, following full cabinet approval.
Israel has so far confirmed one case of the potentially more infectious Omicron variant first detected in South Africa.
Many countries have since banned travel to South Africa and its neighbours.
The World Health Organization (WHO) has warned the new variant is "of concern", with early evidence suggesting a higher re-infection risk.
However, the WHO has warned against countries hastily imposing travel restrictions, saying they should look to a "risk-based and scientific approach".
In addition to the entry ban for non-Israelis, a three-day mandatory quarantine would be required for all vaccinated Israeli nationals, and a seven-day quarantine for those who have not been vaccinated.
The cabinet also authorised surveillance of confirmed coronavirus patients by the Israel's Shin Bet security agency.
In a statement, Prime Minister Naftali Bennett said phone-tracking technology would be used.
Earlier on Saturday, the Israeli authorities had put 50 African nations on the so-called "red" list.
All Israeli nationals returning from those countries must quarantine in the government-approved hotels and undergo Covid tests.
A ban on foreigners entering Israel from most African countries was imposed on Friday.
Israel has confirmed more than 1.3 million Covid infections since the start of the pandemic, with over 8,100 deaths, according to America's Johns Hopkins university.
In other developments on Saturday:
The UK announced PCR tests would be mandatory for everyone entering the country, and all contacts of new variant cases would have to self-isolate
Austria saw thousands of people protesting against government plans to make vaccinations mandatory
Switzerland toughened its quarantine requirements for travellers from several European and African countries. Early indications from a referendum appear to suggest voters supporting the government plan on a Covid passport certificate that's required to get into most public spaces.
US Secretary of State Antony Blinken praised South Africa for promptly sharing information with the world. He said its transparency should serve as a model for the world, and he'd spoken to his South African counterpart about co-operation on vaccinating people in Africa
Australia said flights from South Africa, Namibia, Zimbabwe, Botswana, Lesotho, Eswatini, the Seychelles, Malawi, and Mozambique would be suspended for 14 days. Non-Australians who have been in those countries in the past two weeks are now banned from entering Australia
It is a rapidly evolving situation. Omicron's genetic profile has raised concerns, but there's a shortage of real-world data that means nobody has the complete picture of what it can do.
It is unclear how big a threat it poses.
Yet, it is at this early stage, in an absence of definitive facts and when there is a danger of both under-reacting and overreacting, that governments have to act.
It's like you or me deciding whether to marry someone after the first date. Only the stakes are much higher.
But we don't know how transmissible it is. We don't know whether it is milder or more severe. We don't know what will really happen when it comes up against our significant wall of immunity built up through vaccines.
After an emergency meeting on Friday, the WHO said the first known confirmed infection from this variant had been collected on 9 November, it had "a large number of mutations, some of which are concerning".
The WHO said it would take a few weeks to understand the impact of the new variant, as scientists worked to determine how transmissible it was.
The head of the South African Medical Association told the BBC that the cases found so far in South Africa - where only about 24% of the population is fully vaccinated - were not severe, but said investigations into the variant were still at a very early stage.