Alaa Abdel Fattah: Leading Egyptian activist jailed for five years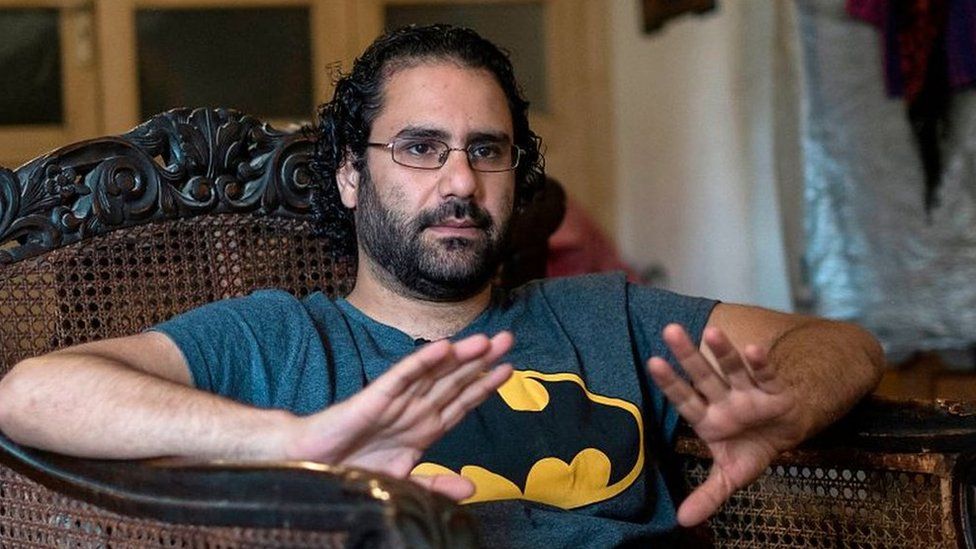 An Egyptian court has sentenced leading activist Alaa Abdel Fattah to five years in prison after convicting him of spreading false news, his sister says.
Human rights lawyer Mohammed al-Baqer and blogger Mohammed "Oxygen" Ibrahim were also jailed for four years on the same charge, Mona Seif tweeted.
They have been detained since September 2019, when the authorities cracked down on rare anti-government protests.
Human rights groups had called the charges spurious and the trial a sham.
Human rights groups have accused President Abdul Fattah al-Sisi's government of suppressing any form of dissent since he led the military's overthrow of his predecessor Mohammed Morsi in 2013. They say tens of thousands of government critics, including activists and human rights lawyers, have been detained arbitrarily.
Amnesty International said Monday's verdict was a "travesty of justice" while the Committee to Protect Journalists called it "unacceptable".
Alaa Abdel Fattah, 40, a software developer and blogger, first rose to prominence during the 2011 uprising that forced long-time President Hosni Mubarak to resign.
They spent more than two years in pre-trial detention - more than is allowed under Egyptian law - before being referred to the Emergency State Security Court for trial on the false news charges this October.
The move came just 10 days before the president lifted a nationwide state of emergency that allowed for such referrals. The emergency courts' verdicts are not subject to appeal before a higher court, but they require final approval by the president.
Abdel Fattah's family told the group that his lawyers were only able to view the case file in the presence of prosecutors, and that the court consistently ignored their requests for a copy of the document.
The defendants also faced what Human Rights Watch described as "horrific" conditions at Cairo's Tora prison.