Dakar Rally: France opens terrorism probe into Saudi Arabia blast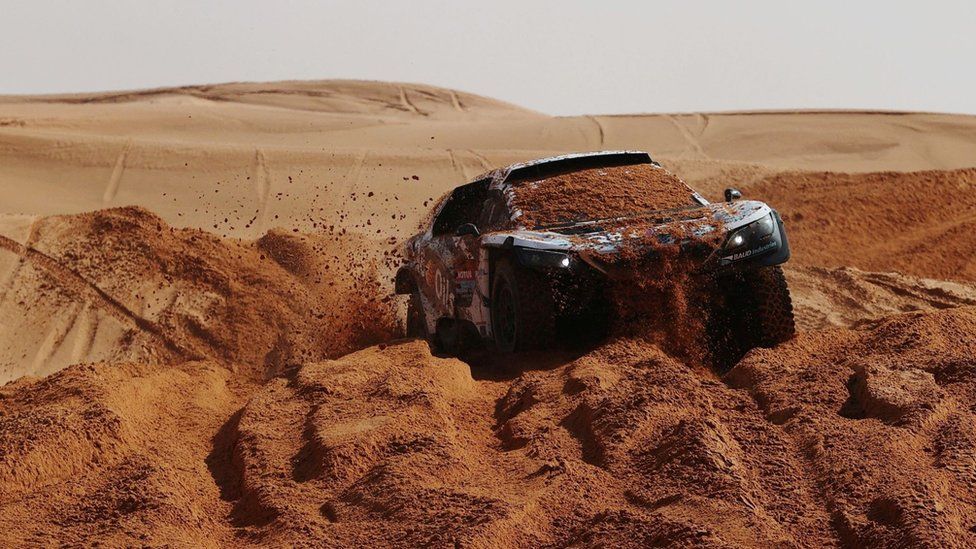 French prosecutors have opened a terrorism investigation into a blast in Saudi Arabia that badly wounded a French driver in the Dakar Rally.
The explosion damaged a support vehicle for the Sodicars Racing team as it left a hotel in Jeddah last Thursday.
The driver, Philippe Boutron, suffered serious leg injuries. He was later repatriated to France and was placed in a medically-induced coma.
Saudi authorities have not commented on the French prosecutors' decision.
The Dakar Rally, which started in 1978 as a race from Paris to the Senegalese capital, has been held in Saudi Arabia since 2020 for safety reasons.
On Thursday, two days before the start of the event's first stage, a support vehicle belonging to Sodicars was "brought to a sudden halt by a sudden explosion" outside the Donatello Hotel, near Jeddah's international airport, according to ASO.
A Sodicars team member told French sports newspaper L'Equipe that the blast ripped through the floor of the vehicle, which then caught fire. Mr Boutron was injured, but the other five French citizens travelling in the car with him were unharmed.
Mr Boutron, who works in marketing and is also president of French Ligue 2 football team Orléans, underwent surgery in Saudi Arabia before being flown to France for further treatment at the Percy military hospital in Clamart, near Paris.
Mr Boutron had now emerged from the coma, his son Benoît told Radio Monte Carlo, on Thursday morning.
"He is indeed seriously injured, on both legs, we will know more in 10 days, but we must remain cautious at this stage," he told the station.
French anti-terrorism prosecutors meanwhile announced they had opened a preliminary investigation into "multiple attempted killings in connection with a terrorist group", without providing further details.
"An investigation by Saudi authorities is under way to determine the cause of this explosion. The possibility of a criminal act has not been ruled out," it said.
You may also be interested in: