Alaa Abdel Fattah: UK urged to help jailed British-Egyptian activist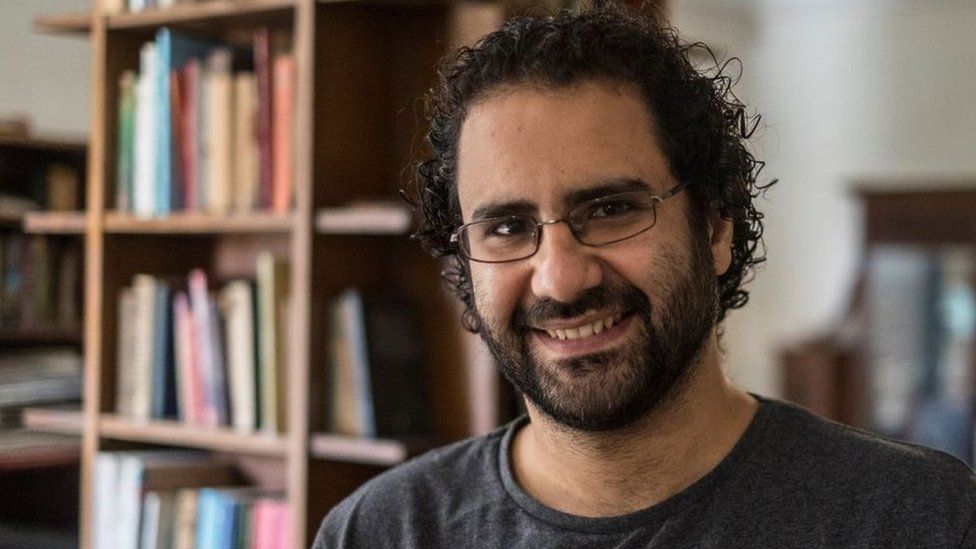 A group of MPs and peers has written to the UK government pressing for urgent help for a British-Egyptian activist imprisoned in Egypt.
Alaa Abdel Fattah, 40, is said to have been on hunger strike since 2 April.
It says the British embassy has not been granted consular access and that this could set "a dangerous precedent".
The Egyptian government has previously dismissed accusations over prison conditions and insisted there are no political prisoners in the country.
Alaa Abdel Fattah, a pro-democracy blogger and activist, appeared widely in the media during the 2011 protests in Cairo's Tahrir Square that led to the downfall of long-time president Hosni Mubarak.
But he has gone on to spend long periods in jail.
Since President Abdul Fattah al-Sisi came to power in 2014, the activist has spent most of the time in prison or police detention.
The parliamentarians' letter describes how at his trial in a state security emergency court, the defence was not granted access to the case file, and that neither the prosecution nor the defence were invited to present their cases before his sentence was passed. It is not possible to appeal against emergency courts' verdicts.
The letter is signed by 10 MPs - including the Conservative Party's David Jones, Labour's Ben Bradshaw and the Liberal Democrats' Layla Moran - as well as 17 members of the House of Lords.
Until this week Alaa Abdel Fattah had been kept behind bars at the notorious Tora Prison, where the letter said he was deprived "for two and a half years of reading materials, exercise, sunlight or bedding".
However, the Egyptian authorities have now confirmed that he has been moved to a new prison complex, north of Cairo, following a request from the state human rights body.
In a brief statement posted on Facebook on Wednesday, the interior ministry said that it "had responded to the request of the National Council for Human Rights (NCHR) to transfer the convicted activist, Alaa Abdel Fattah, to the Rehabilitation Centre in Wadi al-Natrun."
Responding to the news, Alaa Abdel Fattah's sister Mona Seif said the significance of the move was not immediately clear.
"We don't know if this means an improvement in conditions or not, because as we know the problem with the prison that Alaa was in is not just that it [was a] maximum security prison," she explained in a Facebook video.
"It's that the ministry of interior and state security and Egyptian authorities [were] actively depriving him of every facility and every right... that should be easily provided."
Previously, Ms Seif had dismissed as "unbelievable" pro-government media reports quoting a security source as saying that her brother was not on a hunger strike but was eating three meals a day.
The BBC is not responsible for the content of external sites.
Skip twitter post by Mona Seif
Allow Twitter content?
This article contains content provided by Twitter. We ask for your permission before anything is loaded, as they may be using cookies and other technologies. You may want to read Twitter's cookie policy, external and privacy policy, external before accepting. To view this content choose 'accept and continue'.
The BBC is not responsible for the content of external sites.
End of twitter post by Mona Seif
Alaa Abdel Fattah's family has expressed growing concern for his wellbeing.
His mother, Laila Soueif - a London-born mathematics professor and sister of the author Ahdaf Soueif - has expressed disappointment that the British authorities have been able to do little to intervene since her son was granted British citizenship in December 2021.
"It's clear that my son's life now lies in [Prime Minister] Boris Johnson and Liz Truss's hands," she said.
"We have done everything we can, we have fought for Alaa's freedom for almost a decade, but now we are out of time, and I fear for his life."
You may also be interested in: