European Union to unfreeze aid for Palestinians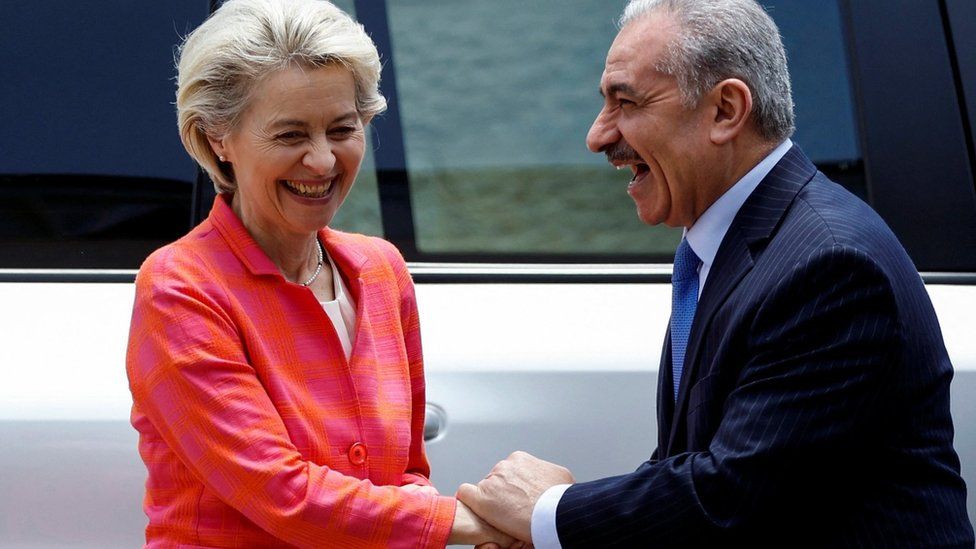 The European Union is to release hundreds of millions of euros in aid to the Palestinians.
Months of delays had contributed to what the Palestinian Authority said was its worst financial crisis.
The hold-up was caused by concerns that Palestinian textbooks glorified violence and promoted anti-Semitism.
European Commission President Ursula von der Leyen announced that 2021 funds could be "disbursed rapidly" after she met Palestinian Authority officials.
Palestinian Prime Minister Mohammed Shtayyeh thanked Europe for resuming the funding, which he said came "without conditions".
The Palestinian Authority, which governs parts of the West Bank, is propped up by donor money.
The EU, along with European states and other institutions, have together been its biggest backer, giving about €600m ($627m; £519m) a year.
But since 2020 a large portion of the EU's funding - valued at about €215m - has not been handed over because of officials' concerns over Palestinian textbooks.
The funding crisis has left the PA unable to pay full salaries for teachers, firefighters and doctors, and has prevented some Palestinians from getting essential medical care.
Ms von der Leyen said the EU was working to support the Palestinian people, especially the most vulnerable, and that it would mobilise €25m to improve food security in the Palestinian territories, which are heavily dependent on imports of cereals from war-torn Ukraine.
"Anti-Semitism has not disappeared. It still poisons our societies. And anti-Semitic attacks happen today in Europe. It is a new threat, but it is the same old evil. Every new generation must take responsibility so that the past does not return," she said.
She also said the EU wanted to step up energy co-operation with Israel in response to Russia's use of fossil fuels to "blackmail us" over Ukraine.